Here's the best way to clean a shower
These shower cleaning tips are going to tell you everything you need to know about keeping your bathroom grime-free.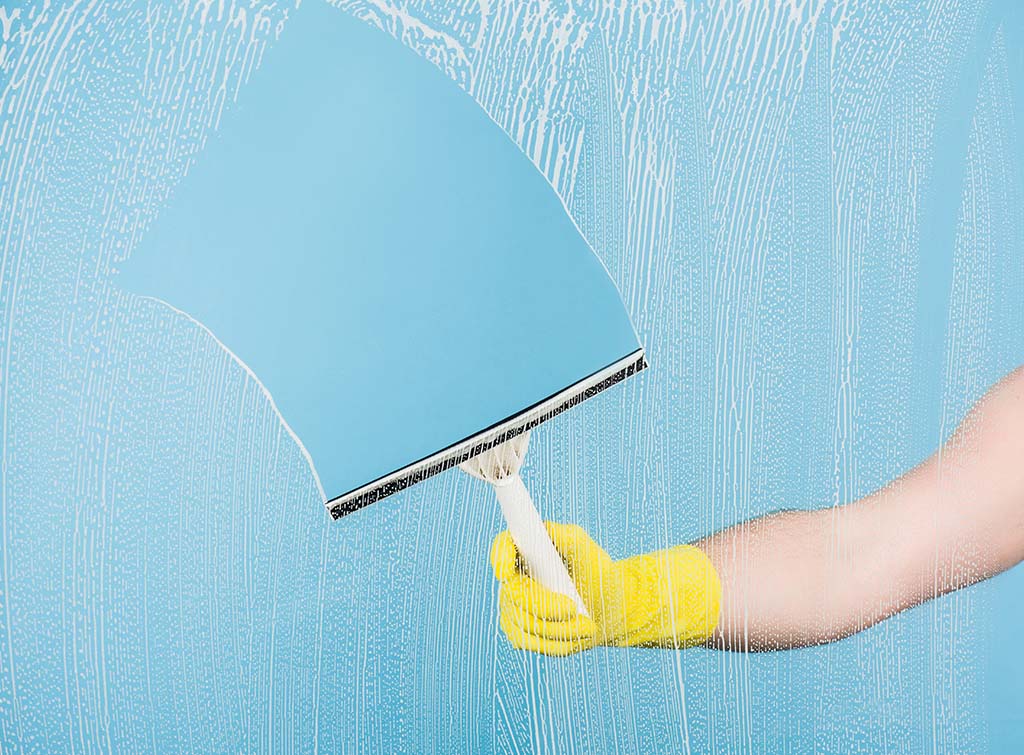 Ever wanted to know the best way to clean a shower? Stop wasting time staring at those watermarks, that dirty grout, and the faucets covered in limescale. These shower cleaning tips are going to tell you everything you need to know about keeping your bathroom grime-free.
The whole point of a shower is to feel clean afterwards. However, when your shower head rains limescale into your freshly washed hair, it's hardly the spa experience you were hoping for.
Living in hard-water areas also exasperates the problem, leaving you feeling like you have to clean your shower every day to keep on top of all that pesky mineral build-up.
We understand the struggle, which is why we've asked our experts for their tried and true methods to ensure your shower room shines all year long.
How to clean a shower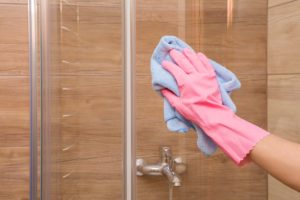 It's good hygiene and practice to regularly clean a shower.
Spraying the surfaces and faucets with a multipurpose spray, scrubbing them with a sponge, and rinsing off the residue at least once a week is ideal.
It's also worth drying your tiles using a cloth or towel to avoid watermarks. However, despite the purpose of a shower, they're hotbeds for mildew, bacteria and grime if left unwashed for too long.
Most showers are made up of one or two of the following materials:
Ceramic
Fibreglass
Stone
Acrylic
As a result, the way to clean these materials differ. So, read on for our expert advice.
Best way to clean a shower head
There are several 'best practice' methods for cleaning a showerhead.
Sometimes the classic ways are the best ways.
How to clean a shower head
Method one
This popular method is a tried and tested way to clean your showerhead:
Take a sandwich bag or plastic container and fill it with white vinegar.
If you can remove your showerhead, pop it in the vinegar solution and leave it to soak for around half an hour if it's brass (no longer) or an hour for all other materials.
If your showerhead is harder to remove, secure the plastic sandwich bag around it with an elastic band or clip.
Set a timer for the appropriate amount of time.
Once the time is up, rinse, scrub, and reattach the showerhead.
Run the hot water until it runs clean.
Stand back and admire the shine.
Method two
If you're not a fan of vinegar, baking soda is a great alternative. Ideal for baking cakes and cleaning your house, it's a natural and multi-purpose antibacterial agent that's also environmentally friendly.
To clean a showerhead using baking soda, all you need to do is mix it with a small amount of water to make a paste.
Scrub this paste on the showerhead with a toothbrush or other bristled brush until the limescale dislodges.
You can also leave the paste on for half an hour to loosen the limescale first. Rinse with warm water and lemon juice (for a fresh scent) and dry the area with a paper towel.
See the tradespeople we've checked and recommend for your job
How to clean shower glass
If you don't regularly squeegee your shower area after using it and haven't invested in a water softener, your shower is likely suffering from dreaded watermarks. These dusty looking spots are the bane of every hard-water household; however, there's a quick and easy way to get rid of them. So, read on for the best way to remove limescale from glass and banish watermarks from your shower screen.
Best way to clean your shower screen
Add an equal amount of white vinegar and warm water to a bucket
Take an old or empty spray bottle and fill it with the water and white vinegar mixture
Spray your shower glass and any affected areas, coating it completely
Leave for ten minutes to do its job
Take a soft cloth (preferably cotton) and wipe down the area until the stains disappear
Add more mixture as required
Once clean, use a squeegee to remove any excess moisture before buffing the screen with a microfibre cloth
If the watermarks are stubborn, a more industrial water stain remover might be needed
In this case, wear gloves and open all your windows before applying the spray
Follow the manufacturer's instructions
Repeat step 7
See the tradespeople we've checked and recommend for your job
How to clean grout in shower
Cleaning shower tile grout is a daunting task.
The unsightly and discoloured areas between tiles are persistent and hard to remove, especially when they turn black due to an overgrowth of mould or mildew.
For mild jobs, a solution using baking soda, vinegar, warm water and elbow grease are all it takes.
For jobs that require extra cleaning power, an industrial grout cleaner is your best bet.
In this case (and due to the chemicals involved), it's always worth hiring a professional tradesperson to tackle the job. They not only have the expertise when it comes to this type of project, but they'll make sure your grout and tiles aren't damaged by prolonged exposure to more industrial cleaning agents.
However, if you'd still like to tackle this job yourself, make sure you read our how to clean grout article for the complete low-down and recommended safety precautions.
Cost to clean a shower
For basic cleaning, most cleaning companies will charge at least £45 for a 3-hour job. However, for jobs that require extra equipment or specialist products, expect to pay much more.
Regardless, hiring a professional means you have the peace of mind that your shower room is in good hands.
Our tradespeople are checked by us and reviewed by their customers, which are then checked by us again to make sure they're legitimate. This means you can be confident in the quality of our members and the quality of their work.
Did you find this guide helpful? If so, there's more where this came from. Read our blog for more expert advice, how-tos and cost guides.