Storm prep: How to prevent cold weather damage
Damage from cold weather can be a big expense for UK households, but there are things you can do before the big freeze hits to make sure your home is prepared. Find out how you can prevent damage and what to do if your home becomes damaged.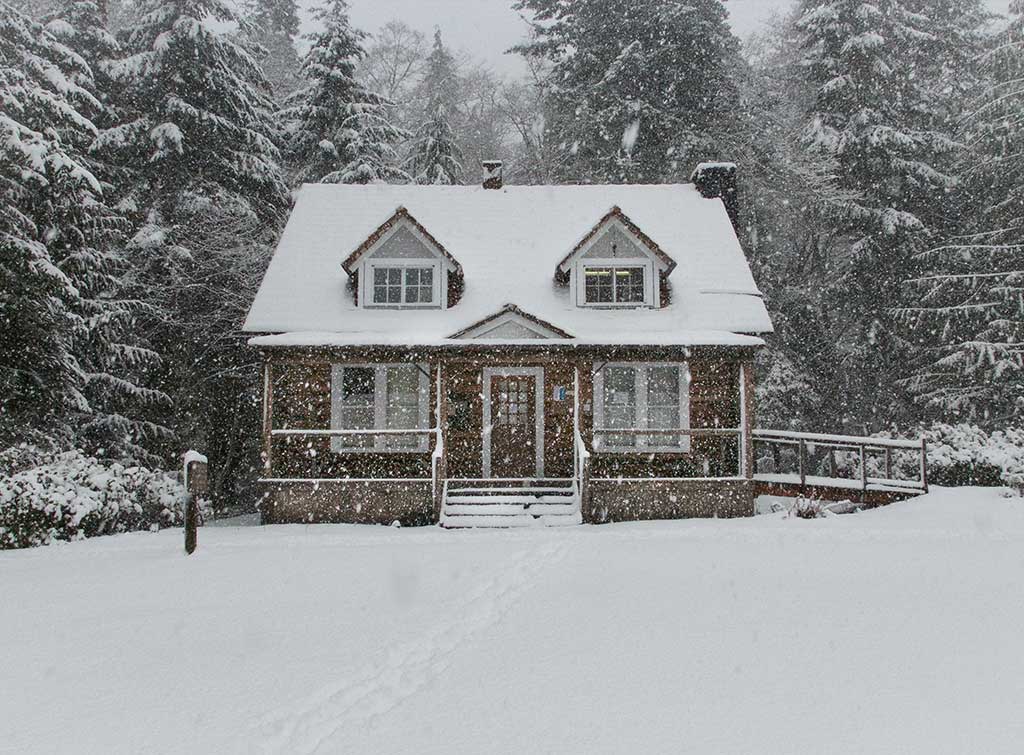 Our homes are cosy sanctuaries to survive the harsher climes, which is why maintaining them is so important.
Storm damage from cold or freezing weather not only threatens our property but it can also threaten our health. Flu bugs, damp, and freezing/thawing cycles pose unique challenges, so preparing for the worst is key.
This blog is going to take a look at the various types of cold weather damage you can expect during the winter months, plus ways to avoid or limit the issues caused by freezing temperatures.
Types of cold weather damage
It's estimated that freezing weather costs the UK economy around £1 billion a day for every day it lingers.
Property repairs take a significant share of this financial burden, which can cost homeowners up to a whopping £25k from water damage or burst pipes.
With that said, let's look at some of the most common issues caused by cold weather damage.
Roof and gutter stress
Freezing conditions can inflict havoc on your roof. Issues such as ice dams that cause leaks, strong winds that loosen tiles, or impacted ice/icicles that cause weight strain all threaten your roof's integrity.
Your gutters may suffer the same fate when they become blocked and can't flush the rain or snow away from your house. Find out the average cost of gutter repairs.
Damp and rot
Due to shifting temperatures and the numerous freeze and thaw cycles, damp and rot are common UK winter issues.
Your door and window frames are particularly vulnerable to this kind of problem – especially if they're timber-framed. Unless they're treated and well maintained, they can be vulnerable to wood rot.
Loft water leaks
Many households have water pipes or cisterns in their lofts, which is why they commonly suffer from leaks and condensation build-up during cold spells. They're at the most risk when these exposed pipes and systems aren't properly protected, causing problems once the excess moisture freezes.
Broken roofs can also impact your loft, with thawing ice or snow melting through any unsealed cracks and worsening the issue.
Peeling seals
Seals, such as those with caulk, may crack or peel away from your windows during colder months. This is due to temperature fluctuations that expand and contract the air pressure inside and outside your home.
This can cause draughts that let heat escape and reduce the effectiveness of your insulation.
Cracking paths
Patios and concrete paths aren't immune to the elements.
When snow or frost melts, the resulting moisture enters any cracks and erodes them even further. Then, when it freezes, the cracks expand and grow deeper, resulting in a continuous cycle of erosion and expansion until you undertake the appropriate repairs and limit the damage.
Electrical hazards
Most cold-weather electrical hazards occur when basement puddles form or outdoor lighting gets waterlogged. Rising damp in your basement risks damaging any appliances or electrics, whilst the resulting rust on exterior lights are a safety risk.
Be sure to avoid these issues by investing in water barriers for your basement and weather-proof covers for your external lights.
Exploding pots
For the more green-fingered amongst us, freezing conditions don't just affect our perennials. Cold weather threatens to shatter the very foundations of their carefully curated existence. This is because when water freezes, it expands, which can shatter clay or concrete pots, devastating your prized petunias.
Frozen pipes
Burst pipes are one of the most common – and pricey – issues when it comes to freezing conditions.
When pipes burst, they leak into high-impact areas of your home, such as your loft, basement and/or walls. In turn, this causes dampness and mould that require further treatment.
Frozen or burst pipes affect both outdoor taps and indoor plumbing, so it's worth protecting them and avoiding their not-so-spontaneous combustion where possible.
Cracked chimneys
In particularly cold conditions, chimneys are at greater risk. Bricks will expand and contract along with the winter temperature fluctuations.
In worst cases, this causes cracks in our chimneys that degrade further with time. This is why it's worth staying on top of your chimney maintenance during the warmer months.
Damaged decking
Even with the best water-repellant protection in the world, decking is still susceptible to winter moisture damage, which causes discolouration and warping. Think about covering it with tarpaulin and clearing any debris or snow as soon as it arrives.
See the tradespeople we've checked and recommend for your job
How to prevent cold weather damage
There are numerous property risks associated with cold weather. However, all is not lost.
There are several things you can do to prevent or limit storm damage and make sure your home is as protected as it can be.
Insulate pipes
Use weather-resistant insulation and wrap your pipes to avoid them freezing or bursting.
Lofts and garages are particularly vulnerable, so focus on those areas first before wrapping the rest of your house.
Top tip: In freezing conditions, leave your taps to 'drip' so there's a constant stream of water flowing through them.
Clear gutters and melt any snow with a de-icer
Maintaining free-flowing water during the winter months is a necessity. This is because, if the water builds up and freezes, it can strain or break your gutters – damage that requires pricey repairs.
Consider hiring a professional to clean your gutters before the winter months, and be sure to stay on top of flushing them through with a high-grade de-icer whenever any ice or snow builds up.
Regularly inspect your roofs and chimneys
We recommend you undertake regular roof and chimney inspections to make sure they're structurally sound all year round. Look out for debris, leaning chimney breasts, and broken or cracked tiles, and be sure to fix any issues before the cold sets in.
Take a look at our chimney repair guide for more information.
Prepare your garden
Frost doesn't take kindly to plants. That's why it's worth either bringing your potted perennials inside or wrapping them with an insulating material, such as bubble wrap.
We advise you only keep hardy plants outdoors, with the more tender variety in sheltered areas or covered with horticultural fleece.
Mulch is also helpful for trees and shrubs, which stops the ground from freezing when placed on the topsoil.
Keep your home toasty
We know that energy bills start to add up over winter. However, if you're able to keep your central heating on for at least an hour a day, this will prevent your pipes from freezing.
It's worth getting your boiler serviced each year so you're not caught short in the winter.
Consider green home improvements
With the various energy grants available, why not find out if there's anything you can do to get your home winter-ready? It's worth investing in insulation and also efficient heating systems to keep your home warm without higher heating costs.
Seal your windows and doors
Repair any cracks or seals around your doors and windows in time for winter to avoid further damage. It's also worth looking into weather stripping, which is a cheap and effective way to reduce heat loss and stop any draughts from entering your home.
Find out how much window resealing could set you back.
Maintain your home's structural integrity
Sometimes, in extreme conditions, the freeze/thaw cycle causes the ground to shift, which can result in the concrete foundations of your home weakening or cracking. That's why waterproofing your basement (if you have one), repairing cracks as soon as they occur, and making sure gutter or drainage issues are resolved ASAP is key for your home's structural integrity.
We hope you found this how-to helpful. For more tips, tricks and advice, be sure to check out our blog.