What is green energy technology?
Interested in smart home technology and want to reduce your home's carbon footprint at the same time?
There are lots of ways you can make tech work for you and the planet around the home. This includes using smart heating systems or even replacing your boiler with a sustainable energy source such as an air source heat pump or wind power.
Even something as simple as replacing your light bulbs with energy-efficient LED ones, controlled by a smartphone app, can help cut your home's energy consumption.
We'll explore some of the best carbon-cutting options here in our eco guide to smart home and green energy technology.
Smart green energy technology
One of the biggest ways to drive down your home's environmental impact is to invest in smart, sustainable heating systems. This green energy technology that along with insulating your home, will save you money on your energy bills.
Let's take a look at a few of the key smart home technologies you might want to consider.
Smart meters
While a smart meter doesn't save you money as such, it's a good way to keep track of how much energy you are using and, therefore much you are spending.
There are ways you can use a smart meter to your benefit. We spoke to Alex Simmonds from Simm Electrical Services, who suggested this useful tip:
One hack I would say is to turn everything off and go around the house turning things on and the smart receiver should show how much energy each device or appliance is using. It's normally things that get hot that cost the most to run!

Simm Electrical Services
Once you've figured out which devices are using the most energy, you can work on changing your habits and switching them off when they're not in use.
What is a smart thermostat?
Many of us have the heating on too high or leave it on too long. A smart thermostat can help you manage your heating more efficiently, with very little effort.
Smart thermostats connect your heating system to your smartphone or computer via an internet connection. This lets you control the heating from wherever you are. For example, you can programme a schedule, or turn the heating off if you accidentally head out and leave it on. Some advanced smart thermostats can even detect draughts and open windows, and learn what temperatures you prefer.
Sound good? Take a look here for the average cost of smart thermostats from different brands and to find an expert to install yours.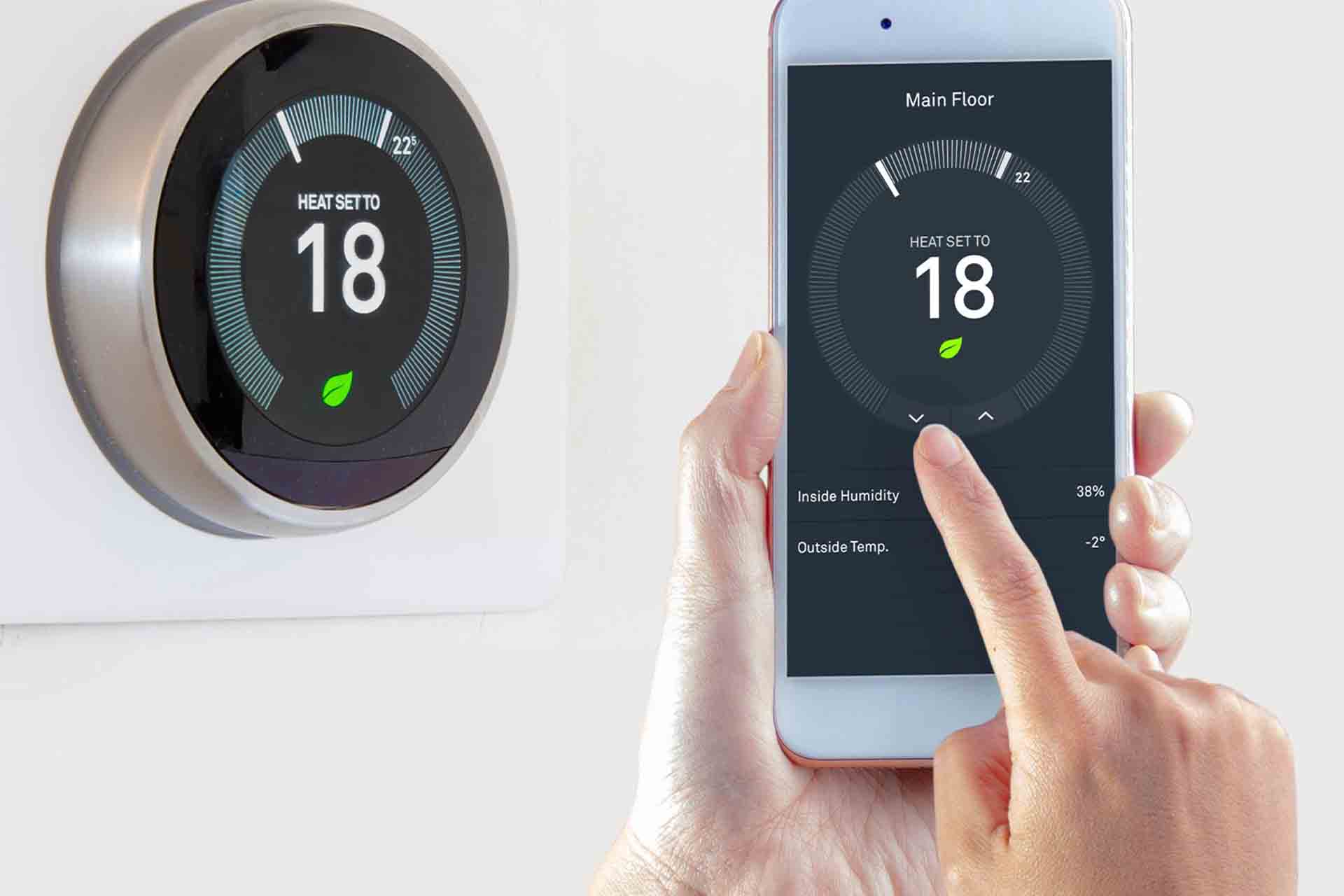 How does a geothermal heat pump work?
Now, what about your actual heating system – could you save money and reduce carbon by replacing it with a more sustainable solution?
Geothermal (also known as ground source) and air source heat pumps produce far lower CO2 emissions than your boiler. They also cost less to operate and heat up your home more quickly. However, they can be costly to install. Take a look at our ground source heat pump cost guide to find out more.
A geothermal heat pump works by harnessing the heat stored in the ground. Pipes buried in your garden will extract heat from the earth. They do this through a mixture of water and antifreeze, which absorbs the heat. This is turned into usable heat for your home by passing the warm fluid through a heat exchanger.
A ground source heat pump can be used for your radiators or underfloor heating system, as well as for your hot water.
How do air source heat pumps work?
Another type of heat pump available is an air source heat pump. To imagine how one works, picture a fridge operating in reverse. The air from outside your home is blown over a network of tubes, warming up the refrigerant inside them and turning the liquid into a gas. The gas is passed through a compressor to bump up the pressure and, therefore the heat, before a heat exchanger transfers the heat to cool air or water.
You can use an air source heat pump for heating and hot water, and even for cooling in the summer. However, they don't work so efficiently in very cold temperatures, and the cost to install an air source heat pump can be quite high.
See the tradespeople we've checked and recommend for your job
How does a solar water heater work?
One of the most popular types of eco-smart home tech is solar panels. They're a good choice for your home's hot water supply, making use of the free energy from the sun to heat up water stored in a hot water cylinder.
Solar panels can reduce your reliance on energy sourced from burning fossil fuels, and save you money on your energy bills. Just make sure you factor in the cost of installing solar water heater systems.

Using wind energy for home power
Wind turbines for home use aren't feasible in every case. This is because you either need a lot of space for a freestanding wind turbine or roof space for a building-mounted one.
But if you do have the room and are able to install one, you could benefit from free electricity generated by the wind. Take a look at our wind turbine cost guide to find out more.
See the tradespeople we've checked and recommend for your job
Smart tech around the home
There is now a huge selection of smart home gadgets and systems available, covering everything from entertainment to energy saving. Some of the easiest and cheapest to implement are smart lighting solutions and dual flush toilets.
Advantages of LED light bulbs
If you've not yet replaced your existing lighting with LED bulbs (whether or not you choose to manage everything with a smart lighting system), here are some reasons to do it right away:
Long life: Some LED bulbs can last for up to 50,000 hours
Energy efficiency: LED bulbs turn around 70% of their energy into light, whereas other bulbs waste lots of energy by converting it into heat
High brightness and intensity
A fantastic colour range and temperatures
Instant light: They don't take ages to get to the desired light
Reliability: LEDs can withstand more vibration and impact than other bulbs, as they have no filaments
Directional lighting: The lights can be pointed in certain directions, making them perfect for task lighting and recessed downlights

What is a dual flush toilet?
You can significantly reduce the amount of water your toilet uses on every flush with one simple gadget – the dual flush valve.
How does a dual flush toilet work? It's very simple. When installed inside your cistern, the valve allows you to choose whether you want a full or half flush. Choose half, and the valve will produce just enough water to adequately flush the loo. This could cut your water consumption in half with every single flush.
Ever considered a green roof for your home?
While it may not involve technology in the form of smartphones and internet-connected gadgets, a green roof is a seriously eco-friendly home innovation. It basically involves covering your roof with low-maintenance vegetation rather than just traditional tiles or slate.
There are loads of benefits of installing a green roof, from providing a habitat for nature to reducing your energy bills through improved insulation. To find out how much to budget to have a green roof installed, take a look at our green roof cost guide.
Whatever eco-smart home technology you choose, make sure you use a professional for installation and maintenance. If not properly installed and integrated, systems may not be as efficient as they could be – so you and the environment won't see the benefits.

See the tradespeople we've checked and recommend for your job
FAQs
What else can I do to create a green smart home?
Automating as much as possible in the home can help to reduce wasted energy consumption. For example, smart lighting can help you save energy when you forget to turn the lights off.
You can also look into other water-saving devices, such as smart valves, as well as smart plugs, which manage energy flow and make sure high-consumption devices aren't left on.
Won't green energy technology actually use more power?
It depends on what systems you have installed. For example, lots of smart entertainment and decorative lighting tech can use lots of energy, especially if left on.
But green smart home tech can help to manage energy more efficiently, stopping devices from being left on standby and cutting waste in other areas. It's all about how the system is installed and managed.
It's important to speak to an expert to plan your smart home system carefully. For example, not leaving several components on one rack switched on constantly as this can use more energy.