House renovation checklist
If you're wondering how to plan a house renovation, or want a checklist, we have all the information you need to get started.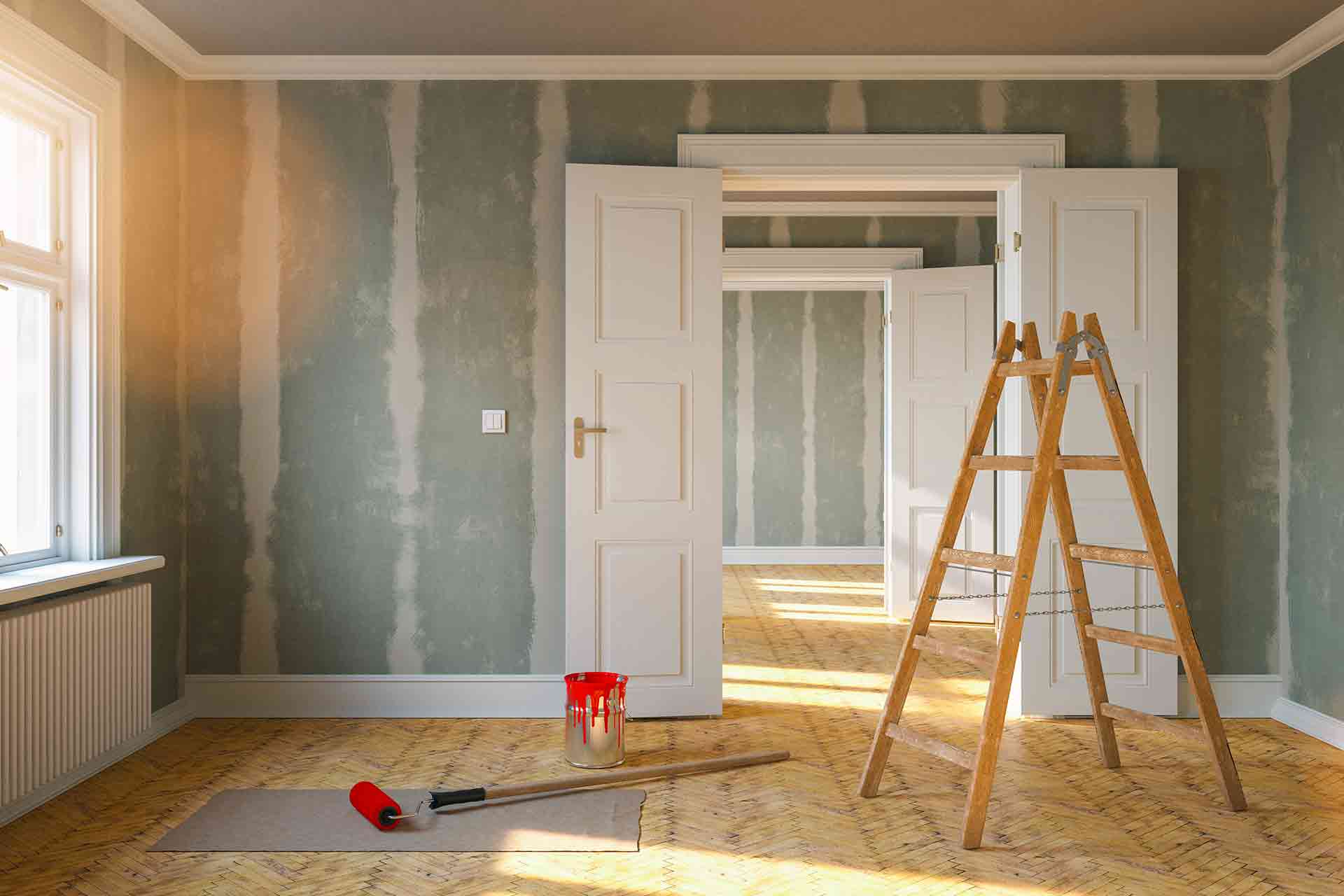 We spend so much of our lives in our homes, from sleeping to entertaining, relaxing and eating, so choosing to invest in home renovations is a great decision. What's more, with so many people choosing to work from home, creating a functional home that works for you is essential. So, why not use our handy house renovation project plan template checklist to guide you through your project?
This article is designed to assist you with your home renovations, no matter the magnitude of your plans. From where to start with a house renovation, to a whole-house renovation checklist, we're here to support you when building the home of your dreams.
House renovation checklist
As with everything in life, the more time, energy and funds you put into improving your home, the greater the rewards. If you get it right, then the changes you make will increase the value of your property as well as upgrading your living space.
So, if you're looking for a UK house renovation checklist, you're in the right place. Use the below ideas to sculpt your perfect home: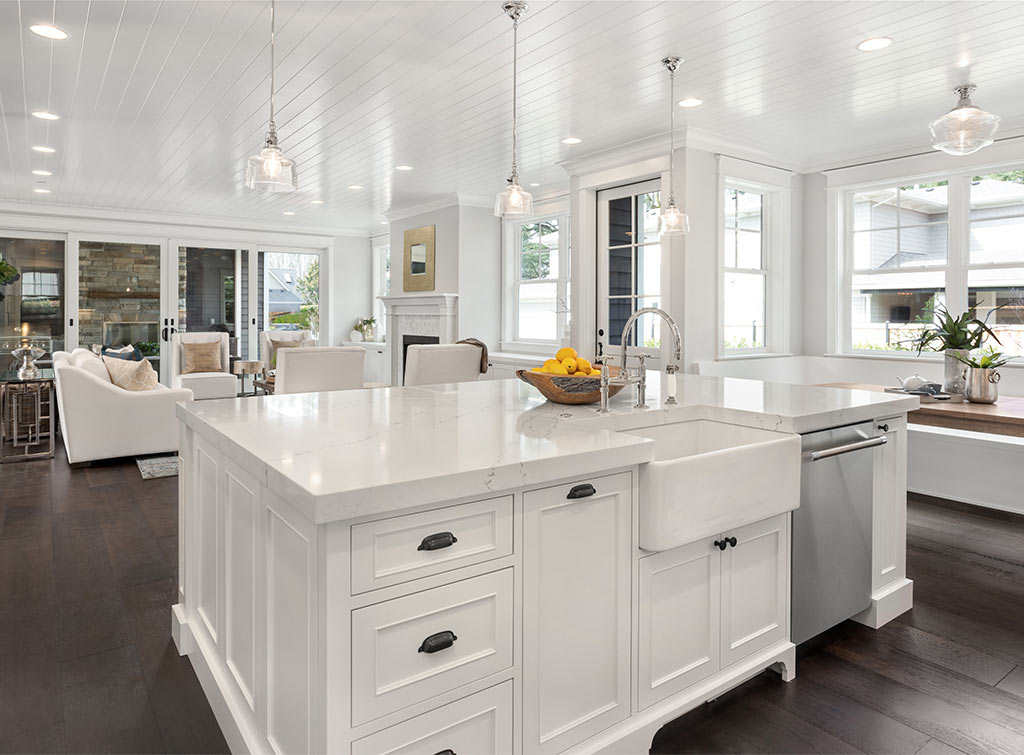 Exterior renovations
Upgrading your gutters and downpipes
Refurbishing your roof, especially if there are leaks
Painting your walls, windows and doors
Replacing windows with double or triple glazed options
Restoring decaying timber
Landscaping your garden
Adding a new driveway
Using plants, flowers and bushes to bring your garden to life
Building an outhouse, summer house or shed
Replacing any old or damaged furniture items
Repairing structural movement
Interior renovations
Layout changes – For example, knocking down walls to create an open plan living space or to increase room size
New flooring
Painting, tiling or wallpapering
Attic, garage or basement conversions
Adding new curtains or blinds
Extensions
Installing new storage options to keep your home tidy
Adding extra sockets
Installing new lighting
Replacing pipes or electrics
Installing a new bathroom or kitchen
Adding a new fireplace or upgrading an old one
New furniture or soft furnishings
This home renovation checklist will help to give you some inspiration into how you can upgrade and enhance your home.
See the tradespeople we've checked and recommend for your job
House renovation process
Once you've decided the best way to improve your home, using the above house renovation checklist, you may be interested in the best process for renovating a house. Hiring a project manager to oversee your house renovation process will eliminate the need for you to plan everything yourself.
However, if you're curious, or plan to do the work yourself, follow this renovation process checklist:
Planning: Always a key stage to any renovation, planning the logistics is the best place to start. You'll need to finalise your budget, and if necessary, have drawings made up and obtain planning permission.
Preparation: After planning comes preparation. Look into sourcing the right materials, hiring the best professionals and ensure your home has the necessary access.
Construction: Probably the most exciting step, construction is where your house renovation process begins. Depending on the level of your home improvements, it may involve stripping down your home, building new structures and adding items like windows, walls and floors.
Water, gas and electrics: For your renovation to be fully functional, you may need to add these essential utilities.
Finish: Finally, you may choose to redecorate your improved home using paint, wallpaper, new flooring, lighting and furniture.
Of course, not all home projects will follow every step listed, but using the above renovation process checklist can ensure you don't miss any important stages.
First steps to renovating a house
If your home alterations are starting to feel overwhelming, it may be a good idea to learn where to start with house renovations. For larger projects, we'd definitely recommend hiring a project manager to ensure things run smoothly, but for simpler changes, it may be worth running them yourself.
The first steps to renovating a house are:
Budgeting: Figuring out your budget is vital to ensure you don't end up running out of money halfway through the project. Be realistic and if necessary, secure any funding before beginning.
Experts: Unless you feel confident in taking on your home renovation yourself, you'll need to hire a range of experts. It's worth noting that working with electrics, water and gas can be very dangerous and in certain circumstances, illegal. So always check you're following building regulations and staying safe.
Getting a measured survey: This can be a great help when renovating your home, as the dimensions and measurements will be exact. This'll eliminate any errors and prevent issues with fitting down the line.
Check access: It may seem obvious but always consider access to your home. It's essential that workers can reach the part of your home you are altering. What's more, for large scale renovations, you may need access for large vehicles.
Finding a house: Many people make a career out of renovating homes and selling them for a profit. Once you have experience with home improvements, it can be very fulfilling to do so as a way to make money. Unless you're working on your current home, you'll need to find the perfect property to be your next project.
Renovating a house step-by-step
Now you know where to start with house renovations, you'll need to know the best order of works to follow. So, let's look further into renovating a house step-by-step. Again, there's a lot to consider, so speaking to a professional project manager can help to take the stress out of the process.
Use the below steps as a guide when working on your renovation:
First things first, decide whether to renovate your current house or alternatively, find a new house to improve.
Next, check whether planning permission and any other legal permissions are necessary. For example, you may need listed building consent or a party wall agreement. Always obtain these before beginning your project.
Calculate your budget. Make sure to allow for materials, labour costs, insurance, tools and any other costs.
Make a plan for exactly what you want to renovate. You may need to have drawings made up, a measured survey completed or speak to an architect to decide on the best construction methods.
Make a schedule of works and check access. Working with a project manager can help with this, but you'll need to carefully calculate the timescale for each step of your renovation to ensure things run smoothly. Also, remember to check there's enough access space for any large vehicles that are necessary.
Hire the right professionals. You want to hire well-qualified tradespeople who are reliable and fairly priced. Thankfully, using our search feature is a fantastic way to reach a range of professionals. Plus, each of our members has their own page with reviews, testimonials and more to help you find the best tradesperson for your job.
How to plan a house renovation
As we previously learnt, planning is such an important stage to any home improvement. That's why learning how to plan a renovation of a house is the key to a successful project. Using the steps in our 'renovating a house step-by-step' section can help with this.
For further information on how to plan a house renovation, use the below list:
Survey: Begin with a survey to check the structural integrity of the house.
Measured survey: You can also get a measured survey to properly map out your living space.
Finances: Again, don't forget to draw up a budget. Each stage of your renovation will need to be accounted for. Work closely with any tradespeople you hire to ensure you stick to your budget.
Workers: Choosing the best professionals for your job is very important. You should hire workers with positive reviews and always ask to see examples of their previous work. Make sure you get a range of quotes before deciding on who to hire, and don't just pick the cheapest quote. Using a more experienced professional may be more expensive but the quality of their work more than makes up for the extra cost.
Materials: Pick the best materials for your home. Depending on your budget, investing a little more in quality materials can ensure your finished home lasts for years to come. If you're unsure about the best materials to use, consider hiring a structural engineer for suggestions.
Appearance: Plan exactly how you want your finished home to look. It may be useful to pay an architect to draw up sketches of how your living space will look after your renovation. This will also help when choosing furnishings, flooring and decoration.
What renovations can increase the value of a house?
One of the most common reasons people choose to renovate their homes is to add value when it comes to selling their property.
Even if you aren't planning to move but want to update your home, it may be handy to know what renovations can increase the value of a house. The following are all great choices:
Redecorating
Repairing old or damaged fittings
Garden tidying and landscaping
Installing a new or revamped kitchen or bathroom
Increasing the home's energy efficiency
Knocking down walls to make the space open plan
Loft or garage conversion
Adding an extension
See the tradespeople we've checked and recommend for your job
How to calculate renovation costs of a house
Whether you're planning to fund your home improvements yourself or are seeking help with funding, it's vital you stick to your budget. If you're unsure exactly what type of change is best for your home and want to know how to calculate the renovation costs we would recommend speaking to a project manager.
Remember to always allow extra funds to cover unexpected surprises.
How to organise a house renovation
Staying on top of your home project is crucial to prevent mistakes, delays and confusion. Thankfully, using the below tips you can easily learn how to organise a house renovation project:
Budget, budget, budget! Carefully plan your budget by writing it out and breaking it down into different areas such as groundworks, electrics, materials and construction.
Buy a diary or use a digital calendar to create a detailed schedule of works. This will help you stay organised and know when to book each different professional.
Get contact information from all the tradespeople you're using and keep it together in your diary.
Make a folder for any documents like receipts, drawings and invoices to prevent any important papers from getting lost.
How to stay under budget during your renovation
As every renovation is different, setting a budget aside and sticking to it can be a real challenge, particularly when there are lots of options to consider, with many unexpected costs likely to arise. Follow these tips to stay under budget.
Be realistic with your aims
It is very easy to get caught up in your renovation plans and set your sights on aims that aren't realistic or will prove costly. Be honest with yourself about far you can stretch your budget and how you plan on saving for your renovations.
Remember, the whole point of having a budget is to feel prepared for your home improvements and to gain an understanding of what you can realistically achieve.
Be specific with what you want
Being specific about the renovations you want will ensure your tradesperson can give a more accurate estimate for the completion of the works. Budgets tend to go over when rash decisions are made, and not enough thorough planning has been done in the build-up to a job.
Having a clear picture of what you want your renovations to look like and clearly outlining these plans with a tradesperson will ensure the job is much more likely to come in on, or even under, budget.
Understand the quality of materials
If you really want to stay under budget, think about the quality of the finish you want. More often than not, those who are trying to stick to a really tight budget will often compromise too much on the quality of materials used, meaning the job has to be redone. This, in itself, can be extremely costly. Edward Charlton from Charlton Heat and Power advises:
"Save time and money by not sending out your tradesperson to upgrade your choice, which you thought was cheap and good but turns out is poor quality. Be realistic and go for quality if you want a superior look – cheap is not necessarily the right price."
Plan for the unexpected
Even the tightest and simplest budgets will need wiggle room for unforeseen problems. For example, your tradesperson may need to increase the spend by 15% due to unexpected labour costs, which should be taken into account from the word go.
When there is a job with multiple trades, you should add 25% as a buffer to the total cost to account for any unexpected problems.
For example, renovation works often uncover serious maintenance issues that will need to be resolved before the job can be completed. It is these types of problems that catch homeowners by surprise, blowing the budget in their wake.
How Checkatrade can help with your renovation
Taking on a renovation can be a complicated, arduous job that can impact your day-to-day life. For smaller projects there is less of an issue, but when you're planning an extension or conversion why not hire a project manager to take on the job? Saving you time, energy and stress, project managers will bear the responsibility of your renovation.
Luckily, our free search feature is designed to quickly introduce you to a range of different professionals in your area. So, for a relaxed approach to renovations, trust Checkatrade to find your new project manager.
How much does a renovation cost?
Unless you plan to renovate your home as a DIY job, you'll need the services of a wide range of tradespeople. Using our handy search engine can help you to reach all the professionals you need, but it may be useful to know exactly how much you'll need to pay for every step of your renovation.
Below are a range of links to our fantastic guides, all of which will be excellent resources during your project. Each guide includes average costs, tips and other useful information. The most relevant guides for this project will be our house renovation cost guide and our project manager guide, so we would recommend giving them a read no matter your plans.
We've also included a range of estimated prices for your renovation: