How to flip a house
Wondering what's involving in flipping houses in the UK? In this guide we look at how to flip a house with our top tips and helpful advice.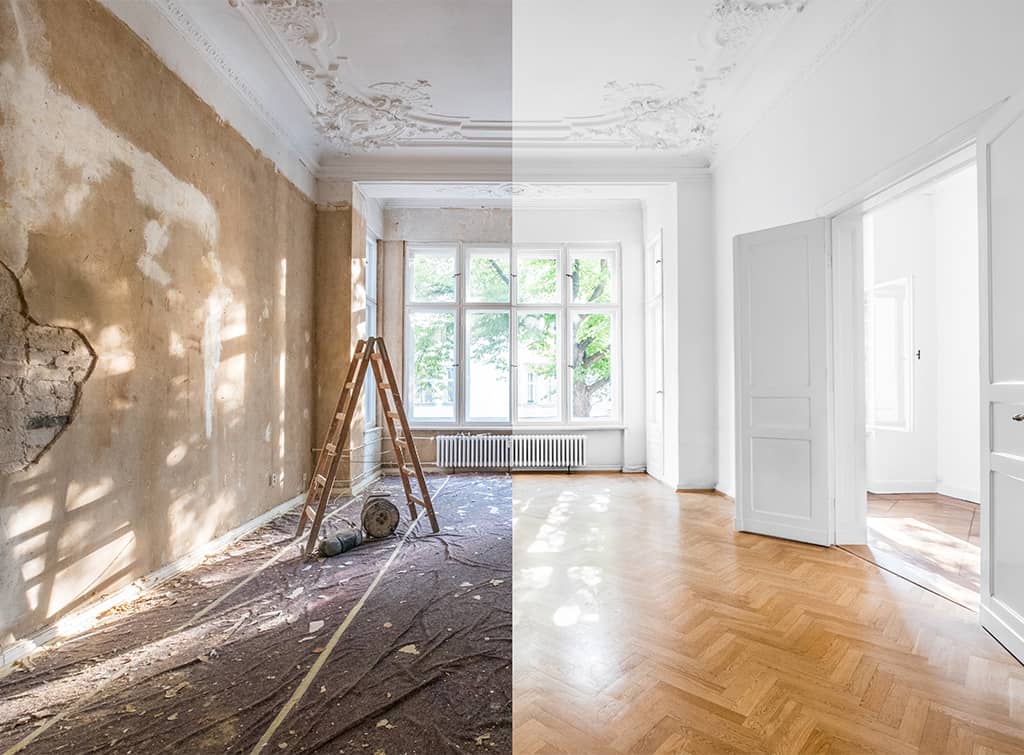 Flipping houses in the UK is a great way to make money in a relatively short period of time, as long as you do your research and plan the project well to ensure you end up with a house flipping profit.
In this guide, we look at how to flip a house successfully in the UK, including the best way to flip a house and tips for how to flip houses without money or with bad credit.
What is house flipping?
Flipping a house is a common term for buying a property, doing it up and then selling it on. The idea is that you're effectively buying and selling houses for profit. It might sound like a simple idea but, to make a profit, you need to be careful with your spending and plan your budgets carefully – so that you end up with a decent profit.
Keep reading to find out more about how to flip houses and what the process involves.
See the tradespeople we've checked and recommend for your job
How to flip a house in 6 steps
We've put together a quick 5-step summary to show you how to flip a house successfully in the UK:
1. Do your homework on flipping houses
Research is the name of the game when it comes to flipping houses that will make you money. Before you start looking for areas or properties to invest in, you want to be as clued up as possible on the process of buying, renovating and selling a property.
If you've not renovated a property before, there are a lot of details that are easy to miss – and not doing your homework could be the difference between making a tidy profit and selling at a loss.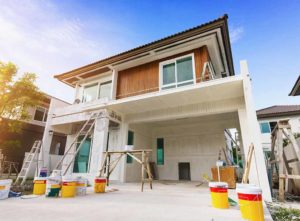 Speak to people you know who've successfully flipped a house before, listen to podcasts on the subject, and even reach out to estate agents – they often have a lot of insight into buying and selling houses for profit in the UK.
2. Decide on the right location
A big part of your research will be choosing the right neighbourhood to invest in – you want to choose an area where people want to live so that you can easily sell the property once it's been done up.
Don't be tempted to get a cheap property in a dodgy area because it looks like a bargain. Chances are, it's cheap for a reason and the potential for profit will be limited. And, if you fail to sell it quickly, you'll be footing monthly costs that will eat into any profit you hope to make.
Whether you choose an area that you know personally or a new area that you then do lots of research on, you want to keep an eye on the local property prices. See what type of properties are selling and which ones are sat on the market for months. You ideally want to buy a property that there's high demand for.
3. Figure out the finances
Once you have a good idea of what the house flipping process involves and you've picked an area you want to invest in, it's time to get your finances in order. After all, you need to know what you can afford, how much you'll need to spend on the renovation, and what profit you hope to make.
Some key figures you'll need to work out are:
Cost to buy the property
Your deposit
Mortgage rates and monthly repayments
Costs of selling the property (such as estate agent and conveyancing fees)
Selling price of the property
Tax on the profit
Tax is a common cost that people flipping houses in the UK often forget. You'll need to declare any profits to the tax office, so make sure you factor that cost into your overall budget for the house flipping project.
Once you've planned your budget, add a contingency fund of 10-20% – because your costs will definitely be more than you think at the beginning.
4. Never skip the surveys
There's nothing like a surprise structural issue or hidden roof rot to ruin your chances of making a profit when flipping a house. Don't get caught out. Before buying any property that you're hoping to flip, make sure you get a house survey done to check for potential issues. You can find out more in our guide to house surveys explained.
You can also read more about the costs implications of surveys in our guides house survey costs and structural survey costs. ​
5. Negotiate charges and fees
If you're serious about making a profit, you need to keep all spending under control – everything from surveyors and insurance lenders to contractors and tradespeople. Costs will soon add up so negotiating wherever you can will help you secure a healthy house flipping profit.
6. Hire professionals for key jobs
When flipping a house, there are a lot of jobs you can do yourself – like stripping wallpaper, painting, pulling up old carpet, or sanding woodwork. And these DIY tasks will help you save money, which is great for your profit margin. But, that said, it's important to hire qualified tradespeople for any electrical or plumbing work, or other jobs that you're not confident in carrying out to a high standard yourself.
You want to flip a house and make a profit, but not at the expense of the safety and standards of the property itself. Whatever the property is, you want to make sure it's renovated to a good standard and in line with all relevant UK Building Regulations.
You can search for the best local tradespeople using our quick and easy online search, where you'll see which tradespeople your neighbours recommend.
You can also get multiple quotes for work using our handy get a quote feature.
See the tradespeople we've checked and recommend for your job
How much does it cost to flip a house?
The average cost to flip a house in the UK is somewhere in the region of £38,000 – £74,000, depending on the type of property, the condition it's in, and the specification or the renovation work you carry out. To find out more, check out our guide to the cost of renovating a house.
We've also put together average prices for a more basic cosmetic refurbishment in our guide to house refurbishment costs.
How to get money to flip a house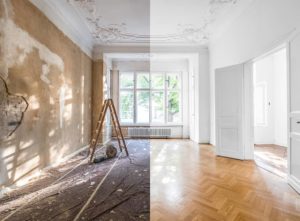 Not everyone has money spare to invest in flipping a house, but there are a number of ways you can get funding together to kick off your house flipping project.
If you don't have money in the bank to flip a house, here are our top tips for how to flip a house without money:
Borrow from hard cash lenders
These tend to be small private investors who lend money to people planning to flip a house and are often more interested in the After-Repair value (ARV) of the property than about the experience or qualifications of the borrower.
Most lenders will typically offer 65% and 80% of the property's After-Repair Value (ARV) for a period of 1-12 months – as most people flipping houses will buy, renovate and sell within one year.
Property crowdfunding loans
There's a growing number of platforms that specialise in crowdfunding for property renovation projects. The details of property crowdfunding will depend on the individual platform and the property you're planning to flip.
If you're going to borrow any money in order to flip a house, you just need to make sure that it's the right decision for you and your finances. Make sure you consider the rate of interest and fees, how long the loan is for, and the speed you can get the funds.
FAQs
How can I make a house flipping profit?
The best way to make a profit when flipping a house is to do your research on what's involved in the process of flipping a house, review all the finances, choose the right property in the right area, plan a budget and stick to it. Making a decent profit means planning for the unexpected and avoiding uncontrolled spending.
How hard is it to flip a house?
That depends on the condition of the house when you buy it. If the main updates you need to do are plastering and painting walls, laying new carpets and sprucing the house up, it can be pretty easy to flip a house.
On the other hand, if you encounter major issues with subsidence, roof damage, rotting beams, or other structural issues, they are much more complicated and expensive to fix. If you're considering buying a house to flip, we would always recommend carrying out a survey first.
What if I can't afford to flip a house?
There are other ways to add value to your home without completely flipping your home. Do check out our guide on how to add value to your home – we talk about new driveways, extensions, loft and garage conversions, and much more.