Your front door is the focal point of your property's exterior. As the entrance to your home, it should give guests a good first impression of your home's aesthetic and welcome them in with style. That's why we've packed our front door ideas guide with the latest top design trends to inspire and motivate you.
Before you dive straight in, it's worth taking a breath and considering the look and feel you want to achieve with your front door. If it's a minimalist vibe for a modern home, you might opt for bold designs and heavy materials. Whereas an older, more traditional home may benefit from a door with a more detailed and classic design.
Then there's a question of colour palettes: do you want your front door to catch the eye or blend in with the overall style of your house? Whatever your ambitions, browse through our front door decor ideas to see what's possible.
Types of external door
As far as first impressions go, your front door is everything. So, why not give it a little character?
With so many front door ideas to consider, it's easy to get overwhelmed. Ideally, you should start the process with a list of preferences for your external door.
For example, would you like glass panes to filter in natural light? Do you want a striking colour to contrast the uniformed brickwork? How about a double-locking system?
By making these key design decisions early, you can narrow down your choices to find a front door that fits your needs.
When it comes to materials, the most common types of front doors are made from:
uPVC
Composite
Aluminium
Timber
Each material will have its own benefits and drawbacks. If you're unsure of where to begin, consider calling an architect or carpenter for professional advice on the right style and material for your home.
Like what you see? There's plenty more where this came from. Discover more ideas, inspiration, tips and how-tos via Checkatrade's blog.
Front door ideas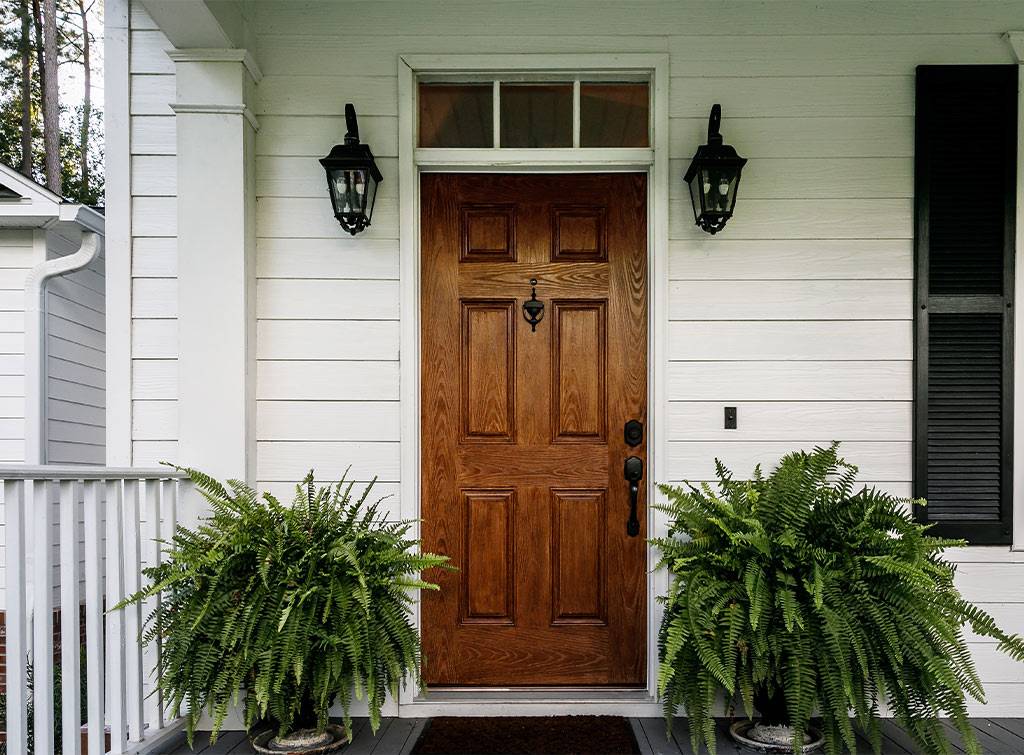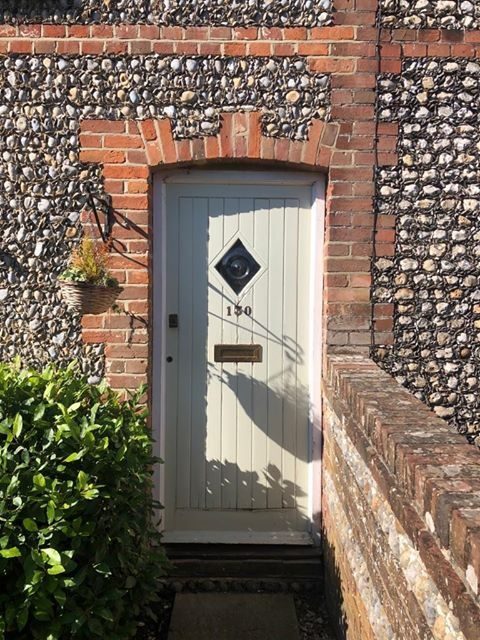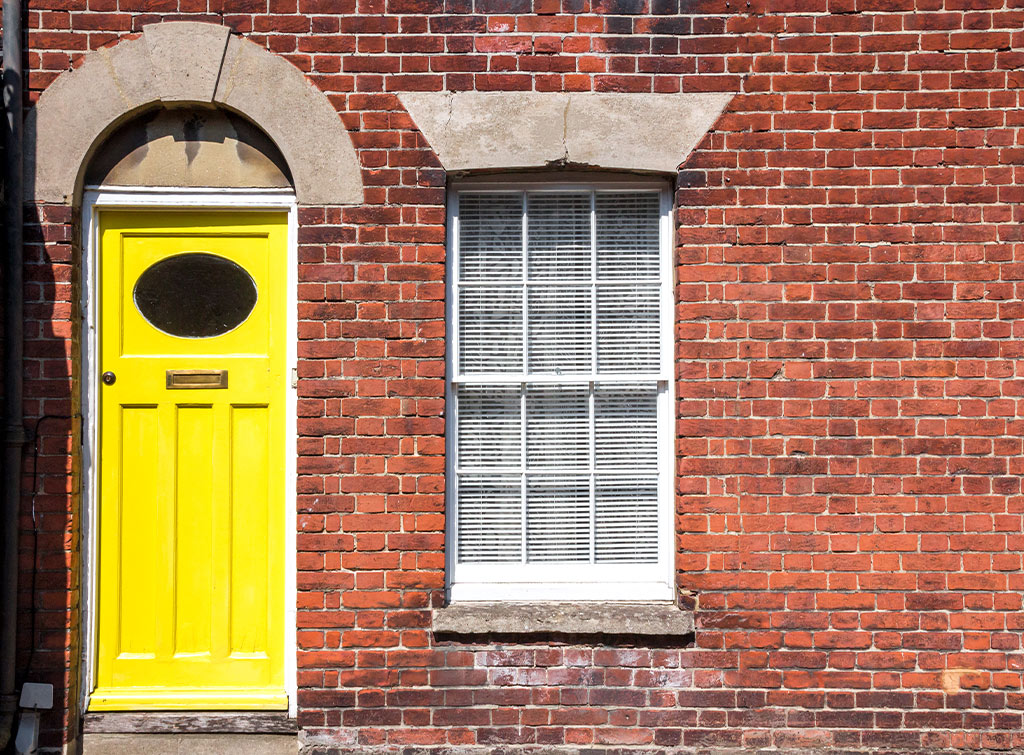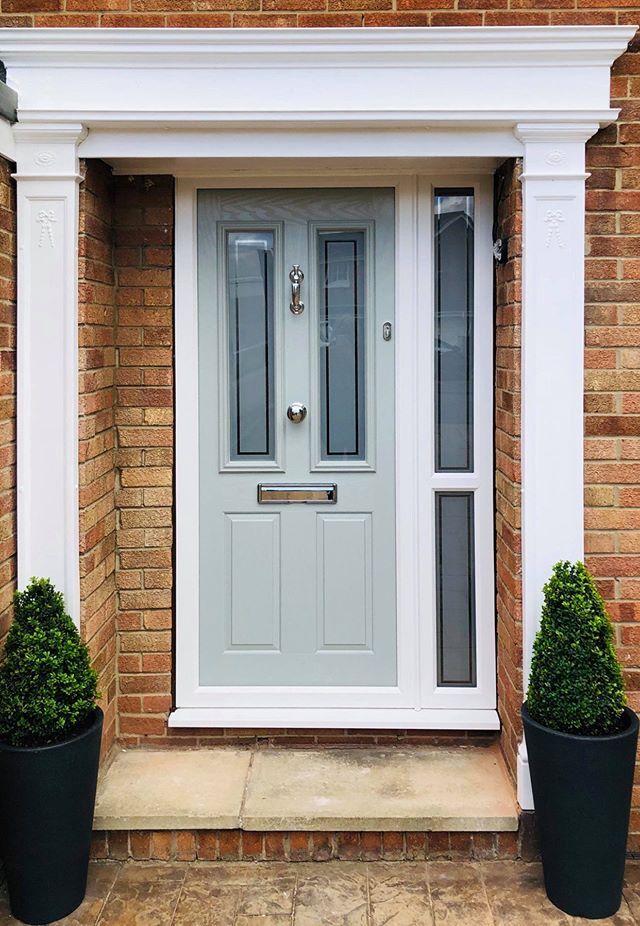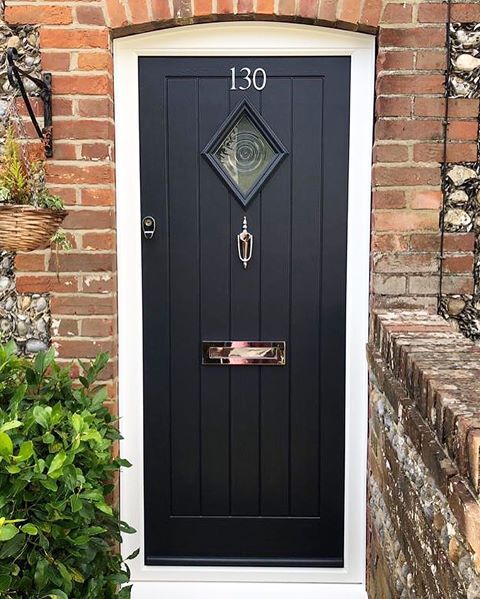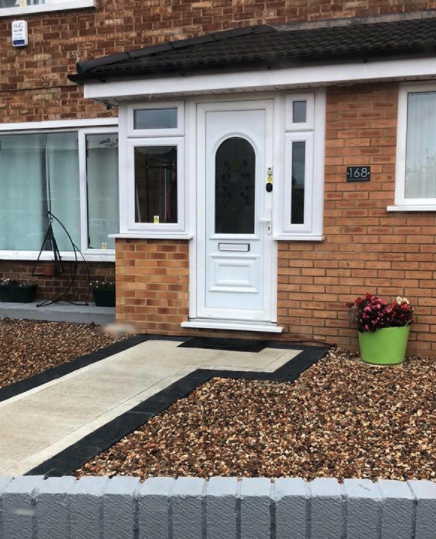 Front door designs
Grooved panels instead of glass panes makes this traditional timber front door effortlessly timeless. A matching iron knocker, handle, lock and lantern lights work well with modern white cladding on the external walls.
Front door ideas for brick homes
A modern twist on a classic style, this gorgeous front door design by @aperturewindows combines modern features with a rustic edge.
The duck egg colour wash complements the horizontal grooves of the wood, while the diamond Georgian window and bronze letter box are nice touches.
The combined brickwork and stonework finishes off the look, which creates a warm and authentic first impression.
Colourful front door ideas
Be bold and make a statement by adding a colourful front door for an added 'wow factor' to your home's exterior.
Opt for a bright canary yellow, fuchsia pink or cobalt blue. They work best when contrasting brickwork or brick-effect cladding, but giving your door a lick of bright paint regardless of its backdrop is a surefire way to make a stylish introduction.
Front door step ideas
The UK isn't known for its large and elaborate porches. However, a nice front step for guests to stand on while they wait for an invite into your home offers the perfect introduction.
Coupled with the modern and elegant uPVC door like this one from @Advanceddoorsandwindows, with twin paned windows, chromatic accessories and clashing textures, the look works well with traditional brickwork.
What we particularly love is how the whole aesthetic is framed by white Roman pillars and adjacent plant pots. All these design elements work well together, despite being separated by different eras.
Modern front door designs
Another Georgian inspired idea by @aperturewindows, this black painted and chromatically accessorised door is a beautiful example of how to mesh modern contemporary and classic elegance.
Due to the boldness of this colour palette, there are more options when it comes to choosing a bespoke design using sustainable or reclaimed materials. Black covers up a multitude of sins whilst remaining classy and striking, so it's worth considering if you prefer a greener home.
Traditional front door ideas
When all is said and done, sometimes a traditional design is the way to go.
Composite and uPVC doors are versatile and easy to maintain. This @right.door creation is a great example of how to combine flattering design elements whilst keeping it simple.
Here they've maximised the light with an arched window pane and adjacent porch windows. Not only will this setup offer energy saving benefits, but the first impression gives both a familiar and inviting aesthetic.
See the tradespeople we've checked and recommend for your job
Tell us what you think
What others think of this article:
Need More Information?
Related posts