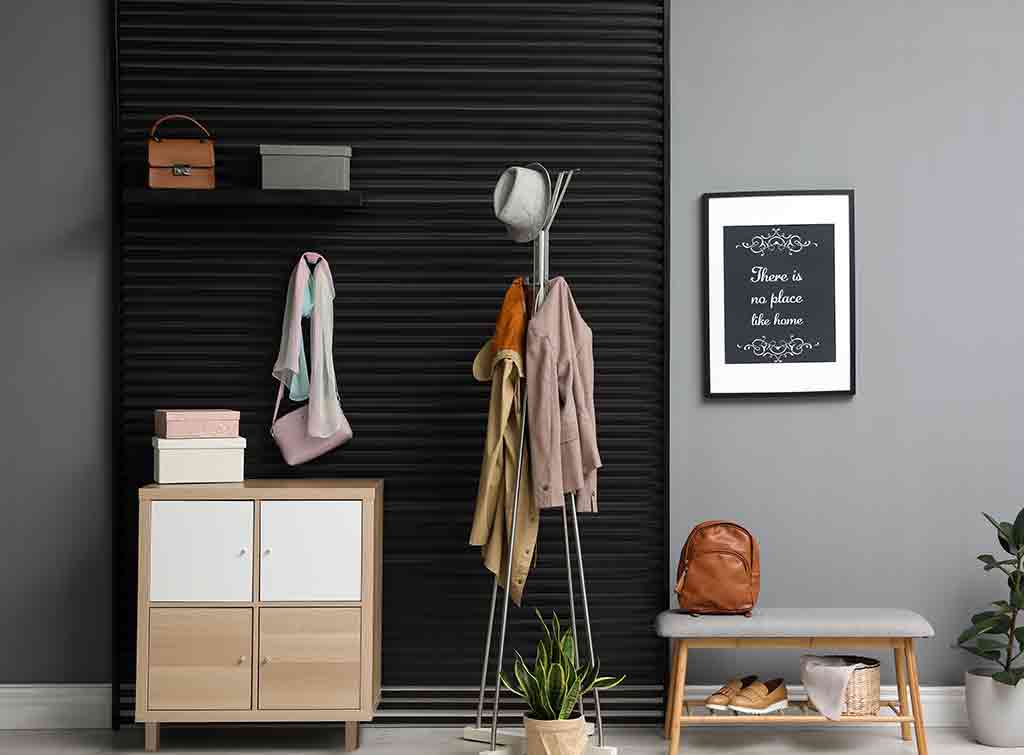 A transitional space, hallways help to guide us through our homes and into different living areas. Unfortunately, many hallways have become a space to dump shoes, coats and other items. Now is the perfect time to claim your hallway back, and our hallway ideas will guide you through this process.
Is your hallway narrow and dark? Dull and boring? Or in a state of disrepair? No matter the issue, it is possible to create a beautiful space full of life and light. Below, we've looked into the effects of colour and style as well as easy changes you can make to update your hallway today.
Small and narrow hallway ideas
If your home is quite small, there is a good chance your hallway is too. You may feel like there is nothing you can do to improve this, however, that is not the case. With the following small and narrow hallway ideas, you can transform a neglected space into a hallway to be proud of:
Using light colours on walls can make the smallest hallways look more spacious and open.
Mirrors reflect light and add an extra element of depth. Adding a well-placed mirror can greatly enhance a narrow hallway.
Sometimes small or narrow hallways can seem to be dark and dingy, with not much natural light entering the space. Carefully chosen lighting can help to make a hallway appear brighter and wider.
Dark hallway ideas
Dramatic and luxurious, a dark hallway can be a great feature in larger homes. You can create a stunning and intriguing hallway yourself using the following dark hallway ideas:
Your floor and walls give the perfect opportunity to add darker shades. There are many wallpaper and paint options as well as flooring styles that can complement this theme.
Patterned wallpaper can add depth and intensity to a wide hallway.
If you want to stick with light or neutral walls and flooring in your hallway, adding dark furniture or pictures can create a striking contrast.
See the tradespeople we've checked and recommend for your job
Bright hallway ideas
Bright hallways can be difficult to achieve in small homes but there are ways to infuse light into a dark hallway. Following these three bright hallway ideas will help to make a shift from a boring, dingy space to a light, airy hallway:
Painting the walls and flooring in a bright or light colour can transform a dull hallway and create a happy space.
Brightly coloured artwork and pictures can bring an influx of character and joy into your hallway. This is particularly true if your walls are painted in light or neutral colours.
Lighting can completely change the feel of a dark hallway, especially if no natural light penetrates that area of your home.
If you don't want to do the painting yourself, our guide on painter and decorator prices will help you find vetted tradespeople who can help.
Modern hallway ideas
These days it is very common for homeowners to strive for a modern theme in their homes. But, keeping up to date with modern hallway ideas can be tricky. Below we have summarised the best and easiest ways to achieve a modern finish for your hallway:
Use a monochromatic palette with shades of white, grey and black (we have a great grey and white hallway idea below). Add silver metal accents and glass wherever possible. For example, using silver picture frames or glass stair panels.
Keep clutter in your hallway to a minimum by utilising smart storage solutions. This will look even more modern if your storage incorporates glass or metallic silver shades.
Create seamless transitions between your rooms and hallway by using the same flooring and wall colours throughout your home.
Long and large hallway ideas
If you are lucky enough to have a long and large hallway, there is so much potential just waiting to be unlocked. Consider the following long and large hallway ideas to make the best use of this space:
Add storage to larger areas, including sideboards, cupboards and ottomans. This will allow you to keep clutter tidied away and create a clean, open space.
Use similar styles of art and decorations throughout the hallway to enhance the flow of your home.
Slimline storage solutions can give long hallways a purpose, even if you don't have a wide hallway. You can also use mirrors and lighting to open up narrow hallways.
Bright, bold and beautiful hallway ideas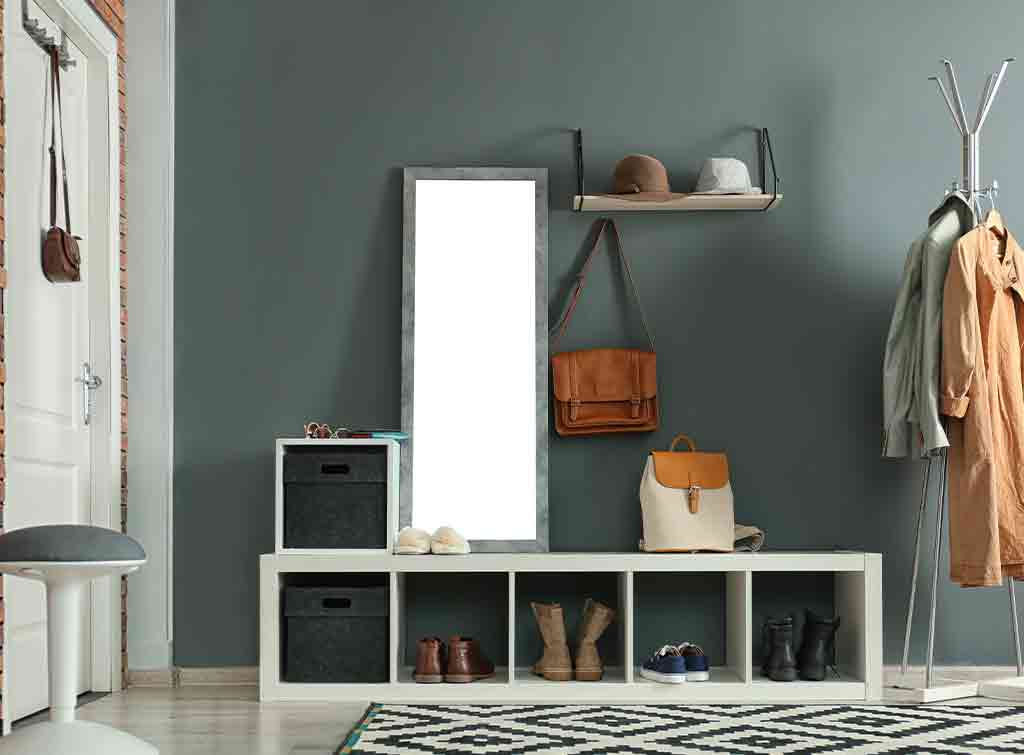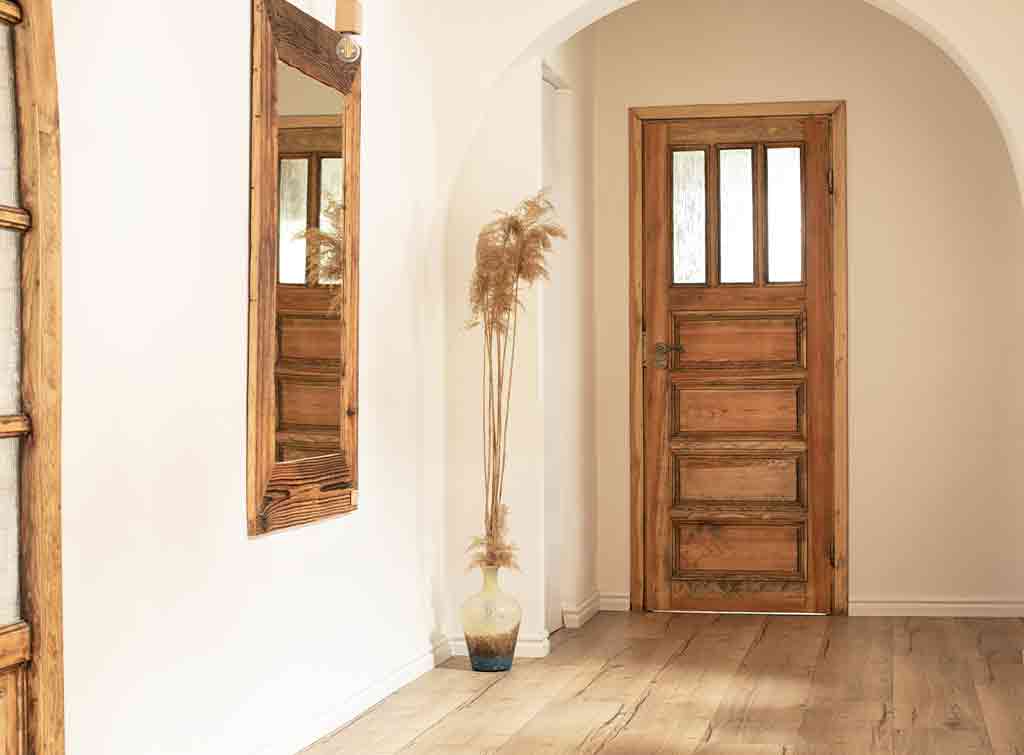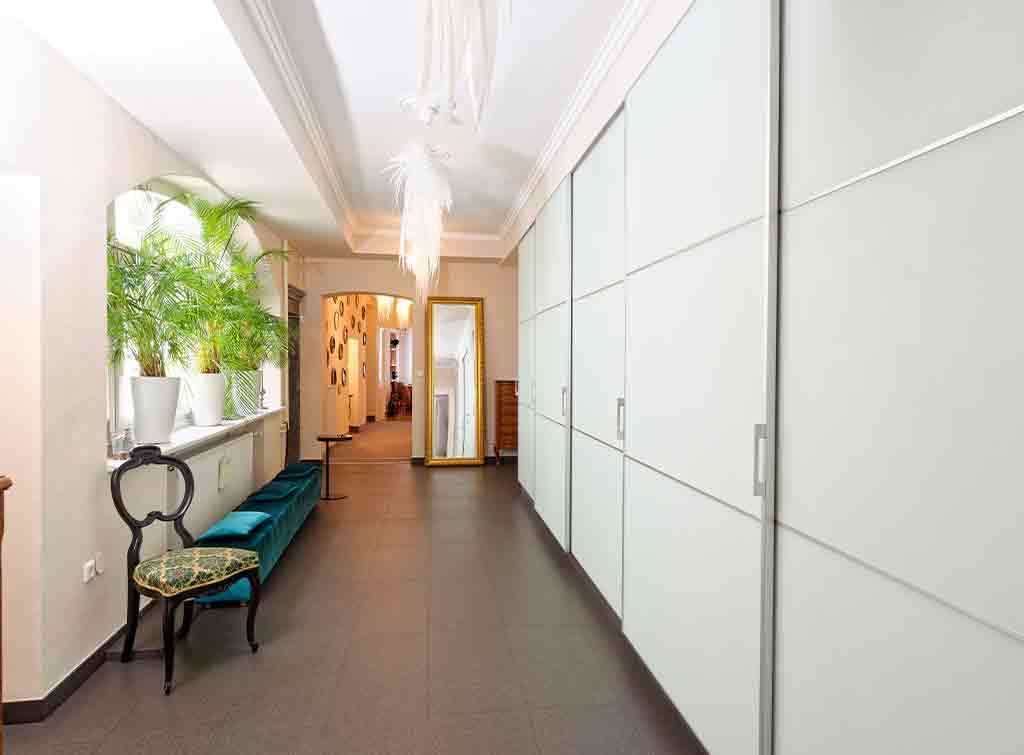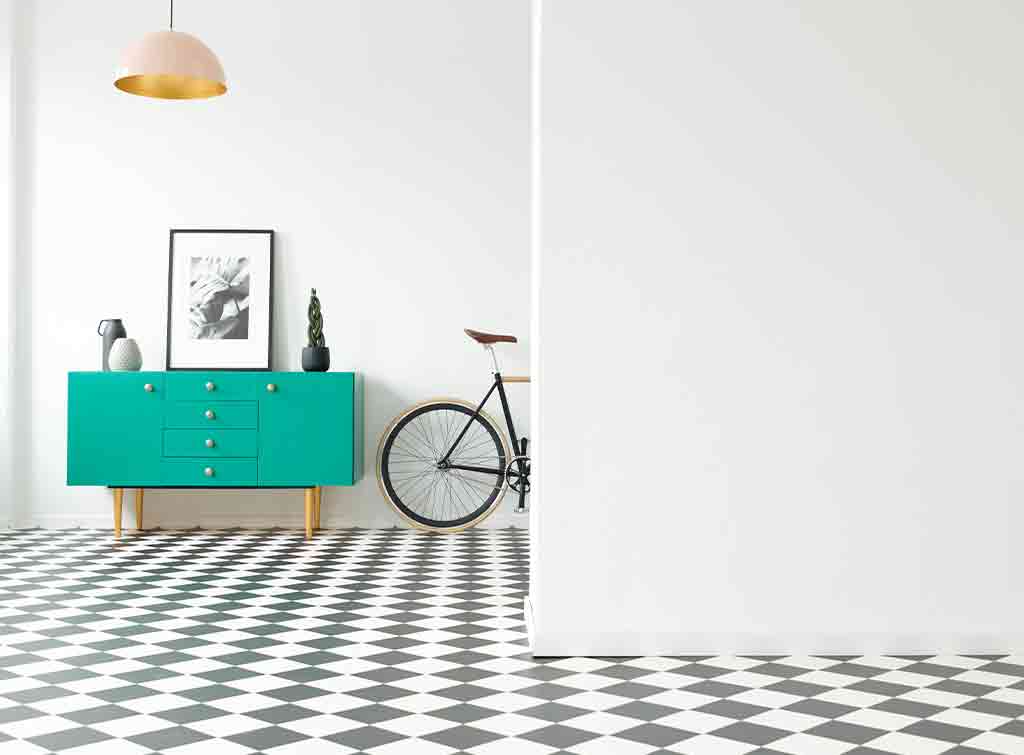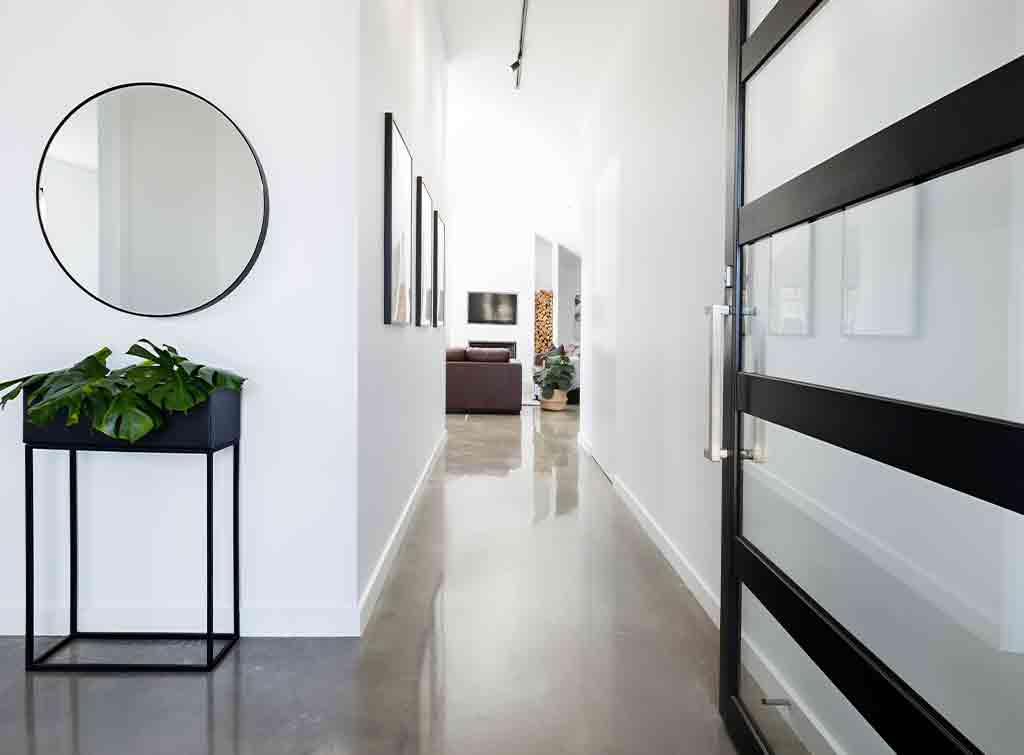 Grey and white hallway ideas
Grey and white hallways are not only modern but also create a soothing vibe, perfect to welcome you home after a long day. Here they have used a grey wall with white storage to keep on top of any hallway clutter.
Furthermore, the mirror is a perfect addition to allow a final outfit check before heading out. The white flooring and the black and white patterned rug nicely complement the grey walls while maintaining the monochromatic colour palette.
Cream hallway ideas
Cream is a great colour to suit an inviting, traditional vibe. In this hallway, cream has been paired with natural wooden doors, creating a rustic finish. This hallway speaks of comfort and even the mirror has been chosen to match the raw wooden doors.
A tiny splash of colour has been introduced on the plant pot which is truly a highlight in this relaxing home.
Flat hallway ideas
Larger flats and apartments will usually have a hallway connecting the rooms together. In this apartment, a long corridor has been transformed into a storage solution. This is a fantastic hallway idea as these sliding cupboards have made use of an otherwise awkward space.
Pops of colour have been added in the form of a velvet padded bench and potted window plants. This serves to enhance a quite sterile, flat hallway.
Tiled hallway ideas
Often overlooked in favour of carpets and wooden floors, tiles can bring a whole host of benefits to a hallway. Not only are they wipe clean and great for busy families, but they come in a range of colours, styles and designs.
In this home, a chequered tile hallway has been used to make a clean, open space. The turquoise cabinet is perfectly set off by the whites and blacks.
Sophisticated and modern hallway ideas
This contemporary home hallway is not only sophisticated, it is modern and sleek also. Glass and black metal accents work together with the white walls to add a stunning contrast. Not to mention the beautiful, polished concrete flooring that brings a range of benefits and advantages to any home.
Polished concrete flooring is a great choice for any contemporary home and our polished concrete flooring guide is bursting with all the information you need.
See the tradespeople we've checked and recommend for your job
Tell us what you think
What others think of this article:
Need More Information?
Related posts