Your guide to the common boiler faults
There's never a good time for a boiler to break, and there's usually no heads up on when it's going to break. This common boiler fault guide will be really handy if you're ever caught out and need to fix your boiler.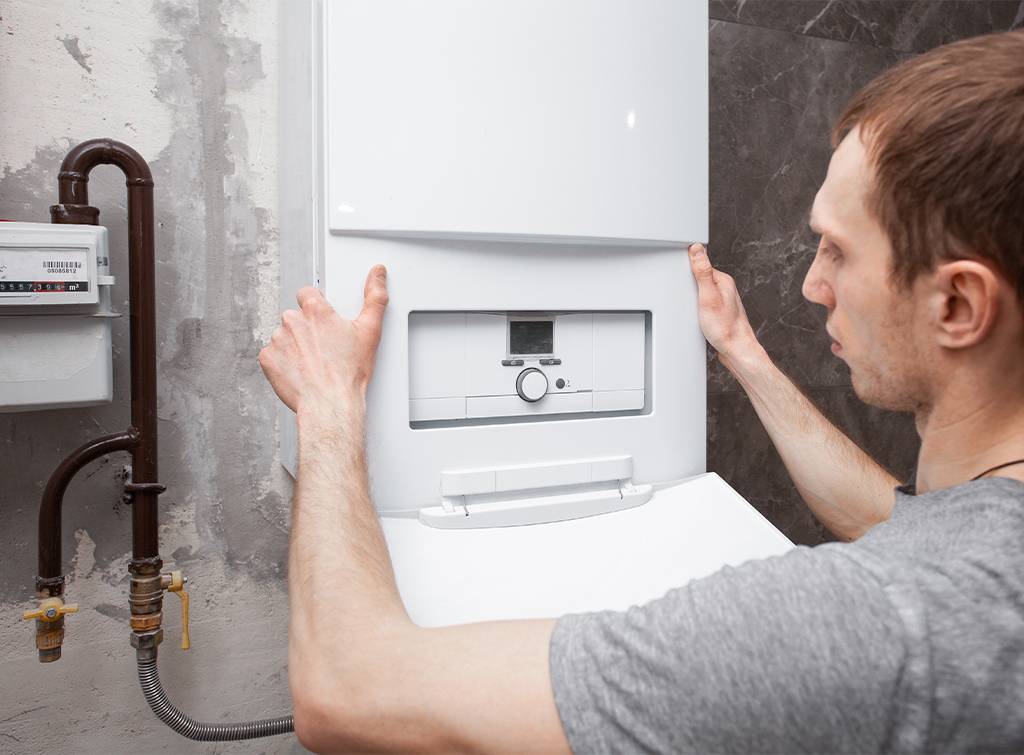 As a homeowner, a broken boiler is the last thing you want to deal with, especially when the seasons turn. Not only can a broken boiler in winter mean cold toes and freezing showers, but the cost of boiler repairs can also be expensive!
Luckily, some common boiler faults may be easily fixed without the need of an expert. But if a professional is needed, then our experts are here for you.
In this guide, we explain some of the most common boiler problems and solutions.
What are common boiler problems and solutions?
Got an issue with your boiler? The chances are you're dealing with one of these common boiler faults.
Here are some possible problems and solutions.
My radiators won't heat up
Encountering a cold patch on a radiator is one of the most common boiler faults to affect homeowners. The issue can severely hamper the distribution of heat in a home and is typically caused by excess air or sludge that has become trapped inside the system.
If the cold patch is at the top of the radiator, it's probably trapped air. If the cold spot is at the bottom of the radiator then it's most likely a build-up of sludge. Both issues require different fixes but can sometimes be handled by homeowners without the help of a professional.
You'll find really helpful information in the below guide:
If the cold patch on your radiator is at the top, then it's best to try and 'bleed' it.
Bleeding a radiator is a straightforward task and won't take long.
Even if the cold patch is at the bottom of the radiator, it's still worth trying to 'bleed' the system.
If you don't notice any trapped air escaping the system, then it's probably time to bring in an expert.
Often, build-ups of sludge will need to be cleaned out with a power flush. A boiler engineer will be required to handle the task, with the typical power flush cost coming to around £350 – £800 depending on the number of radiators affected by the problem.
See the tradespeople we've checked and recommend for your job
My boiler is losing pressure
Most boilers are fitted with a pressure gauge. The gauge helps you to check whether your system is running at the right pressure. Pressure in your boiler must be kept around one bar.
If your boiler loses pressure, you should check your boiler manual to see if it's possible to re-pressurise the system yourself.
Here's everything you need to do and know when your boiler loses pressure.
My boiler is making odd noises
It's never good to hear noises coming from your boiler cupboard, but many homeowners choose to ignore them. However, if your boiler is making noise, this can be the sign of a problem and might need the attention of an expert.
If your boiler is making a whistling noise, then it's most likely trapped air in the system. Again, it's worth bleeding your radiators to see if it has any effect.
Similarly, boilers sometimes make a 'gurgling' noise that can be related to a frozen pipe somewhere in the system. As with all frozen pipes, it's crucial to locate the problem and try and fix it before it causes a further issue.
If the noise doesn't fit either of these descriptions, but it's louder than a murmur, then it's worth giving someone a call. Not doing so might mean you end up having to pay for a significant boiler repair, or even worse, a replacement.
Here's everything you need to know.
My boiler is leaking water!
If your boiler is leaking water, this shouldn't be treated lightly. There are several common boiler faults that could cause a boiler to leak and they range in severity.
Firstly, a leaking boiler could be a sign of too much water pressure inside the system. To find out whether that's the case, check your boiler's pressure gauge. If the reading is too high, you can bleed the system as we've explained above.
Alternatively, the issue could be to do with your boiler's seals. It may be that the joints where the pipes lead to the boiler are damaged or incorrectly installed – they may even have simply decayed over time.
Generally, it's best to leave leaking boiler repairs to a professional. If you try to fix your leaking boiler and you do so incorrectly, it could be dangerous and lead to even more expensive boiler repair costs down the line.
See the tradespeople we've checked and recommend for your job
My boiler keeps turning on and off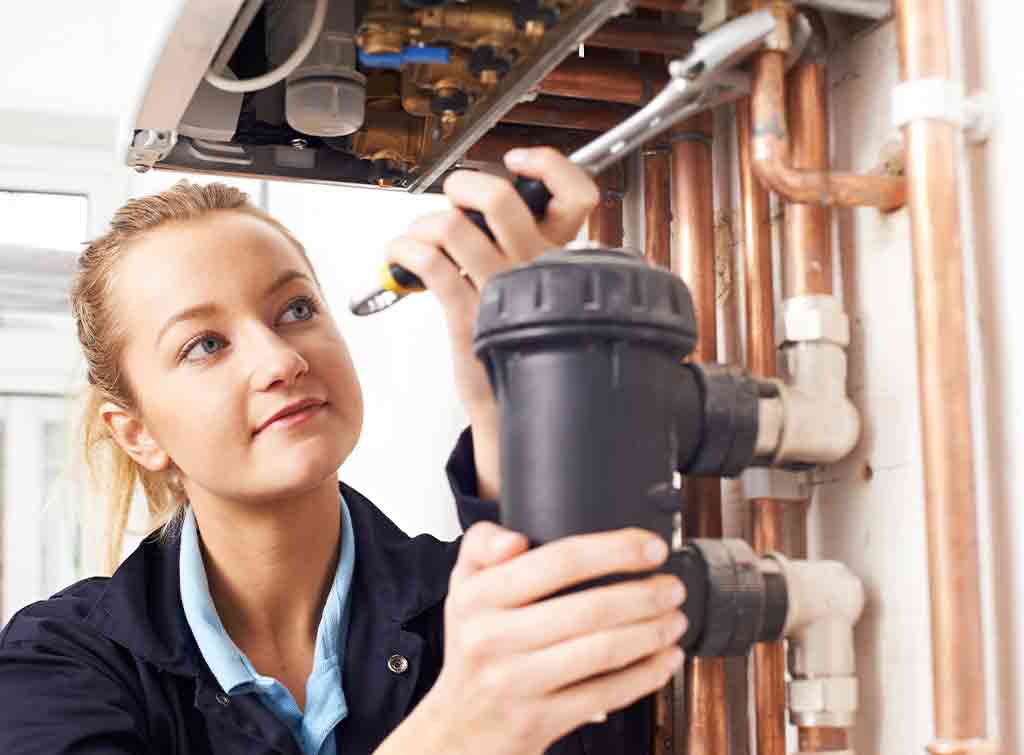 There are some things that can cause a boiler to cut out intermittently. Unfortunately, many of them are severe problems and will require urgent attention.
Before bringing in an expert, ensure that the issue is not pressure-related. Sometimes low pressure can cause boilers to cut out. If this is the case, it can be fixed quickly as explained earlier in this article.
If the pressure levels seem okay, then it could be a system blockage or a faulty pump. In this case, the best course of action is to bring in an expert who can fix the fault.
My boiler's pilot light has gone out
Your boiler's pilot light is an important part of your boiler. The pilot light or flame has to be lit constantly to make sure that your boiler is ready to produce hot water for your taps and central heating when you need it.
Be aware that you MUST NOT try to light your pilot light manually if you have an automatic pilot light, as this could be very dangerous.
See the tradespeople we've checked and recommend for your job
My oil boiler is not firing up
If your oil boiler is trying to ignite but won't – or it's igniting but then cutting out soon afterwards – you might have a common oil boiler problem known as boiler lockout.
There are a few common oil boiler problems and solutions related to oil boiler lockout. There might be a leak in the system causing low boiler pressure, so check your pressure gauge to see how that's looking. Oil boiler pressure should usually be around 1.3 bar.
Alternatively, it could be to do with:
A fault in the thermostat
A problem with the fan that works with the flu to expel harmful fumes from your home
A broken air pressure switch
A problem with your boiler's printed circuit board (PCB), which controls all your boiler's different components
If you've checked your boiler's pressure gauge and you've checked that you haven't run out of oil, we'd recommend taking a look at your boiler's condensate pipes. If it's been particularly cold, they may have frozen shut. This could be preventing harmful fumes from escaping your home, which may have caused your boiler to lockout for safety reasons.
Take a look at our guides for advice:
How to fix a frozen condensated pipe
If you have a frozen condensate pipe, you can use hot water (not boiling water!) to melt blockages.
You can find out which sections of the pipe are frozen by tapping it to see if it sounds hollow – if it doesn't, it's likely blocked. Pour hot water over the frozen sections until you see condensate begin to flow out of the pipe, and then reset your boiler.
Even if you can't see any obvious issues, it's worth resetting your boiler to see if that solves the problem – when a boiler locks out, it automatically cuts off the oil supply as part of the safety mechanism.
Resetting your boiler is usually quick and easy – just follow the steps laid out in your boiler manual.
If your oil boiler is still not firing up, you'll need to get a professional to come and look at it for you.
My combi boiler has no hot water
If your combi boiler has no hot water but it is still heating your radiators, you might be left wondering what could be wrong with it. The fact that your heating is working rules out many of the common combi boiler faults.
It might sound simple but start by checking your boiler controls, such as your timer and thermostat. If the clocks have changed, your time clock could be out by an hour, leaving you without hot water when you expect it. Or, it might be that your thermostat is malfunctioning due to being dusty or too close to another heat source (such as above a radiator).
Set your timer to active and then try setting your thermostat to a higher temperature. If the boiler fails to respond, there might be a problem with your thermostat that needs the attention of a qualified central heating engineer.
Here's more on what to do if you don't have hot water from your combi boiler.
My boiler is not working after a power cut!
Normally, your boiler will turn off during a power cut, as it will lose electricity. If it doesn't turn back on once the electricity comes back, you might be wondering what to do.
First thing to check – the timer. Most clocks reset after a power cut, so it may simply be that it's displaying the wrong time and therefore your boiler isn't coming on when you expect it to.
Reprogramming your timer will usually be very straightforward – you can follow the instructions in your manual if you're not sure how to do it.
Make sure to check out our full guide for more information, and whether you may need a professional to come and take a look.
See the tradespeople we've checked and recommend for your job
How do you troubleshoot a boiler?
If you're not sure what the issue is with your broken boiler, there are a few boiler troubleshooting steps you can take.
Boiler fault codes
When there's an issue with your boiler, it will generally show a boiler fault code or error code. This is brilliant because it means that you won't necessarily have to figure out what's wrong with your boiler yourself. Instead, your boiler can make your life easy by telling you what the problem is!
Different boiler models will have different fault codes. To figure out what your boiler is telling you, take a look at the list of your boiler's fault codes in your installation and servicing manual.
However, there are a couple of common boiler fault codes you might see crop up:
F27 (Vaillant)/EA (Worcester): Blocked condensate pipe.
F75 (Vaillant)/A1, U9 or No code (Worcester)/F1 (Ideal): Low water pressure.
If you see one of these codes, you can follow our steps above for how to deal with these common boiler faults.
Boiler troubleshooting steps
If boiler fault codes aren't being much help, there are a few steps you can take to help you troubleshoot the problem:
Check your thermostat is in 'heat' mode and that the setting is above room temperature.
Check your fuse box or circuit panel to see if there's a blown fuse or tripped breaker.
Check you have enough fuel if you have an oil or biomass boiler.
Make sure your boiler's pilot light is on and try to light it if not.
Check your boiler's pressure gauge.
Who to call for boiler problems
Boilers can release carbon monoxide, which is a poisonous gas. So, it's vital that you don't attempt to carry out repair works on your boiler unless you're 100% comfortable. It's always wise to get any steps you've undertaken checked by a professional too. That way, you can make sure you haven't done anything to compromise your boiler's safety.
If you have a boiler problem, the safest thing you can do is call out a certified boiler engineer, who's verified by the Gas Safe register.
You can easily find a boiler engineer recommended by your neighbours to fix common boiler faults, using our free search tool. Or, simply request a quote and we'll contact local boiler engineers on your behalf, who'll get in touch with you directly.
See the tradespeople we've checked and recommend for your job
FAQs
Is the boiler not working an emergency?
Most of the time, if your boiler has broken down and you can't use it, this will be classed as an emergency as it will mean you can't use your central heating or hot water. The issue is likely to be particularly urgent during winter and if you have young children or vulnerable adults living in the home.
Why would a boiler stop working?
There are lots of different reasons why your boiler might not be working. Just a few common boiler faults include frozen condensate pipes, low pressure, a faulty thermostat and a leaking system. Follow our steps on how to troubleshoot a boiler above.
What can go wrong with a combi boiler?
The most common combi boiler faults include low pressure, blocked or frozen condensate pipes, hot water only when heating is on and the boiler cuttting out.
How do I know if my boiler is faulty?
The signs of a broken boiler include:
No heating or hot water
The boiler not lighting or firing up
Unusual noises such as whistling or banging
A boiler fault code popping up
No pilot light
Your gas usage increasing
A leaking system.
What is the biggest cause of boiler breakdown?
The biggest cause of a boiler breakdown is running out of heating oil. If you have an oil boiler, always check your oil before you call in a professional to diagnose your boiler issues.
See the tradespeople we've checked and recommend for your job