How to get more roofer work to grow your business
We know how physically demanding your job is, so when you get home at the end of another tiring day, the last thing you want to do is more work. In this post, you'll see how to get more roofer work for your business by making your marketing a piece of cake. That means you get more time back for yourself to do the things you enjoy, like chilling in front of the TV or down the pub!
Once you've got your roofing business up and running, the next challenge you're going to face is how to grow your roofing company. And we're here to help.
At the end of the day, delivering the best service and aftercare is key to growing your roofing business. But there are some other ways to help you expand.
We've put together some of our top tips for how to grow your roofing business. It's time to build up your digital marketing, embrace some of our roofing advertising ideas, and expand your network.
Stacking up the roofing stats
The demand for roofers is huge. As the #1 trade directory, the Checkatrade website receives thousands of searches for roofing specialists every month. That's homeowners looking for skilled, trustworthy roofers. Your potential customers.
In 2022, our roofing members appeared for:
Over 4 million homeowners across the UK when they searched for a 'Roofer' on Checkatrade
Over 1 million homeowner searches for roofing repairs (a 69% increase on the year before)
195,000 searches for roof replacement (a 169% increase)
68,000 searches for emergency roofing service
46,000 searches for conservatory roof conversions
But when you're grafting all day, how can you make sure the homeowners looking for roofers in your area find your roofing business?
By having an effective marketing strategy that works hard for you, while you're out working hard.
This doesn't need to be complicated or time-consuming. If you're looking for the simplest way to get more work for your business, click on the button below to start our checks (you need to pass up to 12 to join us).
Marketing made simple
Join the #1 trade directory to take your roofing business to the next level
Tell me more
The quickest way to get more roofing work
Become a Checkatrade member, and all those people we mentioned above – looking for your services – will soon be eyeballing your business profile on our website.
Your business profile is your 'shop front'. A profile on the Checkatrade site means that instead of your 'shop' being hard to find on a side alley in a busy town centre, it's slap bang in the middle of the bustling high street, getting loads of attention from passers-by and/or those who've come specifically to buy from you.
Now, your shop can sit there in its prominent position on the high street, and that's great, but if you really want to stand out, you need to invest a little time creating the right impression.
How to make your roofing business profile stand out from the competition
Once you've (hopefully!) passed our checks to become an approved and guaranteed Checkatrade member, you'll get a business profile.
You'd be wise to maximise the potential of your profile – and it's really quick to do:
Add customer reviews. Done a great job? Shout about it!
Don't forget to add the important details. Tell customers what services you offer and the areas you cover
Upload photos of your work. Is there a more satisfying sight than a new roof?
Checkatrade member benefits
Just before we move on, it's only fair to let you know there's more to a Checkatrade membership than a business profile in our leading trade directory.
Free marketing materials
Instant credibility with the "tick that people trust"
A tonne of member benefits and money-saving discounts on business essentials
Checkatrade is the best-known sign of quality in the trade industry. 8 out of 10 people would choose a trade endorsed by Checkatrade, compared to one that isn't**.
And rather than launching a company website that people may take some time to find on Google, your business profile on Checkatrade will appear high up in Google search results due to the power of our brand.
OK, I'm keen. Where do I sign up?
Begin our checks to become an approved and guaranteed roofer
Let's go
Marketing for roofers made simple
The most effective roofing marketing strategies include both traditional marketing techniques (e.g. advertising in your local magazine and posting roofing flyers to households) AND online marketing.
Before you run for the hills at the mention of online marketing, don't panic. As far as roofing advertising ideas go, online (or digital) marketing techniques are more straightforward than you might imagine.
Digital marketing for roofers
Nowadays, the online presence of your roofing business needs to be a priority. You don't have to be a digital genius to generate more business online, you just need to spend a little time working on some of the basics.
Here are some of the top digital marketing ideas for roofers:
1. Update your website
Your company website is your online business card and will be the first impression that most potential new customers will get of your roofing business.
Give your website a thorough spring clean:
Make sure all information on your website is up-to-date and accurate
Check that all buttons and links work
Read through every page to ensure that everything is easy to understand , with accurate spelling and grammar
View your website on your phone to check it all looks good on the small screen
Incorporate search engine optimisation (SEO) for roofers to sure that your website appears in the search results when people try to find a roofing business online
2. Get active on social media
Just like your website, your social media accounts are a great way to attract new customers. Platforms like Instagram, Facebook and TikTok are super visual, so try and regularly upload high quality photos and/or videos of your latest roofing jobs (and tag the locations).
Popular types of social media posts for roofers include:
Before and after photos of your work
You and your team working
Advice on how to solve roofing problems
Client testimonials
Latest industry news that might be interesting to your customers
3. Join online directories
Forget the days of the Yellow Pages. Today, millions of customers use online directories to find reliable tradespeople across the UK. And a quick toot of our own horn, Checkatrade helps thousands of small businesses reach more customers and book more jobs every day
Roofing advertising ideas
If you want to be proactive to generate more roofing leads, investing a little money in advertising can help you boost your business relatively quickly. Here are some advertising ideas for roofing companies:
Pay per click (PPC) advertising – PPC ads appear at the top of search results in Google. They can be very effective at generating quality residential and commercial roofing leads, and ultimately booking you more jobs. We recommend hiring a local PPC specialist to get you started.
Branded company signage – You can be your own advertising platform by making sure any company vehicles are clearly branded with your business contact details and website address. And when carrying out roofing jobs, make sure you have a clear branded company sign on site that's visible from the street (where possible).
Sponsor local events – Sponsoring local sporting or charity events can help get your roofing business name out there in your local community. And when you're out and about, always wear branded clothes to advertise your roofing brand.
Other roofing company marketing ideas
In addition to advertising, there are some other marketing activities that can really help you win more customers and grow your roofing company:
Encourage customer reviews – Online reviews help show potential customers the quality of your roofing work. After each successful plumbing job, ask your customers to leave a review (on Checkatrade, Google or other review platforms).
Build your local network – Getting to know other local businesses can be a great way to grow your roofing business. Try reaching out to local estate agents, property developers and construction specialists.
Register on Google My Business – Make the most of Google's free listing service and start appearing in local search results for customers looking for roofing businesses in your area.
Traditional roofing advertising techniques
Traditional methods to advertise your roofing business can still be very effective, especially on a local level to homeowners in a specific area.
Of course, you will need to invest the time to create your advertising material and organise someone to post your roofing business flyers on your behalf.
As a Checkatrade member, you have the opportunity to feature in our leading trade directory, which is delivered to homeowners around the country.
Start planning your marketing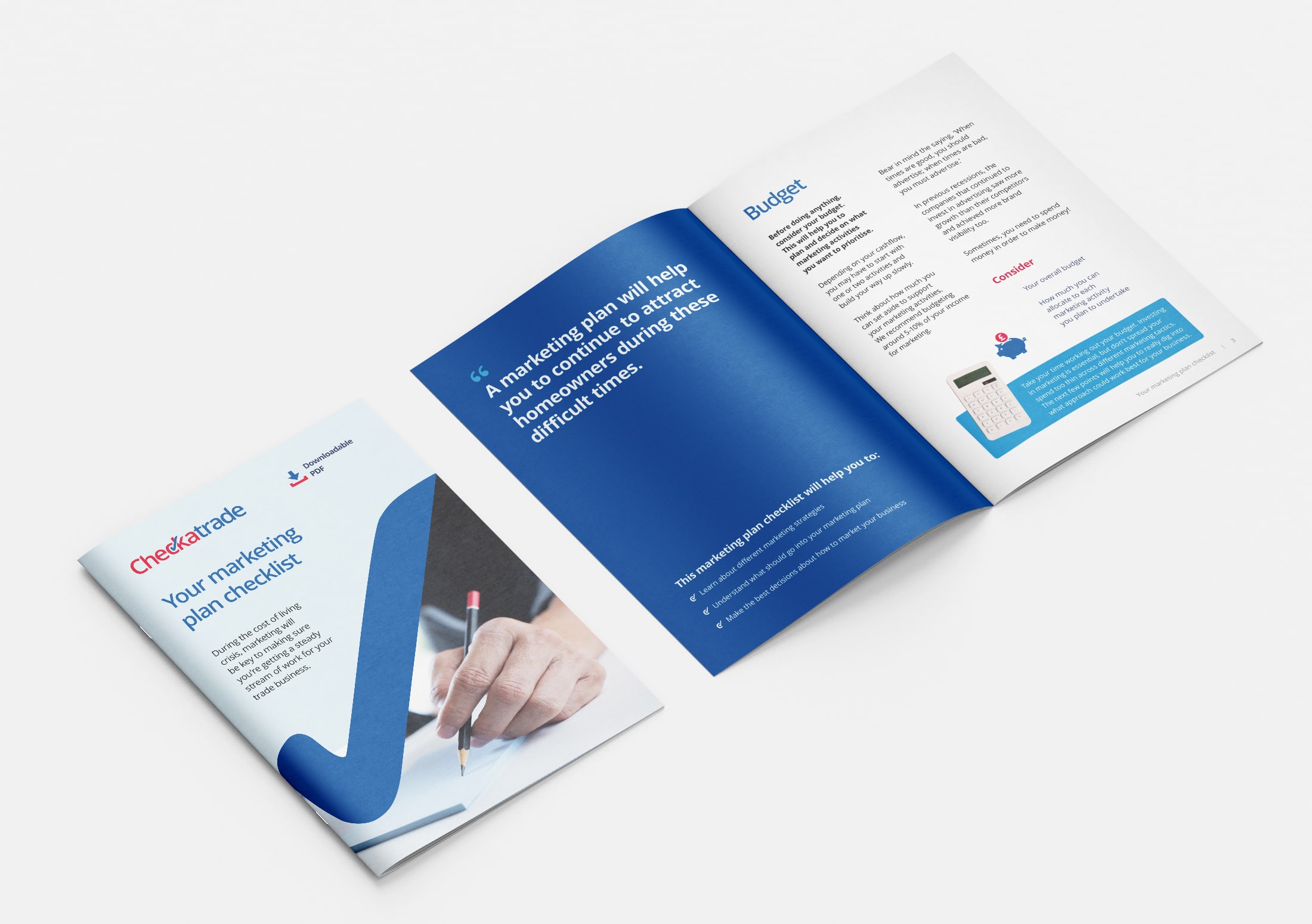 Grab your free digital marketing guide.
Update your roofing business plan
Before you started your roofing business, it's likely that you'll have put together a business plan to set out your plans for the business. And, just as a business plan is valuable for setting up a roofing business, they're also important to help you expand.
In order to grow your roofing business, it's important to:
Revisit your original roofing business plan to check you're achieving your goals
Assess if you have any new goals, or previous goals have changed
Put together a roofing business development plan to outline how you plan to grow
Need help with your roofing business plan?
You might find it useful to use our business development plan template as a jumping off point to create an effective roofing business plan to grow your business.
How to get more roofing leads without door knocking
Door knocking can be a great way to drum up business, but many customers don't trust roofing companies that knock on their door for business. People want to be able to do their research on a company before commissioning them for work. They'll usually do that research online.
To get more roofing leads, enquiries and sales without having to go house to house, you need to do more online marketing.
Build a profile for yourself so people can:
Come across your roofing business online when they search for help with their roof
See what you're all about, with pictures showing off the quality of your work and amazing customer reviews
Creating an online profile takes time, but a good boost to help you out in the meantime would be to create a Checkatade profile for your roofing business.
Here other great steps to get roofing leads without door knocking:
Accreditations and certificates – Showing that your roofing business is skilled and qualified massively helps customers trust you. If you haven't already, look into schemes like the NFRC Competent Person Scheme and RoofCERT accreditation.
Encourage recommendations and repeat business – Happy customers are key to growing your roofing business, both for recommendations and hiring you again. Focus on doing a great job and treat every customer with respect.
Consider specialising in certain roofing work – If you can tap into a niche roofing market that's under-served in your local area, you could quickly boost your roofing leads. For example, Solar Energy UK predicts that the number of new homes built with solar technology will increase massively, so now would be a great time to upskill yourself and your workforce to become experts in solar panel installation.
How to get roofing leads from insurance companies
Getting roofing leads from insurance companies has its benefits and drawbacks. On the upside, insurance companies could be a source of roofing work and add a lucrative revenue stream for your roofing business.
On the downside, many insurance companies choose to work with large roofing companies and rarely work with small local roofing businesses. But they do sometimes.
If you're interested, here's how to get roofing leads from insurance companies:
Make sure you have a good level of public liability insurance
Join schemes that show your professional competence, e.g. CHAS and CSCS cards
You may need to cover a wider area than you do currently
Be prepared to take on jobs they offer, from replacing a few tiles to replacing a whole roof
Consider BDMA training to make your roofing business more appealing to insurance companies
Sign up to agencies likes Prism Network, who specialise in independent contractors for insurance companies
Does Checkatrade work?
These guys think so.
"The volume of enquiries I get are great! Although our books are full, people are willing to wait because they can read positive feedback."
Alex, In The Dry Roofing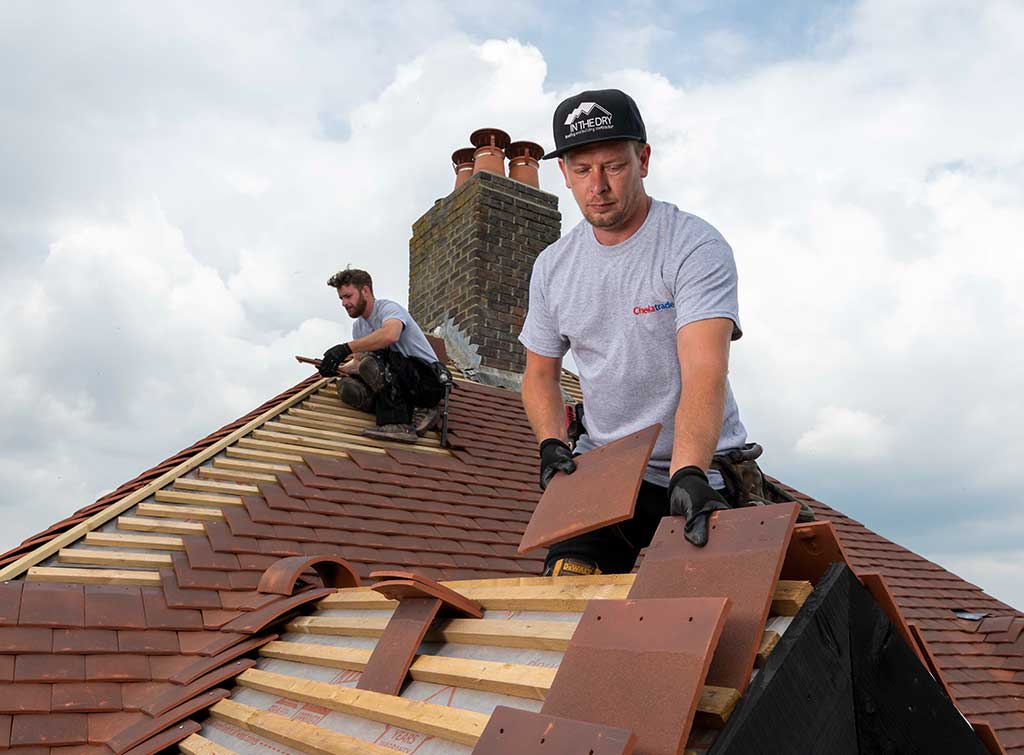 Join the other 47,000 Checkatrade members and take your roofing business to the next level with the #1 trade directory.
Conclusion
As you can see, when looking at how to grow your roofing business you have a lot of options. And each roofing company is different, so try things out and see how you get on.
You might find you get a lot of leads coming from your website or social media. Or local networking might be the key to expanding your roofing business.
The key is to focus on offering an excellent roofing service. And be proactive with your advertising and marketing efforts.
FAQs
Where do roofers make the most money?
Typically you'll find that being a roofer in large metropolitan areas means you can charge more for your services. That said, you also have to consider that living and running a business in a large city will also come with higher costs for you and your business.
According to Indeed.com, Reading is the place where roofers make the most money in the UK – followed by Leeds, London, Manchester and Birmingham.
What is the best advertising for a roofing company?
Each roofing company will find different advertising platforms give them varying levels of success, when it comes to generating leads and booking more jobs.
From roofers we've spoken to, the best types of advertising for a roofing company include:
Joining local directories, like Checkatrade
Social media (e.g. Facebook Ads)
PPC (e.g. Google Ads)
Having branded company vehicles
Local event sponsorship
Marketing made simple
Join the #1 trade directory to take your roofing business to the next level
Tell me more
*Checkatrade internal search data 2022
**Claims are sourced from a survey conducted by Deep Blue Thinking on a nationally representative UK sample in November 2021.