Expert tips to nail your landscaper marketing
1.3 million people searched for landscapers on the Checkatrade website last year. That's a lot of homeowners in need of the services you provide. Want to know how to perfect your landscaper marketing to capture your share of that business? Read on.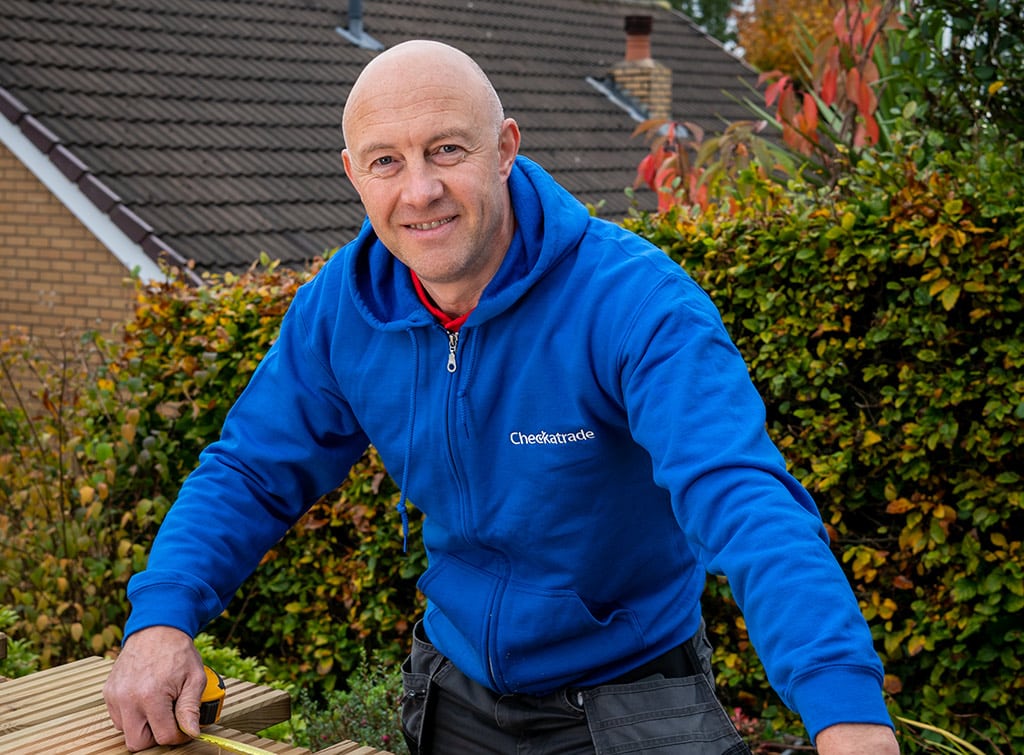 Why is landscaper marketing so important?
As we've mentioned, the demand for your services is huge (in case you missed it, there were 1.3 million searches for landscapers on Checkatrade last year). But of course, you're not the only business vying for those customers.
In order to stand out from the competition, you need an effective marketing strategy for your landscaping business. This will allow you to reach those new customers, showcase your services, and win plenty of new business. Essentially, it's the way in which your business will thrive and grow.
In this post, we'll guide you through the basics of landscaper marketing and give you a selection of traditional marketing and digital marketing ideas for your business.
How to make sure your landscaper marketing is effective
The best way to make sure your landscaper marketing is effective is to understand who you're targeting and the needs of that target market.
These two elements are critical because they will inform where to find your customers and the type of content that will appeal to them.
Failing to do this will mean that your marketing efforts will never quite hit the mark.
What is marketing for landscaping companies?
Marketing for landscaping companies can involve both traditional marketing and online (or digital) marketing techniques.
Traditional marketing techniques might involve advertising in your local magazine, or distributing flyers
Digital marketing techniques can include elements such as a website, social media channels, and online trade directories
When marketing your landscaping business, it's important to use a selection of different techniques; not all your customers will be using the same means to find your business.
Digital marketing for landscaping companies
Digital marketing is the umbrella term for the variety of different ways you can ensure customers can find your landscaping business online.
This can include:
Your company website (a 'shop front' for you to present your business to customers)
SEO (the activities a business undertakes for their business to rank higher in search engines)
PPC (paid advertising to help your business ranking on search engines)
Social media platforms (such as Instagram, Facebook, and Twitter)
Email (to send news, updates, and offers to your customer base)
Online communities (to post professional advice in local community forums)
Customer reviews (to demonstrate your reputation and capabilities)
Online trade directories (such as Checkatrade)
Two of the most widely used techniques for landscapers marketing their business online are social media marketing and email. We'll take a look at these tactics, below.
Social media marketing for landscaping
Social media is a fantastic tool for landscapers to market their business.
It's free, easy-to-use, a great way to connect with potential customers, and ideal for adding visual content to showcase your skills.
Setting up your social media profiles is relatively simple to do. The hard part is often knowing what type of content to post.
Again, this boils down to understanding your customer and what they want or need from your business. Here are a few ideas.
Landscaping social media post ideas
Q&A content
Maybe your potential customers have questions about the best type of decking, the most cost-effective paving, or whether soundproof fences work.
Make a list of the landscaping/gardening questions customers ask you on a day-to-day basis. Then create a series of posts for your social media platforms that answers each question in turn against the backdrop of a relevant and engaging image.
Tip: save time by creating a 'bank' of content one rainy afternoon that you can drip-feed to your social platforms over the next few months.
Before & after photos
You'll know from visiting your customers that some have very clear ideas of what they want and others want to rely on your professional expertise to guide their decision-making process.
With permission, take (good quality) before and after photos of your completed work and post them to your social media platforms. This will not only help to advertise your business, but inspire new customers to get in touch with you.
Tip: Tag your customer and chances are, they'll share the post with all their followers too.
Team photos
People like to build a profile of who they're doing business with.
Take some professional-looking photos of your team hard at work, happily transforming another client's outdoor space. Not only could the work inspire new customers, but seeing the people behind the business helps to create an initial connection. You can also share content to showcase company accreditations, associations, or awards to help demonstrate your credentials.
Share your passion
Showcase what makes your landscape business unique to help tap into a particular market.
Use social media to share content that represents the essence of your brand to help promote your USP. Whether that's using sustainable practices or creating contemporary designs, for example.
#Landscapegardener
With any social media content you post, don't forget to add your location and use relevant hashtags.
Using hashtags broadens the reach of your content beyond your followers. For example, if you use #gardendesignsussex in your copy, your post will appear for any searches for 'garden design sussex'.
This is a really lucrative strategy, as people searching for that specific term could already be actively looking for your services.
Landscaping email ideas
When promoting your landscaping business, especially with email content, make sure the information you distribute is relevant, useful, and interesting to your potential customers.
This will help your business to stand out for the right reasons, build a rapport, and encourage new leads.
Consider the type of content your customers may want to receive – perhaps seasonal garden maintenance tips – and the frequency that they'd want to receive it – once a month is fairly standard.
For more information about online marketing, download our FREE eBook, Accelerate!
Advertising your landscape business using traditional methods
When we talk about 'traditional marketing', we're referencing any of the ways you might promote your business 'offline'. This can include a number of different tactics:
Print marketing
Print marketing is a great way to advertise your landscape business in your local area.
Leave a business card with your customer, and put some on noticeboards in local shops and businesses (with permission)
Print some leaflets or flyers that can be distributed to homes in the area you want to work in
Advertise in a local directory or magazine to raise awareness of your business
How do tradespeople get featured in the Checkatrade directory?
Word-of-mouth marketing
One of the best ways to market your landscaping business is through word-of-mouth referrals. It costs significantly less to get more business this way compared to advertising for new clients from scratch.
Tip: incentivise your customers to recommend you to their friends, family, and neighbours by rewarding them as a thank you. Perhaps a voucher once the new business they've recommended comes to fruition.
Other traditional marketing tactics include:
Signwriting your vehicle (to advertise your business name and contact details on the go)
Sponsorship of a local event or sports team
Marketing your landscaping business with Checkatrade
One of the most effective ways to market your landscaping business is to join Checkatrade.
Get more leads (3 million homeowners used our trades last year)
Build your reputation (the tick that people trust)
Receive exclusive discounts with our partners (save up to £470* on business essentials)
Remember those 1.3 million people that searched for landscapers last year? They were looking for your services on Checkatrade. Don't miss out again this year. Become a member today.
Read our guide for how to grow your landscaping business
FAQs
What are some ways landscapers can promote their business to attract customers?
Some of the ways landscapers can promote their business to attract customers are social media, online trade directories, print advertisements, and through word-of-mouth referrals.
What is the best advertising for a landscaping business?
With so many different forms of advertising and opportunities to market your landscaping business, the best option is the one that gets you in front of your audience. Sounds simple, but if you can figure out who your audience is and what media they consume (local newspapers, online directories, social media), that'll be the best type of advertising for your landscaping business.
*Year runs from April 21' to March 22'. Saving calculation based on average spend across 12,505 members in 2020/2021/2022. Discounts differ depending on the partner. Products range from low value items to high value items. Some exclusions will apply on products.