Electrical marketing and advertising for electricians
As an electrician, you want to build a successful electrical business by finding more new customers. And to do that, electrical marketing and advertising for electricians is key.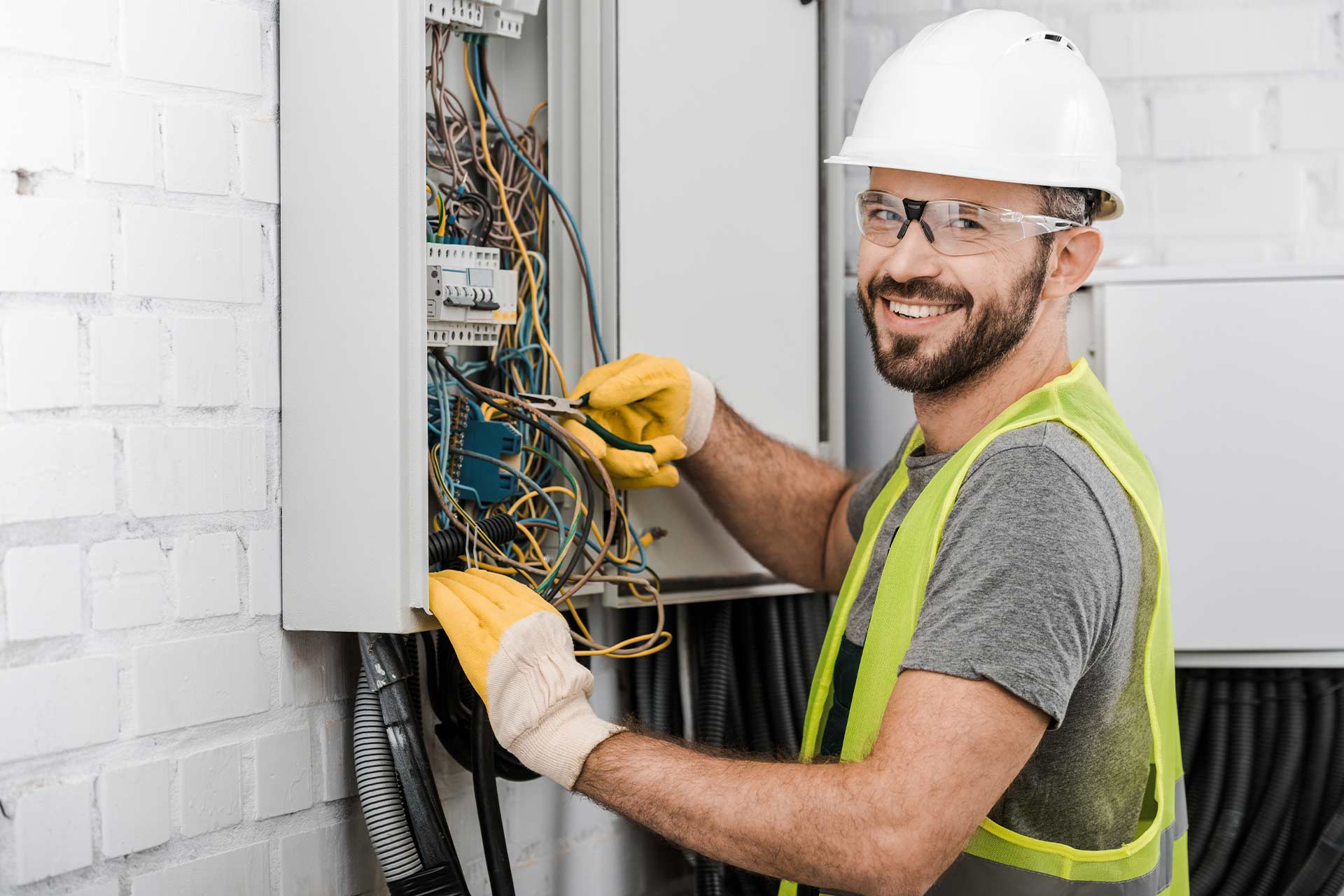 Thankfully, everything you need to know about marketing your electrical business is right here. And, even better, we'll show you how you can get your business in front of 2.9 million UK homeowners for the next year.
Why bother with electrical marketing?
If you're looking to grow your business, marketing is one of the best ways to connect with the right customers and build your business's reputation.
Here's what you can achieve by marketing your electrical business:
Get your name out there so that potential customers know about your business
Expand your business by reaching more customers and winning more work
Stand out over the competition and show your customers that you're the best electrical business to choose
Target certain customers by using marketing to reach the type of customers and jobs that you want more of
Advertising for electricians
If you want to be proactive and generate more leads for electrical jobs, investing a little money in advertising can really help you boost your business relatively quickly.
Because you'll be spending money on advertising, you want to make sure you're getting the best bang for your buck. And always make sure your adverts include your contact information, business branding, and any special offers you have available.
Here are some of the most effective ideas for advertising for electricians:
TV
Radio
Newspaper
Online
Email
Google
Print advertising can be particularly useful for a local electrical business.
Find out more in our guide: Why print marketing isn't dead for trade businesses.
What's best for marketing as a tradesperson: Checkatrade or Google?
The best way to advertise an electrical business locally
As a local electrical business, chances are you want to target customers in your area. And that means choosing the right marketing and advertising to reach those local homeowners.
Here are some of the best ways to advertise an electrical business locally:
1. Direct mail
Use a professional printing service to print out flyers or leaflets with information about your business and the electrical services you offer, and post them through letterboxes.
2. Local newspaper ads
Most local newspapers have a dedicated space for local adverts, and they're a great way to be seen by customers in the local area.
3. Community bulletin boards
Local shops, community centres and sports venues will often have a bulletin board where you can post an advert for your electrical business.
4. Create a partnership with other local tradespeople
Building relationships with other reliable tradespeople in your area can be a great way to be put in touch with new customers. Often customers will ask tradespeople they've already worked with to recommend other trade services – and that could be you.
5. Social media groups
Local community groups on social media are often a brilliant place to connect with local customers in your area. Find out which local groups are the most used and advertise your business here
6. Branded company signage
You can be your own advertising platform by making sure any company vehicles are clearly branded with your business contact details and website address. And when carrying out any major electrical jobs, make sure you have a clear branded company sign on site that's visible from the street (where possible).
Top tips for marketing an electrical business
In addition to advertising, there are some other electrical marketing activities that can really help you win more customers and grow your electrical business:
1. Get the right accreditations and certification
Showing that your electrical business is skilled and qualified massively helps customers trust you. If you don't already have professional accreditations, look into schemes like the Blue Flame Certification, NAPIT, or NICEIC accreditation.
2. Encourage recommendations and repeat business
Happy customers are key to growing your electrical business, both for recommendations and hiring you again. Focus on doing a great job and treat every customer with respect.
3. Consider specialising in certain electrical work
If you can tap into a niche electrical market that's under-served in your local area, you could quickly boost the number of electrician leads.
For example, Solar Energy UK predicts that the number of new homes built with solar technology will increase massively, so now would be a great time to upskill yourself and your workforce to become experts in solar panel installation.
4. Encourage customer reviews
Online reviews help show potential customers the quality of your electrical work. After each successful job, ask your customers to leave a review (on Checkatrade, Google or other review platforms).
The impact online reviews can have on your business – Free guide included
Create an electrical marketing plan
The best way to be successful when marketing your electrical business is to make an electrical marketing plan, and stick to it.
Do some research on the various types of marketing and advertising to decide which methods you think will work best for you and your electrical business.
And remember, not all electrical businesses are the same. There isn't one guaranteed type of marketing or advertising that will work for everyone. So, trial a few of them and see which ones work best for your business.
You need a marketing plan now more than ever – Free marketing planning guide included
SEO for electricians
SEO stands for "search engine optimisation". This term covers any activities done to help a business (usually their website, social media pages or directory listing) rank higher in search engines, such as Google.
When your potential customer searches for electrical services or products that you provide, you want to appear high up in Google. And for that, you'll need SEO.
The basics of SEO rely on:
Understanding what terms customers use when they're searching for your electrical services
Creating content that uses those terms
Building links from external websites to your site to promote your content
Focusing on local SEO terms to improve your rankings locally
You also might like to know that by joining Checkatrade you get a well-optimised profile page and the chance to receive new customers from our content.
Find out more about how you can use SEO for electricians to grow your business in our dedicated guide: How to boost SEO
Digital marketing for electricians
Nowadays, searching online is one of the main ways customers look for local businesses. That means that any electrical business wanting to reach more customers will need to invest some time in digital marketing for electricians.
That might sound like a chore, but it doesn't need to be. In fact, with a little planning and some initial effort, a lot of digital marketing can be relatively quick and easy to do.
Here are our top recommendations when it comes to digital marketing for electricians:
1. Update your website
Your website is your online business card and will be the first impression that most potential new customers will get of your electrical business.
Give your website a thorough spring clean:
Make sure all information on your site is up-to-date and accurate
Check that all buttons and links work
Read through every page to ensure that everything is easy to understand, with accurate spelling and grammar
View your website on your phone to check it all looks good on the small screen
2. Get active on social media
Just like your website, your social media accounts are a great way to attract new customers. Platforms like Instagram, Facebook and TikTok are super visual, so try and regularly upload high quality photos and/or videos of your latest electrical jobs (and tag the locations).
Popular types of social media posts for electricians include:
Before and after photos of your work
You (and your team) working
Advice on common electrical problems
Client reviews
Latest industry news that might be interesting to your customers
3. Join online directories
Forget the days of the Yellow Pages. Today, millions of customers use online directories to find reliable tradespeople across the UK. And a quick toot of our own horn, joining Checkatrade helps thousands of small businesses reach more customers and book more jobs every day.
Grow your business with the #1 trade directory
There were almost 3 million homeowner searches for the electrical services that you offer last year on Checkatrade. Make sure you're one of the businesses they find this year.
Get growing
4. Pay per click (PPC) advertising
You'll probably have seen hundreds of PPC ads without realising it. They're the ads that appear at the top of search results in Google.
PPC ads can be very effective at generating quality residential and commercial electrician leads, and ultimately booking you more jobs. To get you started, we recommend hiring a local PPC specialist who can show you the ropes and get you set up.
Use Checkatrade to grow your electrical business
Customers visit our online directory every day and, in 2022, more than 2.9 million homeowners searched for an electrician on Checkatrade.
They come to us when they need electricians that they can trust, because our members are approved and guaranteed.
By joining Checkatrade, customers will see your business show up when they search local electricians – which increases the chance that they'll pick you to do their next electrical job.
With the Checkatrade tick by your name, it makes your marketing just that little bit easier.
It's the tick people trust… 8 out of 10 people would choose a trade endorsed by Checkatrade compared to one that isn't*.
Recap of electrical contractor marketing ideas
We've covered a lot of ground, so let's just recap everything with this quick checklist of electrical contractor marketing ideas:
Research the options for advertising for electricians to invest in
Advertise locally to attract customers in your area
Focus on marketing ideas such as specialising in niche electrical work and encouraging customer reviews
Create a marketing plan
Spend some time working on your digital marketing, such as your website and posting on social media
Use Checkatrade to grow your business
FAQs
Where is the highest demand for electricians?
As a general rule, electricians are typically most in demand in large urban areas. Cities like London, Birmingham and Manchester will have the most customers looking for local electricians.
That said, there are also a lot more electricians working in those areas so competition is greater so standing out from the crowd is important to keep you busy all year round.
* Deep Blue Thinking 2021 Trade Perception Survey