How to start an electrician business
Working as an electrician offers varied workdays, interesting problems to solve, and exciting opportunities. Once you've gained years of experience and knowledge, you'll feel it's time to branch out on your own. Then what's stopping you? Here's everything you need to know for how to start an electrician business.
Now is the perfect time to start your own electrician business, with demand for competent electricians through the roof. If you want to become your own boss, earn a good living, as well as enjoy challenging and varied workdays, this could be a great career move for you.
Starting your own company brings a range of advantages, including:
Setting your own hours: You can choose whether to work evenings or weekends and when to take time off. Many homeowners work full time so generally, there will be a greater demand during these times
Becoming your own boss: You can decide which direction to take your company. For example, you may choose to invest in your own training or in higher-quality tools
Choosing employees: You can choose whether or not to take on new employees. You can also handpick any new electricians you welcome onto your team
Choosing jobs: Finally, you can pick and choose exactly which jobs to take on. Don't want to take a job that's an hour away? The choice is yours
Keep reading to discover more about how to start an electrician business, including qualifications, insurance, tools, equipment, and how to market your new venture.
Don't have time to read all this right now?
No problem, take this one quick action to start you on the path to being your own boss.
Sign up for our 'Become the Boss' series and you'll receive eight emails featuring fellow tradespeople who were once in your position, a free business strategy call, and at the end of it all, you could be the founder of your new business.
Just add your email below to make the most of this free business advice.
Start by creating a business plan
A qualified electrician is an excellent career choice that provides lots of opportunities to work on a variety of different projects.
But even with plenty of experience under your belt, it's crucial to create a business plan before launching your own company.
A business plan sets out your goals and the steps you need to take in order to achieve them. It will help you to stay organised, work efficiently and productively, and make informed decisions.
It's also a necessary document to have should you need financing to start your electrician business. Some of the considerations for your business plan are:
Make sure you budget for any start-up costs like registering your company and buying any necessary tools
Think about how you'll manage your finances. For example, do you need to hire an accountant?
Decide where you plan to operate. Remember operating over a smaller area may make finding customers harder but you'll save time on the road
Work out the best way to reach customers through marketing
Choose what hours and days you'll work
Look into ways to make your business stand out. This could be through offering new services or better quality services
Decide whether to start a pension. The older you are, the more important this is if you want to be comfortable in your retirement
Consider your relationships with suppliers. This can lead to discounts and work referrals
Not sure where to start? Download our free business plan template:
What qualifications should a UK electrician have?
If you're just starting out in your career as an electrician then the law requires you to have a few key qualifications to keep you and others safe.
Want to know how to become an approved electrician? Find out more about training at Learn Technique.
If you've been in the industry for years, you'll already have all the qualifications and experience to become a self-employed electrician. If you want to advance your qualifications, consider these options:
Gaining a master electrician license or higher qualifications
Taking further courses in different disciplines, meaning your company can offer specialised services. Using our top training course guide is the perfect way to find your next course and improve your skills
Choosing to specialise as a specific type of electrician, such as a maintenance electrician, an electrotechnical panel builder, or a highway electrical systems electrician
Certification
Many electrician jobs will involve working on a construction site. So it's crucial that you have a CSCS card so you don't miss out on these lucrative job opportunities.
Other useful skills and attributes
While many electricians have the qualifications and experience to do a great job, do they have what it takes to run a successful company? In this section, we look at the 'soft skills' and attributes that are important for anyone wanting to start their own business.
How do you stack up?
Knowledge of building and construction
Good with numbers and the ability to understand technical plans
Attention to detail, thorough, and highly organised
Great at problem-solving and good level of initiative
Interpersonal skills and great customer service
The ability to lead and manage and have conviction in your decisions
Patience, fairness, integrity, and self-awareness
Enthusiasm and endurance
How to set up your electrician business – step by step
In this section, we'll outline the practical steps you need to take to set up an electrician business so you can be sure you've ticked all the boxes including insurance requirements, registering with HMRC for tax, and marketing your business effectively.
Register your business
Once you've decided on a name for your electrician business, you'll need to legally register it.
When doing so, you'll need to decide whether you'll be recognised as a sole trader or a limited company. Each comes with different taxes and regulations. So the structure of your business will depend on what suits you best.
Take time to weigh up the pros and cons of each before making a decision.
As part of setting up as a sole trader, you'll need to contact HMRC to apply for the necessary tax and national insurance documents too.
Get electrician insurance
Electrician insurance offers protection for you, your business, your livelihood, and any third parties (members of the public or future employees) from losses or damages caused by unexpected events.
Electrical work can be dangerous, and mistakes can have serious consequences, so it's important you're fully insured to lessen the financial impact this could have on your business.
An electrician's insurance policy can cover all aspects of your business. Public liability insurance (mandatory for all Checkatrade members), and insurance for your tools, van, and your income, can all be included under one policy.
Accounting and bookkeeping
One of the most common reasons for new businesses failing is poor cash flow management. It is so important to keep an eye on the numbers.
As the boss of your new business, you'll need to keep a close eye on monies coming in and payments going out of your business.
This will help you to manage your finances efficiently, easily track whether invoices have been settled, and claim relevant business expenses in preparation for your self-assessment tax return.
Electrician tools and equipment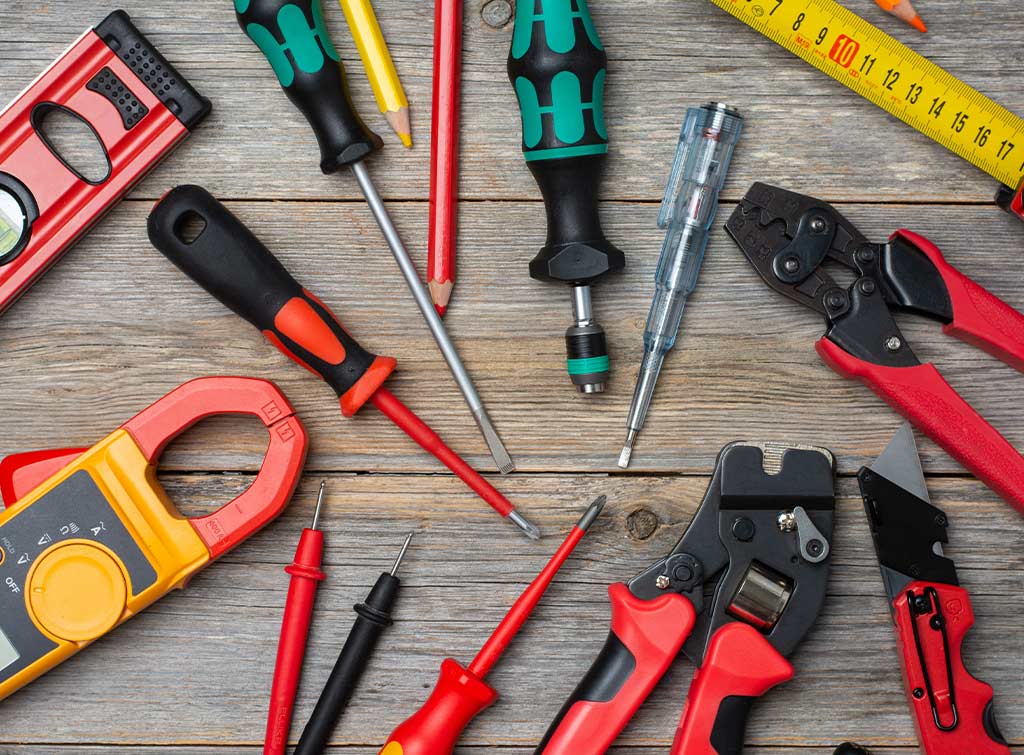 As an electrician, you may have been using tools paid for by your current employer.
Branching out on your own will mean you need to invest in a range of essential tools.
Buying better quality tools will make your job easier and mean you won't need to buy new tools for years to come.
Some key tools you'll need include:
Multi-function tester
Insulated screwdrivers
Spirit level
Multi tool
Drill
Tape measure
Fish tape
Electric wall chaser
Pliers
Approved voltage indicator
Torch
Wire strippers
Wire cutters
Hammer
Whenever you need to stock up on tools and materials, as a Checkatrade member you'll benefit from amazing discounts on equipment, vans, insurance, and more.
These huge savings are a fantastic way to stock up, save money, and get your new business off to a flying start.
Save on your supplies from Denmans
Checkatrade electricians get exclusive rates with the electrical wholesaler!
Find out more
How to grow your electrician business
Once you've started your electrical business and have a steady flow of work, it's only logical that you might now be thinking about expanding. And we're here to look at how to grow your electrical business.
We've put together some of our top tips for how to grow your electrical business. It's time to ramp up your digital marketing, embrace some of our other electrician marketing ideas, and expand your network.
How to scale an electrical business
Before you go wild generating more leads and booking more jobs, it's important to understand that growing your electrical business isn't just about getting more work. You want to scale your electrical business properly so that you can expand and still offer a high quality service.
Streamline your business – To scale effectively you need to be running like a well-oiled machine. Make sure that every aspect of your business is working well, from your admin and supply chain to any IT software you use.
Check your finances – If you plan to grow your electrical business you want to make sure you have the cash flow and available finances to back it up. If you need extra funds, look into investment options or business loans.
Keep your focus on quality and consistency – One common mistake that expanding small businesses make is letting standards slip. The quality of your work has got you this far, so it should continue to be a priority for your business at all times.
Build a brilliant team – Bringing people on board will be one of the single most influential factors in how well you can scale your electrical business. Hire talented, proactive people who will add value to your business. And consider hiring apprentices who you can train to become invaluable.
Marketing for electricians – how to expand your electrical business
The term marketing simply refers to any activity that you do to promote your business and get your company name known to more potential customers. You don't need a degree in marketing to have a huge impact on the growth of your electrical business.
Digital marketing for electricians
There's no denying that any successful electrical company needs to have a strong online presence. Dedicate time regularly to working on proactively marketing your electrical business in your local area.
Here are some ideas for digital marketing for electricians:
Give your website some TLC – Your company website is often the first impression that most potential customers will get of your electrical business. Make sure that all the information is up-to-date, test all buttons and links, and read through to check spelling and grammar.
Post regularly on social media – Just like your website, your social media accounts are a great way to attract new customers. Regularly post high quality photos and/or videos of your latest roofing jobs (and tag the locations).
Join online directories – Millions of homeowners use online directories to find reliable tradespeople in the UK. And a quick toot of our own horn, Checkatrade helps thousands of small businesses reach more customers and book more jobs every day.
How to advertise your electrical business
When it comes to advertising, there's no one right answer for how to grow an electrical business. There are actually many types of advertising for electrical businesses, including:
Pay per click (PPC) advertising – PPC ads appear at the top of search results in Google. With the help of a PPC expert, they can be a very effective way to generate quality leads for residential and commercial electrical work.
Branded company signs – You can be your own advertising platform by making sure any company vehicles are clearly branded with your business contact details and website address.
Sponsor local events – Sponsoring local sporting or charity events can help get your electrical business name out there in your local community. And when you're out and about, always wear branded clothes to further promote your business.
Other electrician marketing ideas
In addition to advertising, there are some other marketing activities that can really help you win more customers and expand your electrical business:
Encourage customer reviews – Online reviews help show potential customers the quality of your electrical work. After each successful job, ask your customers to leave a review (ideally on Checkatrade or Google).
Build your local network – Getting to know other local businesses can be a great way to grow your electrical business. Take time to get pally with local estate agents, property developers and construction specialists.
Register on Google My Business – Make the most of Google's free listing service and start appearing in local search results for customers looking for electrical businesses in your area.
Feeling inspired to boost your marketing?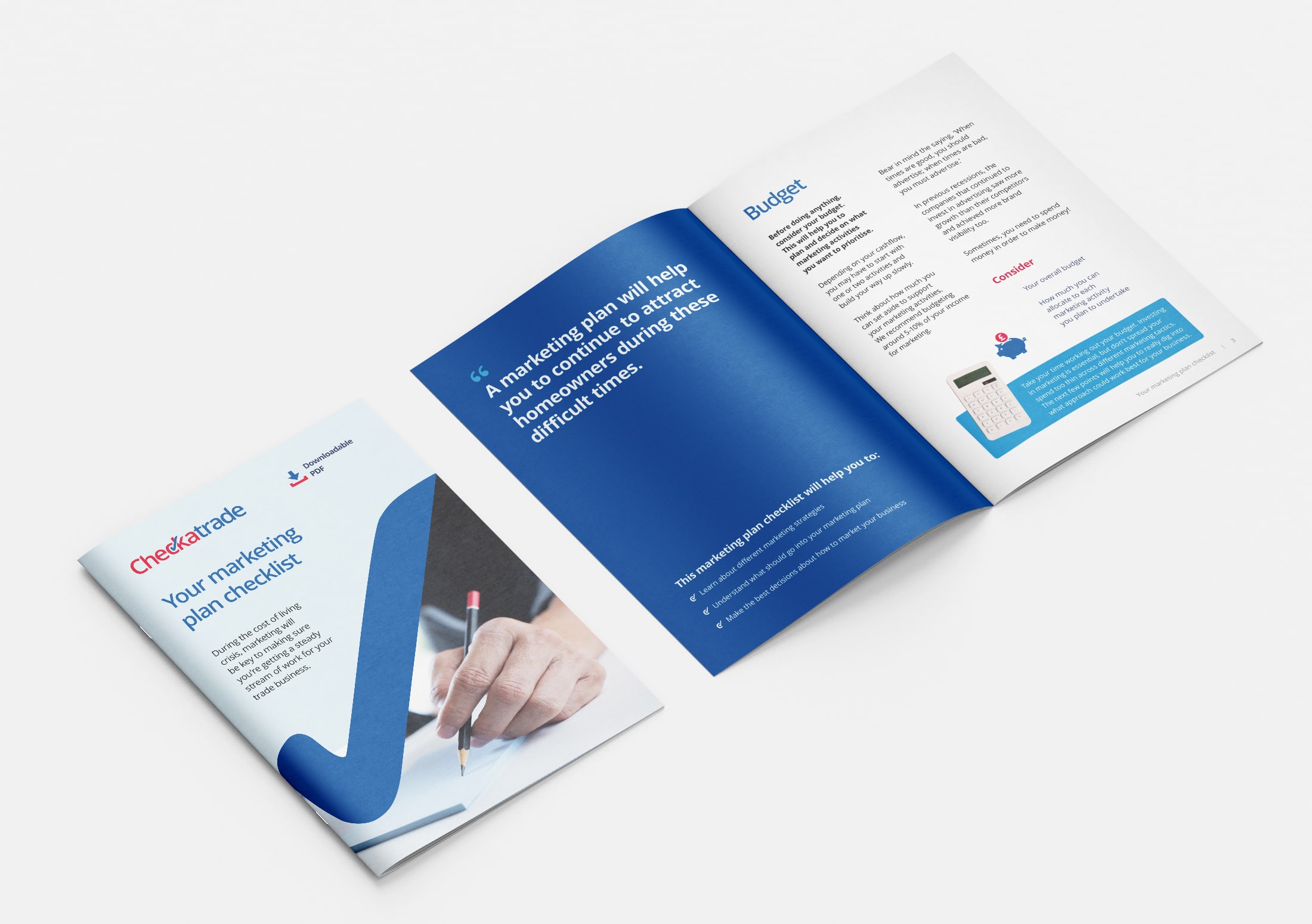 Grab your free digital marketing guide below.
Update your electrician business plan
Before you started your electrical business, it's likely that you'll have put together a business plan to set out your plans for the business. And having a plan for how to expand your electrical business is just as important:
Revisit your original roofing business plan to check you're achieving your goals
Assess if you have any new goals, or previous goals have changed
Put together a roofing business development plan to outline how you plan to grow
Need help with your electrician business plan?
You might find it useful to use our business development plan template as a jumping off point to create an effective electrician business plan to grow your business.
How to get more electrical work
If you're confident that you're ready to scale and grow your electrical business, it's time to get booking more jobs.
Here's how to get more electrical work:
Accreditations and certificates – Showing that your electrical business is qualified and reliable will massively help customers trust you. If you haven't already, look into schemes such as the Registered Competent Person Electrical or BSI accreditation.
Encourage recommendations and repeat business – Happy customers are key to growing your electrical business, both for recommendations and hiring you again. Focus on doing a great job and treat every customer with respect.
Specialise in certain electrical work – If you can tap into a niche roofing market that's under-served in your local area, you could quickly boost your roofing leads. For example, green energy is on the rise so you might want to become an expert in sustainable energy installations.
One important point to remember is that every electrician business is different, so try things out and see how you get on.
You might find you get a lot of leads coming from your website or social media. Or local networking might be the key to expanding your electrical business.
Being a Checkatrade electrician is a no-brainer
Joining Checkatrade is an excellent way to market your business, with free marketing materials and your own unique profile page. You can use your profile to add photos of your work and really talk to your customers.
Best of all, they can call and message you for a quote. And you can build a good reputation with customer reviews.
Other ways to market your business online include a website, email marketing, PPC, SEO, and social media. Find out more about digital marketing.
Checkatrade members have the opportunity to feature in our leading trade directory, which is delivered to homeowners around the country.
This is one way to market your business locally using print advertising.
Growing your business is a huge topic, so you may be better off getting this free guide to help you along the way. Enter your email to get your guide:
A sneaky way to get customers to find you straight away
With over 3 million homeowner searches per month, Checkatrade is a great way to get your new business online and in front of customers in your target areas.
Becoming an approved and guaranteed Checkatrade electrician makes growing your new business easy. And actually, electricians are always searched for by homeowners across the UK. So wherever you're based, you can guarantee there are customers looking for experts like you right now.
You'll also get some nice little extra benefits too, including exclusive discounts with the electrical wholesaler Denmans.
Save on your supplies from Denmans
Checkatrade electricians get exclusive rates with the electrical wholesaler!
Find out more
Become your own boss
You could get your business started in a matter of days and weeks with the help of our 'Become the Boss' series.
Receive 8 emails containing actionable tips, featuring fellow tradespeople who were once in your position, a free business strategy call, and at the end of it all, you could be the founder of your new business. What's not to love?
To get trade business insider secrets sent to your pocket, put your email address in the form below so we can help you to get started.
Case study – How Checkatrade helped promote E. Jauncey Electrical
With over 20 years of experience, Elliott was looking to reach new customers, promote his business and keep his stellar reputation for excellent work.
With no website or advertising, Elliott needed a way to reach potential customers.
So, he joined Checkatrade.
With his own profile page, visible customer reviews, and handy search metrics, Elliott was in a brilliant position to kick-start his company.
Starting a new electrical business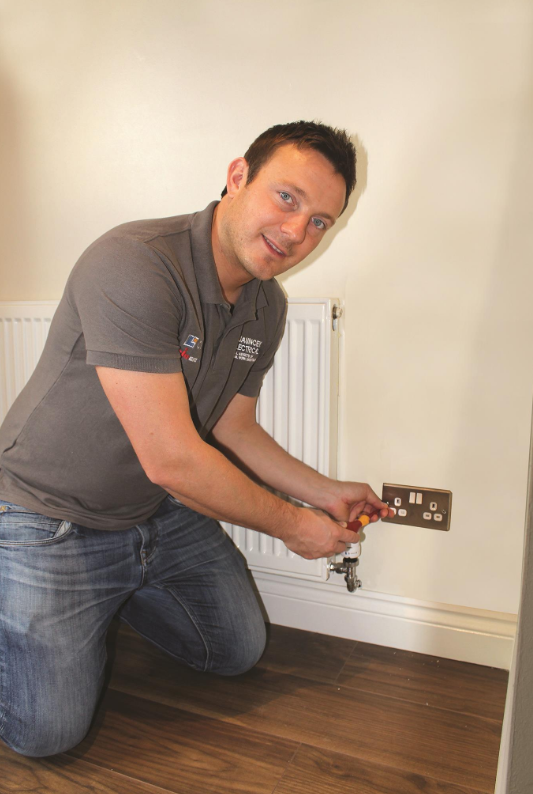 In 2012, E. Jauncey Electrical was founded. With no marketing experience, Elliott was unsure where to start when it came to promoting his company, an issue faced by many new businesses.
Being a Checkatrade member takes away that problem. Our website is looked at by tens of thousands of people daily looking for tradespeople to do work in their homes and our digital marketing strategy means we appear at the top of Google for popular searches.
As well as this, Checkatrade is the most well-known sign of quality in the trade industry*.
Building trust
Elliott knew getting his name out there, and building trust and a customer base were essential.
"With me, it's important that my potential customers know I can look after them," explained Elliott.
"My reputation means everything to me and when setting up the business, with my own name on the side of the van, I had to guarantee my reputation as a trusted tradesperson".
Elliott wanted to show his customers that they came first and that the work would be top quality.
Being a Checkatrade member is the quickest way to confirm to homeowners that you're the real deal. In fact, 8 out of 10 people would choose a tradesperson we've checked over one we haven't**.
Difficulties with building a website
Creating a website is a huge task that can cost a lot of money. When you're with Checkatrade, you don't technically need a website.
As a member, you will be given your own profile that you can personalise. This will show the important stuff like contact information and the types of work you specialise in, and what area you cover, whilst also giving you a chance to showcase pictures of previous jobs.
It also gives customers the chance to leave reviews and new customers to see all of this.
Elliott said, "I needed a way to ensure that I could get my message across to my potential customers by allowing them to see customer reviews from each and every job."
Using the Checkatrade app
Elliott found using the Checkatrade Trades app easy and straightforward to use for his business page.
"I could update my own profile page as often as I wanted to and I could post all my own images to showcase my work, plus have all my contact details and my public liability insurance all in one place."
Elliott could also see exactly how Checkatrade had helped to grow his business.
He said that "it's very easy to monitor how much business is generated via the company," which is great for keeping tabs on your return on your investment.
Customer searches
Checkatrade's free search feature is an excellent way for customers to connect with tradespeople in their local area. Elliott found the included marketing analytics extremely useful in helping him reach more customers.
"There's even a breakdown to find out which words were used in the customer's search which was great because I could amend the words I used in my profile, to help to maximise how many times my business appeared as a search result."
With Checkatrade's free search feature making it easy for customers to connect with local tradespeople, our members have more job opportunities than ever before.
"I receive enquiries every single week and I win new business consistently that has found me via Checkatrade."
Take my advice
Checkatrade has been a great success for E. Jauncey Electrical.
Elliott said, "I can honestly say my business has thrived since being a member."
"The advertising really does pay for itself and the cost per month is very affordable."
"If you are a grafter like me and you want more work, then what is there to lose? Why wouldn't you want to get your share of 13 million yearly searches on Checkatrade? No brainer really. My recommendation is one you can rely on!"
What are you waiting for?
Give your new business the spark it needs to be successful by joining the UK's #1 trade directory.
With a range of memberships available, you can choose the membership right for your business.
Not only will you receive jobs, but you can also save money with exclusive discounts and add our good name to yours, taking advantage of the trust we've built for over 20 years.
And if that still hasn't convinced you, check out Cathy's story to starting her own electrical business
FAQs
Is it worth going self-employed as an electrician?
As an electrician no two days are the same, making this a fulfilling job. However, when self-employed, you have full control over your future career and the direction of your company. You can decide to further your training and skills in order to offer new services, giving your business a great boost. You can decide which avenues you want to pursue, which jobs you wish to take on and have much greater control over your earning potential.
How much does a self-employed electrician earn (UK)?
As a qualified electrician, you can expect a good salary that is very competitive within the trade industry. So, how much does a qualified self-employed electrician earn? Generally, the average salary for an electrician is £33,000.
What's more, once you start an electrician business, you'll be able to set your own wage based on your company's profits. As a company owner, you may be able to take much more profit on this basis.
The average electrician cost per hour is £45. To learn more about electrician rates, please explore our electrician hourly rate cost guide.
What insurance do I need as an electrician?
In order to protect you and your company from legal issues, it's wise to get insurance. Depending on how protected you wish to be, consider getting:
Employers' liability insurance
Public liability insurance
Contract works insurance
Legal expenses insurance
Tools in transit cover
Professional indemnity insurance
Personal accident insurance
Legal expenses insurance
Do electricians need indemnity insurance?
It's not a legal requirement, but as someone providing professional services to customers, professional indemnity insurance is highly recommended for an electrician.
What type of jobs do electricians cover?
Electricians cover a wide range of different jobs, keeping your working day interesting and varied. The most common jobs covered by an electrician are:
Maintaining different electrical systems.
Installing new electrical systems like lighting and power sockets.
Repairing damaged systems.
Plus, you can choose whether to work for residential, industrial or retail customers. This means you can offer specialised services, making your company stand out above the others.
How can I promote my electrical company?
There are a variety of ways you can promote your electrical business in order to generate leads and book more jobs.
Some of the most popular ways of promoting an electrical business in the UK include:
Make sure you have a great website that's up-to-date
Post regularly on social media with photos and videos of your work
Joining online directories, like Checkatrade
Encourage customer reviews and word of mouth recommendations
Invest in PPC activity, such as Google Ads
Brand your company vehicles
Sponsor local events in your area
Build a strong network with other local businesses and contractors
Ready to take your electrical business to the next level? Join Checkatrade today.
When you're ready, start getting new customers
We can help build up your customer enquiries
Find out more
*Deep Blue Thinking 2021 Trade Perception Survey
**Deep Blue Thinking 2021 Trade Perception Survey