Marketing for plumbers: Our top digital and local marketing tips
Running a plumbing business has its challenges, but marketing doesn't need to be one of them. Everything you need to know about marketing as a plumber is right here. Best of all, we'll share how you can get your business in front of 3.9 million UK homeowners for the next year.
Marketing is essential for any successful plumbing company, it helps you to connect with the right customers to grow your business.
What you can achieve by marketing as a plumber
Getting more work: With marketing, you can attract different customers, helping to boost your workflow when needed
Expanding: Marketing can help you reach more customers beyond your current limits and plan for growth. Allowing you to expand your business over time
Stand out over competition: It's important to show your customers that choosing your company is the smart choice over your competition
Target certain customers: As a plumber, you'll generally see two types of customers, those having an emergency and those looking for routine assistance. You can use marketing to reach more or less of each type of customer
Where should plumbers be marketing themselves?
There's a range of different ways to reach your target customers.
But digital is one of the quickest ways to grow your plumbing business.
Digital marketing for plumbers
If you have a larger budget for marketing, then you'll also want to consider other methods for being found online by customers.
Wait, what is digital marketing?
Digital marketing is simply any marketing that your company uses online.
There are a wide variety of options when it comes to digital marketing and the best choice for your business will depend on your budget and the customers you want to reach.
When it comes to picking your online marketing efforts, the most important question is, 'where are your customers looking for the services you offer?'.
When it comes to digital marketing for plumbers, consider using the below options:
Website: In this day and age, having a company website is a great way of showing customers you're a legitimate business. You can add videos, articles, reviews, and blog posts to your website to attract more customers.
Social Media: Many clients will check to see if your company has a page on social media. You can use this to post examples of your work, case studies, information about your business and even for live streaming demonstrations.
Email: Having an email list of your customers allows you to send offers and business updates to past customers.
SEO: You can use search engine optimisation to improve where your company appears in Google searches. This is a great long term tactic, as it can take time to achieve good rankings.
PPC: Pay per click marketing allows you to place adverts in Google search results. You pay each time they're clicked, hence the name. It's quicker than SEO but can be more expensive in the long run.
Online communities: Posting and offering advice in online communities helps you to reach more customers.
Mastering your online marketing (it's easier than it sounds)
As we explain in our free-to-download eBook Accelerate!, there are some fundamental rules about online marketing that don't change, such as the rules surrounding 'on-page SEO'.
'On-page SEO' refers to the basic structure and content of your website. It basically means building a good site, putting content in the right places and keeping it up-to-date and busy.
Google prioritises web pages it sees as authoritative, safe and accessible, and it has a few methods to discover which websites are better than others.
Check out Chapter 3 of our free eBook to learn more about maximising your SEO.
Local marketing for plumbers
If digital marketing isn't for you, you can try local marketing for plumbers.
This is an effective way of marketing your business, helping you find new customers and boosting your small company.
Try the below local marketing options for plumbers:
Direct mail: If you're hoping to target customers who live in a certain area, direct mail is a good option. This involves professionally printing flyers or leaflets with information about your business, as well as any offers, and posting these through letterboxes.
Newspapers: Many newspapers have space for local adverts where you can post contact details for your company.
Bulletin boards in local businesses: Local businesses may have a bulletin board where you can post an advert for your company.
Local directories: Using local directories is a great option so when customers are looking for a plumber, they'll see your advert. Did you know, Checkatrade members can feature in our national directory?
Create a partnership with other tradespeople: Building a relationship with other trade companies means they'll recommend you for any plumbing jobs they come across. Contractors are a great choice as they won't offer plumbing themselves but their customers will often need a plumber's services.
Social media groups: Customers often post in local social media groups looking for plumbers who operate in the area. You can also advertise your business here.
How to advertise a plumbing business
Advertising a plumbing business is a great way of attracting new customers but it can be expensive. Your advert should include contact information, your business branding, and any special offers.
If you're wondering how to advertise a plumbing business, you have a few options including:
TV
Radio
Newspaper
Online
Email
How to advertise a plumbing business for free
If you're struggling with cash flow, a few of the marketing options we've covered in this guide are free.
For example, you could print a basic advert and post this on a local bulletin board for free. Advertising on social media is also completely free. Finally, sending emails to past customers with any current offers is also free.
However, you may find you don't get the results you want, or don't get enquiries quick enough to fill gaps in your schedule. So, it's worth assessing if the paid options will bring in enough customers to justify their cost.
One of the best ways to connect with customers is by becoming a Checkatrade member. You'll have a unique profile page where you can display reviews and share information about your business. We'll also make it easier for customers to find your business on Google.
Why do we say Checkatrade is best for plumbers? Because we have the numbers to show you the value of becoming a Checkatrade plumber.
Other ways of marketing your company include:
Through your website
Social Media
Email
Online advertising
Direct mail
Use Checkatrade to help grow your plumbing business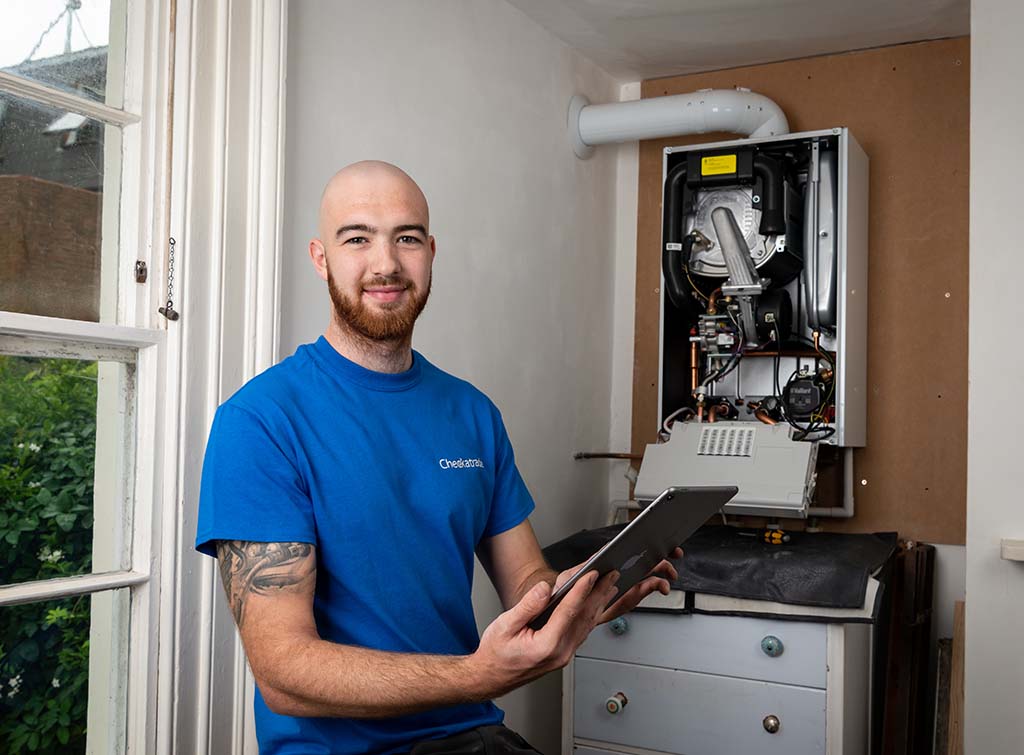 Customers visit our online directory every day. They come to us when they need plumbers that come recommended by their neighbours.
As a Checkatrade member clients will see your company pop up during their search, increasing the chance they pick you for their next plumbing job.
Guess how many homeowners searched for a plumber on our website last year
What's your guess?
If you guessed over 1 million, you're correct. But it was actually a lot more!
Over 3.9 million people across the UK searched for a Checkatrade approved plumber on our website*! That's 3.9 million people who came to our website looking for plumbers to help them.
Out of those 3.9 million searches, you appeared for zero. You could have helped them, but you weren't with Checkatrade.
By joining Checktrade, we can promote your business to millions of homeowners too.
Want to make a start in growing your plumbing business?
It's a no-brainer to join Checkatrade.
As long as you pass our checks, you'll instantly be seen as a trusted plumber to your potential customers.
With the Checkatrade tick by your name, it makes your marketing just that little bit easier.
It's the tick people trust – 8 out of 10 people would choose a trade endorsed by Checkatrade compared to one that isn't**. Don't be in the 15% who miss out on plumbing work.
Are there any other benefits?
It's easier for customers to find your company on the likes of Google
You'll get free marketing materials from us
You'll get exclusive member discounts with the likes of Selco
You get flexible membership options. You're in control of the work coming your way
See if you can pass our checks to become a Checkatrade member.
* Internal search data on checkatrade.com
** Deep Blue Thinking 2021 Trade Perception Survey – 'compared to a trade with no endorsements'