Whether you're looking to replace old wooden fittings with uPVC boards or have a leaky gutter that needs attention, it's a good idea to get familiar with costs to stay within budget. The price a professional will charge for this service varies, but our guide provides an overview of the average fascia soffit and guttering replacement cost to give you a head start.
Average cost for fascia and soffit replacement = £2,100
Average timescale: 2-3 Days
| Type of job | Unit | Average cost |
| --- | --- | --- |
| uPVC replacement for old fascias and soffits | Per metre | £100 |
| uPVC replacement for old fascias and soffits | Small, semi-detached property | £1350 |
| uPVC replacement for old fascias and soffits | Large, semi-detached property | £3000 |
| Capping old fascias and soffits with a uPVC cover | Per metre | £50 |
| Gutter replacement | Per metre | £30 |
How much does fascia, soffit and guttering replacement cost?
Getting your fascia and soffit boards replaced is an easy way to improve the appearance of your home. Once replaced, next to no maintenance will be required for years to come.
The total fascia soffit and guttering replacement cost will inevitably depend on the type of property you own.
For a small, semi-detached property, uPVC replacement of soffits and fascia boards will range between £1,200 – £1,500. For a larger, detached property, the task of soffit and fascia replacement will naturally take longer, with professionals charging an average of £3,000. 
Quotes provided by tradespeople are typically calculated at £100 per m2 of roof-line.
If you are working with a smaller budget, you might opt to have old fascia and soffit boards capped with uPVC, providing a protective covering to otherwise vulnerable areas.
Find an approved fascia, soffit and gutter pro near you
What are fascias?
A fascia is a board that is attached to the edges of the rafters of a property to support the structure of the roof and protect the interior of the house from exposure to the elements. As well as their functional use, fascias serve in giving a fresh aesthetic to a property by blocking out the rain guttering and water pipes that aren't always the most visually pleasing.
What are soffits?
Soffits are additional coverings that are tucked away under the fascia boards. The purpose of a soffit board is to protect the rafters of your property by sealing them in. Although soffit boards were traditionally made of wood, modern soffits are now made from uPVC or aluminium as these materials are not prone to the kind of decay that timber products are susceptible to.
Soffits can be ventilated to allow airflow to the roof area and prevent condensation from forming. Ventilation can also be created over the top of the fascia board. Soffit board replacement is a fairly straightforward process but requires expertise.

Why might fascias and soffits need replacing?
Until they need replacing, soffit and fascia boards don't often cross the mind of many homeowners.
Perhaps the most underrated feature of your property, soffits and fascias are critical to the functionality of your roof: without them, your home would be prone to damage and decay.
They also serve an aesthetic purpose, adding a modern, fresh and finished look to your roofline.
Prolonged exposure to wet weather doesn't bode well for wooden soffits and fascias.
As well as bearing the brunt of the rain, leaks from gutters can drip across fascia boards, causing deterioration over time. While most modern properties are built with uPVC fascias and soffits, older properties are likely to have wooden fittings.
When wood begins to rot, fascia and soffit boards fail to do their job in protecting the property from water damage and supporting the structural integrity of the roof. If you do have wooden fittings, getting them replaced with uPVC boards will save you considerable time and costs in maintenance and repair.
Factors affecting the cost of fascia and soffit replacement
When sourcing quotes from tradespeople, it's important to have a clear idea of the type of work included in the price. As well as the new materials needed, fascia, soffit and guttering replacement costs will be determined by the following key factors:
The amount of scaffolding needed
For a 2-storey, 3-bedroom, semi-detached house, scaffolding will need to be erected, adding an average of £700 to the total cost. This average price estimation assumes there are no access issues such as additional scaffolding to bridge across a conservatory.
Removing and disposing of old materials
Waste removal will usually always factor into guttering and fascia replacement costs and is typically charged at an average fixed rate of £50. Costs will increase if your roof has loose tiles that need replacing.
Size of the property
The size of your home will always be the first question asked by professionals when calculating an estimated fascia, soffit and guttering replacement cost.
For a small semi-detached property with two bedrooms, scaffolding may not be needed. Further, the task may be carried out by one tradesperson rather than a team of two or three.
Costs for a small property will reflect this, sitting between £1,200 – £1,500. As soon as specialist equipment or extra personnel are needed for large properties or hard-to-reach rooflines, prices begin to increase.
Type of fascias and soffits being used
When it comes to replacing your fascia and soffit boards, there are various options you can choose from that range in both price and effectiveness. These include:
uPVC
Considered by far the most durable option, uPVC boards are highly weather-resistant and require very little maintenance. The average cost for uPVC soffits and fascias is £100 per m2.
Timber
Replacing weather damaged fascias with new timber boards is a good option for those looking for a cheaper alternative, though it's worth noting that they may need to be replacing sooner due to decay.
Cladding
At a cost of £50 per m2, cladding the existing fascia boards with uPVC panels is considered the cheapest approach. Unfortunately, this will only be possible if the fascia boards are still in good condition, as the cladding will not hold to damaged wood.
Location
When hiring a professional, it's worth bearing in mind that the costs outlined in this guide are based on UK averages. As with most services, soffit and fascia replacement costs will usually be higher in the capital.
Find an approved fascia, soffit and gutter pro near you

Soffit replacement cost
Soffit replacement costs will nearly always depend on the length of your roofline, charged at £100 per m2. Capping old fittings may be a more cost-effective option, but the long-term benefits of replacing your soffit boards are well worth the price.
Fascia board replacement cost
Fascia replacement costs will start at £100 per m2. With waste removal and labour factored in, the average price will likely sit around £2,100, though this will of course depend on the size and type of your property.
Guttering and fascia replacement cost
Guttering is not an element that should be overlooked. A leaky gutter can quickly lead to damage to your property, so it's important to check these regularly. If you think you might need this service, it's worth mentioning when sourcing quotes.
Tradespeople will often include the cost of new gutter installation into the total price of guttering and fascia replacement at roughly £30 per metre.
Find out more about replacing your gutter here.
Find an approved fascia, soffit and gutter pro near you
Fascia, soffit, and guttering replacement cost calculator
To calculate the cost of your fascia, soffit and guttering replacement you'll need to start by working out how much needs replacing – ideally by measuring the length. You'll then need to factor in the style and materials used, as this will affect the price – more durable, higher quality materials will obviously cost more. And then finally the labour cost needs to be added on top. For accurate prices in your area, contact local tradespeople and ask for a breakdown of the costs.
Fascia, soffit, and guttering replacement quote
We always recommend obtaining at least three quotes from our trusted tradespeople. Our request a quote feature is perfect for getting quotes – you post details about the job you want doing and we'll send it out to local tradespeople in your area. Try it out!
Fascia, soffit, and guttering replacement hourly rates
The hourly rate you pay for fascia, soffit and guttering replacement will depend on who you hire to do the work. If you're hiring a roofer they'll usually cost around £18 – £25 per hour. For a gutter expert, the hourly rate is usually around £20 – £30 per hour. That said, it's much more common to be quoted a cost per metre for fascia, soffit and guttering replacement, so don't be surprised if you see an estimate per metre instead of per hour.
Find an approved fascia, soffit and gutter pro near you
 Can I replace my fascias and soffits myself?
Since professional soffit, fascia and gutter replacement comes with a price tag, it can be tempting to opt for the DIY approach. Unless you have considerable experience with this type of work, we strongly recommend avoiding this for health and safety reasons. Depending on the size and type of property you own, scaffolding may be necessary for ensuring safe working conditions.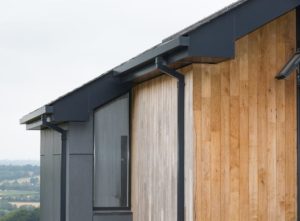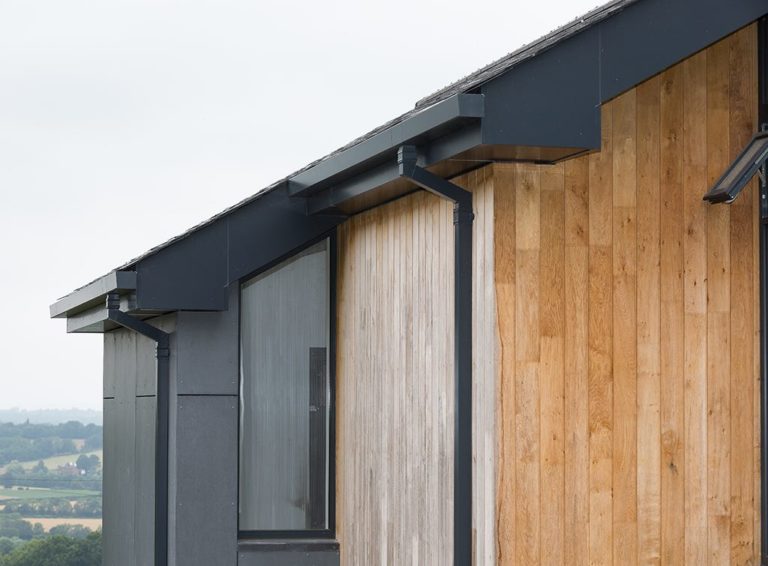 Fascia, soffits and guttering replacement cost checklist
Fascias, soffits and guttering play a vital role in supporting your roof and protecting your property from weather damage.
Replacing old fittings is essential in maintaining their functionality and preserving your property in great condition.
The average cost for fascia, soffit and guttering replacement is £2,100 charged at £100m per m2.
When sourcing quotes, it's important to factor in the costs of labour, waste removal and whether or not scaffolding will be needed
Due to the type of work involved, this is a job best left to the professionals. Use our search bar to connect with tradespeople in your local area.
Find an expert to carry out fascia and soffit replacement near you.
Find an approved fascia, soffit and gutter pro near you
Tell us what you think
What others think of this article:
Need More Information?
Related posts