Planning your garden ready for the summer? We thought we'd help you bring a bit of the Love Island charm to your home, with a Love Island garden cost guide to create a villa-inspired garden that'll have all your neighbours' heads turning.
One dedicated dad, Derry Green, has gone viral after transforming his garden into a stunning Love Island paradise. We're so inspired we thought we'd share his ideas to help you create a sun-lovers oasis in your own garden.
"Definitely have a go at creating your own Love Island garden… there are professional tradespeople out there who can help." Derry Green
As Derry did most of the work himself, the prices shown in this guide are mainly reflecting the cost of the materials only. Hiring professional tradespeople to carry out the work would involve additional costs.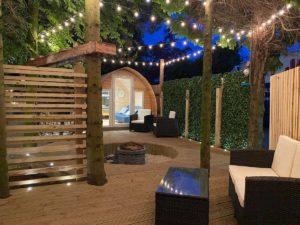 How much does a Love Island garden cost?
We spoke to Derry himself to find out about the costs of his impressive Love Island garden makeover to inspire you to create an equally amazing garden space.
In total, Derry spent around £9,000 transforming his garden.
How to style your garden like the Love Island Villa
After creating his new Love Island garden, Derry has encouraging words for anyone else who might want to give their own garden a Love Island makeover:
"Regardless of your skill level, you should definitely have a go at creating your own Love Island garden… there are professional tradespeople out there who can help… and friends can offer help for the things you can't do yourself."
Create your own Love Island garden
Connect water and power supplies
| Love Island garden cost | Cost (materials only) |
| --- | --- |
| Micro digger hire (per day) | £75 |
| Garden landscaper (per hour) | £25 |
| Electric cabling and pipework | £600 |
| Fencing (per metre) | £25 |
| Decking | £1,800 |
| Glamping pod (structure, insulation and interiors) | £2,200-£3,200 |
| Second-hand fire pit | £35 |
| Egg chair swing | £110 |
| Wooden sleepers (for table and benches) | £145 |
| Sauna | £450 |
| Hot tub | £2,000 |
| Love Island garden lights | £144 |
Micro digger hire cost: £75 per day
Garden landscaper: £25 per hour
Electric cabling and pipework cost: £600
Getting water and power supplies into position are a key first step to creating your own Love Island. You want to make sure you've done the necessary preparation so you can install cracking water features and stunning Love Island garden lights.
If you're a fan of getting stuck into heavy duty garden work, like Mr Green, you can hire a micro digger and crack on digging the channels yourself. Otherwise, you might want to speak to a local garden landscaper to get their help.
You'll need to hire an experienced plumber and/or electrician to carry out the plumbing and wiring work so that it's done safely and securely. You don't want to get mugged off with dodgy cabling work.
Garden fencing cost
Fencing cost: £25 per m2 (plus labour)
With cabling and wiring in place, you can move on to constructing the pod area, starting with the fencing. Derry used featheredge fencing all the way around his pod, at a cost of £25 per metre for the materials.
Speak to a local timber merchant for advice on the options and prices for various fencing types.
Love Island decking cost
Decking cost: £1,800
One of the key parts of having a garden that boasts a Love Island Villa look is the decking. There are a wide range of decking types available, with standard timber being one of the most popular.
Derry used standard decking for the whole deck, including a 4 x 2 tanalised treated frame posts, and it came to around £1,800.
Create your own Love Island Villa pod
Glamping pod cost: £800 – £1,800
Cladding cost: £400
With decking in place, it's time to install the glamping pod, which you can buy a pod frame kit for. These kits are available for pods and shepherds hut-style structures, ranging from £800 up to about £1,800 (depending on size and style).
Once you've erected the frame for your chic pod, it will need cladding. Derry used shiplap on the inside and outside of his pod.
The total cost of cladding worked out at £480.
Create your own Love Island garden
Insulation cost
Pod roof insulation: £100
If you're installing a pod in your Love Island garden project, you want to make sure you insulate it fully so that it's usable all year round. This needs to be done before the interior and exterior cladding of the pod.
For Derry's pod, he used standard roof insulation, which cost around £100.
Love Island pod interiors cost (bed and bathroom)
Pod interior cost: £600 plus labour
As one of the focal points of his Love Island-style garden, Derry fitted an ensuite bathroom, a double bed and a half-height dividing wall to separate the living room area.
The ensuite bathroom consisted of a standard toilet and basin unit with a 9 1/2 kW electric shower, and came in at a total interior cost of around £600.
Underfloor heating
Underfloor heating kit cost: £130 plus labour
Porcelain tiles: £175 plus labour
To complete the interior of your Love Island garden pod you'll want to install sexy flooring, and that means having underfloor heating for those cooler days and nights.
Derry bought an underfloor heating kit online for a cost of around £130. He then tiled over it himself using wood effect porcelain tiles, which cost him £175 in materials.
If you're not an experienced tiler, we recommend hiring a local flooring expert to install the underfloor heating and tiling.
Love Island fire pit cost
Second-hand fire pit cost: £35 plus labour
No Love Island garden would be complete without a fire pit. For those cosy moments around the fire, or pulling someone for a fireside chat.
Derry found his fire pit on an online marketplace for the bargain price of £35. Shop around and you can find great secondhand options at great prices.
Other outdoor furniture costs
Choosing outdoor furniture will vary in cost and style, depending on your personal taste.
From egg chair swings and outdoor tables and chairs, you want to pick furniture that is both functional and stylish.
Derry's Love Island garden outdoor furniture:
Egg chair swing cost: £110
Wooden sleepers cost (for table and two benches): £145 plus labour
Sauna cost: £450 plus labour
Hot tub cost: £2,000
Love Island garden lights
Love Island festoon garden lights cost: £144
One of the most iconic features of the Love Island Villa are the garden lights. Festoon lighting, like Derry used in his garden, costs around £24 for 50 feet.
For his garden, he used six sets of lights to get the effect all the way across the decking and the pod, totalling £144.
Create your own Love Island garden
Love Island garden quotes
If you're ready to have your very own Love Island garden, it's time to get quotes from the tradespeople who can make it happen. We always recommend obtaining at least three quotes per job from our trusted tradespeople. Our request a quote feature is perfect for getting quotes – you post details about the job you want doing and we'll send it out to local tradespeople in your area. Try it out!
Useful Love Island garden checklist
When planning your Love Island garden project, speak to a professional landscape gardener for advice and recommendations.
Make sure you have a clear plan of what you want to create in your garden space before you start any work.
When hiring professional tradespeople, always shop around for fair and competitive prices.
Use online marketplaces and search second-hand selling platforms to get furniture and materials at lower prices.
Always hire qualified plumbers and electricians with appropriate experience and accreditations to ensure all water and electric work is carried out safely and to a high standard.
Create your own Love Island garden
Tell us what you think
What others think of this article:
Need More Information?
Related posts