We know what it's like. You get an offer accepted, go through all the conveyancing, and finally, after months of waiting, you move into your new house for that 'happy ever after.'
But what nobody ever really talks about is the fact that the work is never actually over! According to the Daily Mail, homeowners should spend 1% of the value of their home on improvements every year – just to maintain its worth in the marketplace.
So, what kind of things should we maintain regularly? And how much exactly will it cost? Here, we'll attempt to answer it all.
Property maintenance cost considerations
The average homeowner spends £848 on property maintenance every year.
But unfortunately, it's impossible to predict exactly what maintenance your home will need or how much it will cost. After all, 30% of homeowners are forced to complete an unexpected emergency repair every year (with emergency repairs costing a hefty £925 on average).
That said, there are some factors that can help to give some idea:
The age of your home: A home build more than 10 or 20 years ago is likely to need more maintenance than a new one.
The climate: Extreme temperatures, humidity, heavy winds and snowfall can all increase the amount of maintenance your home needs.
The geography: If you live somewhere that's prone to flooding or termite infestations, you might consider budgeting more for property maintenance.
TLC: If the previous inhabitants took good care of your home, it's likely to bring your property maintenance costs down.
Cost provided item
Unit
Cost+VAT
(Lower range)
Cost+VAT
(Higher range)
Average cost
Recarpeting
Per m2
£3
£40
£21.50
Repainting
Per hour
£14
£18
£16
Gutter cleaning
Per house
-
-
£150
Roof tile replacement
Per 10 tiles
£120
£220
£170
Electrical repairs
Per day
-
-
£150
Fixing a dripping tap
-
£75
£125
£100
Fixing a leaking pipe
-
£77
£128
£102
Fixing a leaking radiator
-
£88
£147
£118
Fixing a leaking toilet
-
£83
£138
£110
Lawn care
Per month
£11
£17
£14
Property maintenance costs
Most things don't last forever. For example, carpeted flooring usually holds up for just eight years. Sealants and stains can last for up to eight years but often give up after three. And a cultured marble countertop has an average lifespan of 20 years.
So, all these things need replacing sooner or later. Other common property maintenance examples include:
Repainting
Gutter cleaning and repairs
Roof repairs
Replacement of worn-out appliances
Electrical repairs
Lightbulb replacements
Plumbing fixes
Lawn care
Regularly maintaining many of these elements is likely to save you money in the long run. A blocked gutter is just one example. It only costs around £150 to clean the gutters for a whole house, but neglecting them for too long could cause expensive damage to your joinery and internal decoration. So, it's usually best to just get it done!
Find a trusted tradesperson near you
Rental property maintenance costs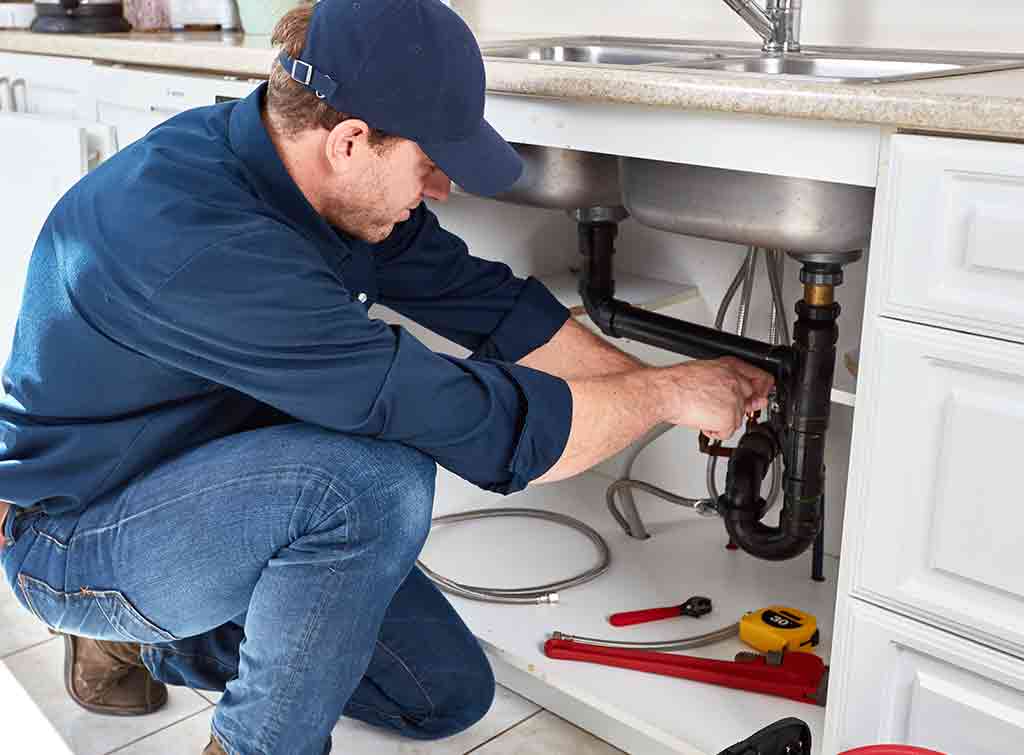 In a rental property, maintenance costs tend to be shared between the landlord and the tenant.
Tenants may be asked to meet certain maintenance costs during their tenancy, such as maintaining the lawn or oiling the decking. But the landlord will usually be expected to cover major expenses, such as roof replacements, fixing faulty plumbing, repainting, and replacing broken furniture (in a furnished property).
Whether you're a landlord or a tenant, always make sure requirements such as these are covered in your contract, to avoid any disagreements further down the line!
Property maintenance cost key takeaways
The average homeowner spends £848 on maintenance each year.
 30% of homeowners are faced with an emergency repair each year.
Factors like your location and the age of your home can affect how much maintenance will be required.
Landlords usually take on major maintenance expenses in rental properties.
Find a trusted tradesperson near you
Tell us what you think
What others think of this cost guide:
Need More Information?
Related posts