The most efficient way to heat a house
Understanding the most efficient way to heat a house in a cost-of-living crisis has become a necessity these days. Thankfully, we have all the answers to your heating woes, from home improvements to cost-effective solutions and even some tips for keeping warm without spending more than a tenner.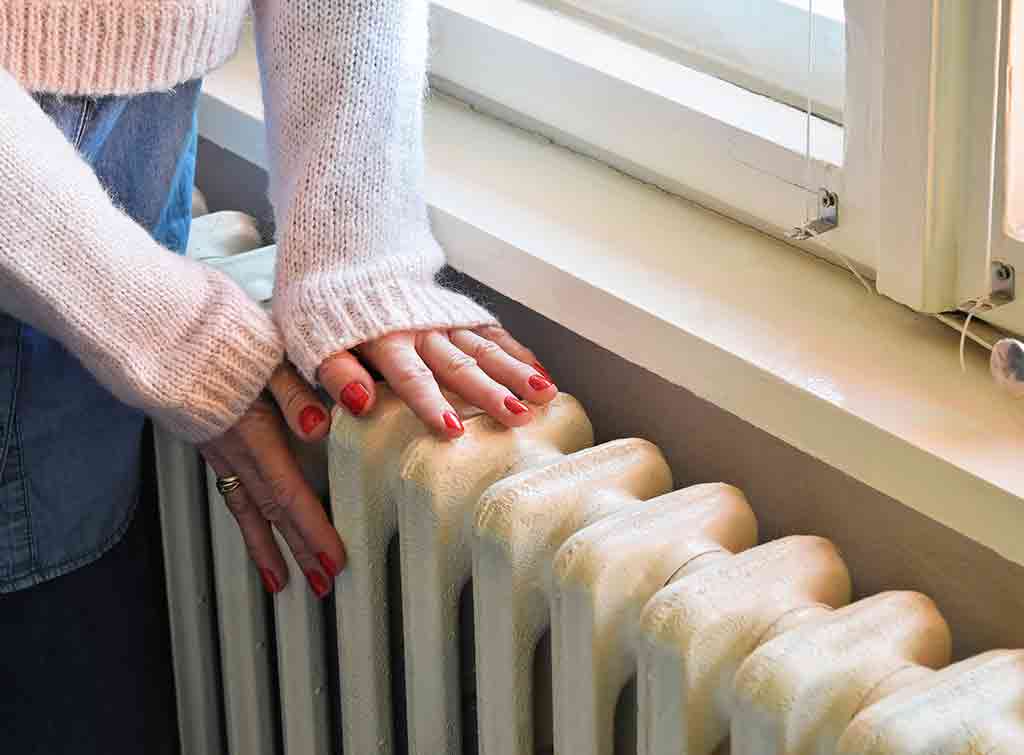 With the cost of living and energy crises hitting the UK at the same time, considering the most efficient way to heat your house makes total sense. Being cold isn't fun and also leads to potential illnesses and issues with our homes.
However, the answer isn't a simple case of buying a snood and hunkering down over a Yankee candle until the storm passes. Your current heating source, budget, and square footage all play a part in efficiency.
Thankfully we have the answers for any scenario and budget. Keep reading for our expert advice on the most efficient way to keep a house warm in all conditions.
See the tradespeople we've checked and recommend for your job
The most efficient way to heat a house
When we talk about the most efficient way to heat a house, we're really talking about the most economical way to heat a house. Luckily, there are ways to circumnavigate the (cold) elephant in the room and save money on your heating bills without ripping everything out and replacing it.
Trapping in the heat is key
First things first, it's important to ensure your home is properly insulated. The difference in energy efficiency between a poorly insulated home and a well-insulated home is huge.
Although retrofitting your insulation will cost you a pretty penny upfront, if your home gets better at retaining heat, it will save you more money in the long run. Therefore, we recommend you consider adding or updating your wall, loft, and floor insulation.
You may also want to consider double-glazing your windows or investing in draught excluders to prevent any heat from escaping.
Learn how much this all might set you back by reading our insulation cost guide.
Regularly service your boiler
The next priority on your home efficiency list is your heating system. If you have central heating, make sure your boiler is well-maintained and serviced regularly.
If you're a landlord, the law states you need to hire a Gas Safe engineer to service the boiler annually to make sure it's in good working order.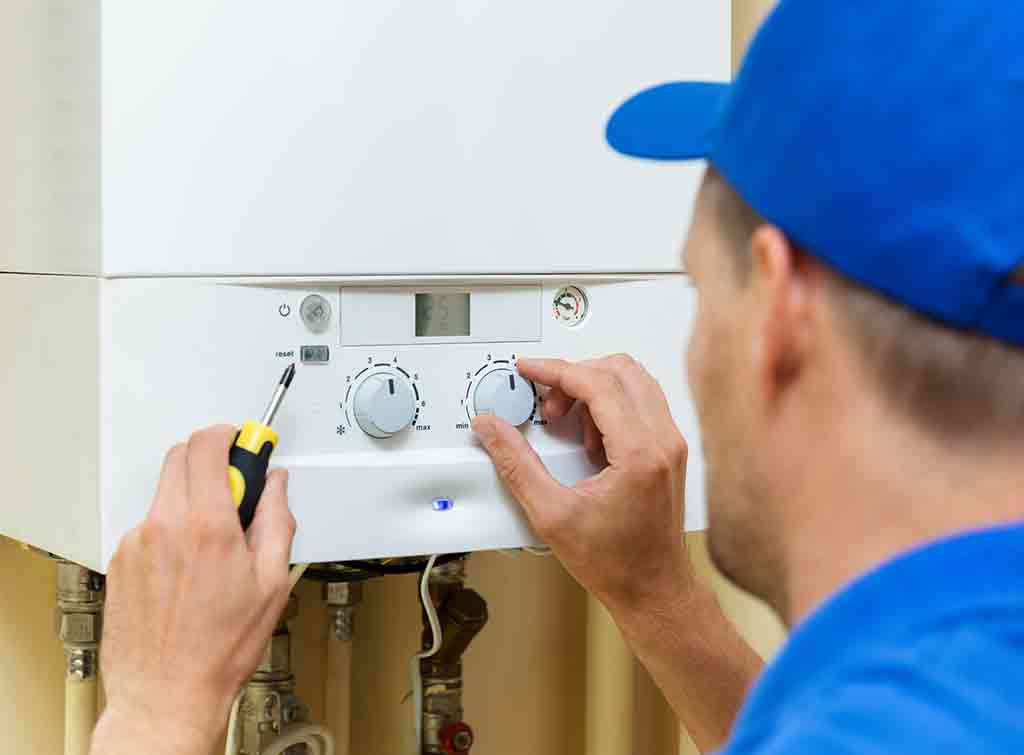 Replace your boiler with a sustainable alternative
Another way to improve your efficiency credentials is to upgrade to a sustainable boiler. Read our guide on the most energy-efficient heating sources for our expert advice on which to choose.
If you're using electric heaters, consider investing in modern ones that have a timer and thermostat. This will let you control the temperature and the amount of time you leave your heating on.
Make the most of natural heat sources
Making the most of the natural heat sources in your home is free. For example, if you leave your curtains open during the day, natural sunlight streaks through the windows and warms up your home.
Another tip straight from mother nature is to place plants or other objects in front of a south-facing window. They'll absorb and retain any heat coming through the glass like mini-conductors.
Only heat the rooms you're using
The most efficient way to heat a single room is to turn off the radiators in the rooms you don't use and close all your doors so there's less square footage to warm up.
Turn down your thermostat
Being mindful of your energy usage will save you money on your bills. Even turning down the thermostat by a few degrees can make a significant difference in monthly costs.
You can also invest in smart thermostats, many of which learn your routine and adjust the temperature in your home accordingly.
Stay toasty with some simple home hacks
Finally, don't forget about layering up and keeping warm with cosy blankets, hot drinks, and thermal clothing.
Keeping yourself warm will help you save on heating costs while adding to the cosy winter aesthetic in your home (who doesn't love a bit of hygge?).
See the tradespeople we've checked and recommend for your job
The most cost-effective way to heat a house
Nobody likes being hit with a sky-high energy bill at the end of the month. So, what's the most cost-effective way to heat a house in the UK?
Gas central heating systems
As gas is generally cheaper than electricity – and modern gas boilers are more energy-efficient than their older counterparts – gas central heating systems are often the most cost-effective solution for heating your home.
This is especially true when compared to electric heaters alone (read our gas vs. electricity heating guide for more info). Additionally, using a thermostat to regulate the temperature and timing of your heating will also help to reduce your energy usage and costs.
Renewable energy heat pumps
Another option is to use renewable heating systems such as ground, air, or water source heat pumps.
Due to drawing the thermal energy from the ground, air, or nearby water source to generate heat for your home, they're far more environmentally friendly than traditional gas or electric heating systems.
Although the initial installation cost of a heat pump is high, the long-term savings on energy bills is significant enough to make them worth the investment.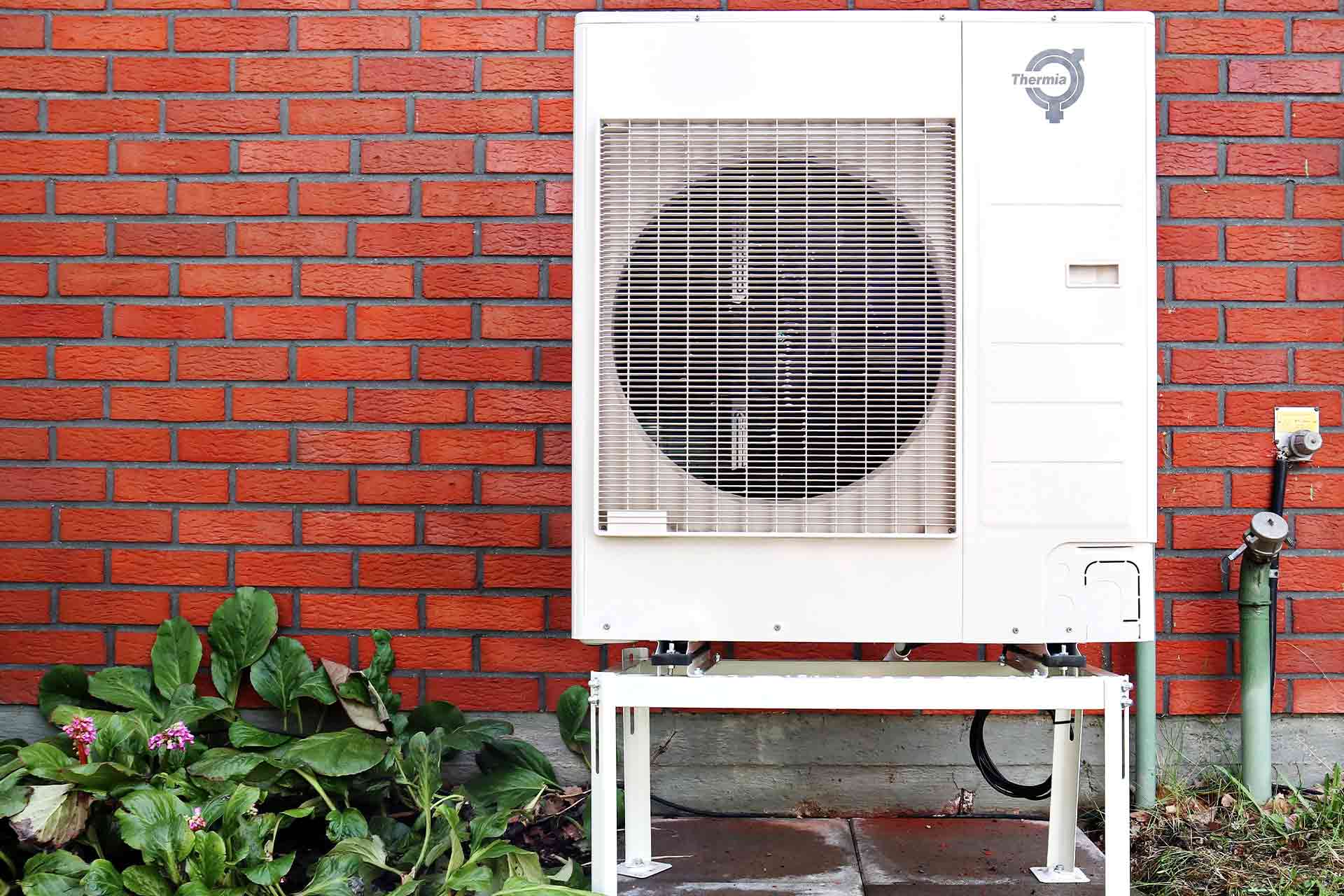 However, note that it's not just a matter of installing a ground source heat pump. Other costs often include new radiators and pipes and even a boiler to optimise your heat pump's energy performance.
Although this might induce a sharp intake of breath, remember that the government is going to ban gas boilers from being installed in newly built domestic properties from 2050. So, it's worth future-proofing your property and resale value now. You may also be eligible for a grant.
Consider a combination of heat sources
Using a combination of different sources to warm your home is a good way to circumnavigate high heating costs.
For example, why not use your gas central heating to warm up your home quickly, but then switch to an electric heater or a wood-burning stove to maintain the temperature in the room you're snuggled up in?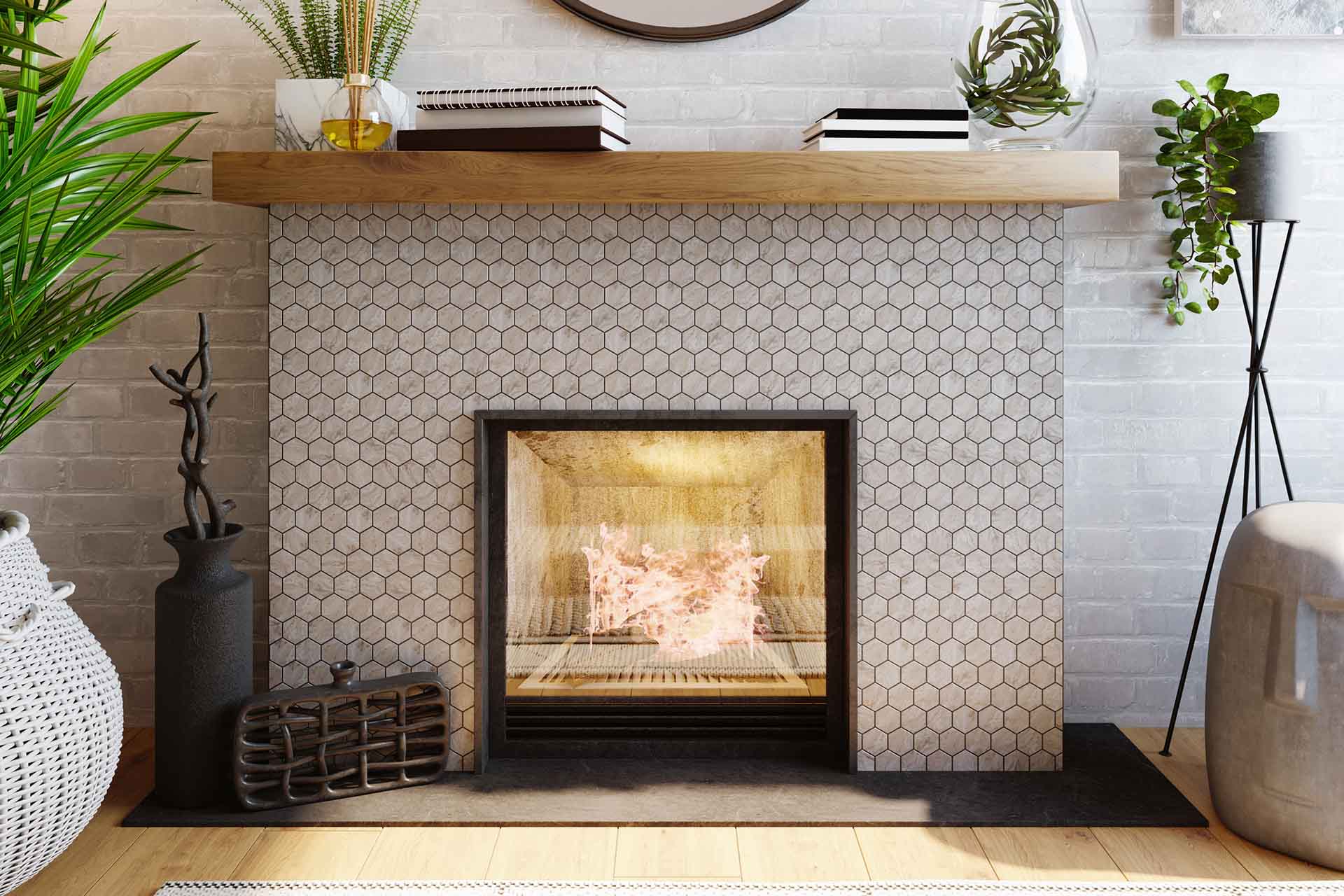 The most efficient way to heat a house with electricity
Although electricity is notoriously pricey (especially in an energy crisis), there are ways to optimise its efficiency so you don't have to remortgage your home to stop your teeth chattering.
Use modern and energy-efficient electric heaters
Old or inefficient electric heaters are more expensive to run. So, investing in newer models with energy efficiency built into their design will help you save money on your heating bills.
Use a smart thermostat
A thermostat lets you control the temperature of your home and consequently reduces your energy usage. Set your thermostat to a comfortable temperature and make sure it's programmed to turn off when you're not at home or when you're asleep.
Zone your heating
If you have multiple rooms in your home, consider using individual heaters or a zoning system, which basically means 'only heat the rooms you're using.'
Insulate your home
As mentioned, insulating your home will help reduce the amount of heat you lose through its 'thermal envelope,' making it easier and less expensive to keep your home warm.
Use a timer
Avoid leaving your heaters on when you're not at home or when you're asleep by using a timer. Set it to turn your heaters on half an hour before you get up in the morning or come home from work, and to turn them off when you're out or asleep.
Consider using renewable energy
If you're concerned about the environmental impact of using electricity to heat your home, consider using renewable energy sources such as solar panels or wind turbines. Although they're not available to everyone, they're worth considering.
Read more in our guide: How much do solar panels cost to install? and our expert advice on whether solar panels are worth it.
Most efficient electric home heating system
An air-source heat pump is the most efficient electric heating system for your home. They're also low maintenance, environmentally friendly, and have a long life span. The only downside is their high installation costs!
Most economical way to use central heating in the UK
Want to know the most economical way to use central heating in the UK? Lucky for you, we wrote an entire resource to answer this exact question.
Read it now for our expert advice on optimising your central heating.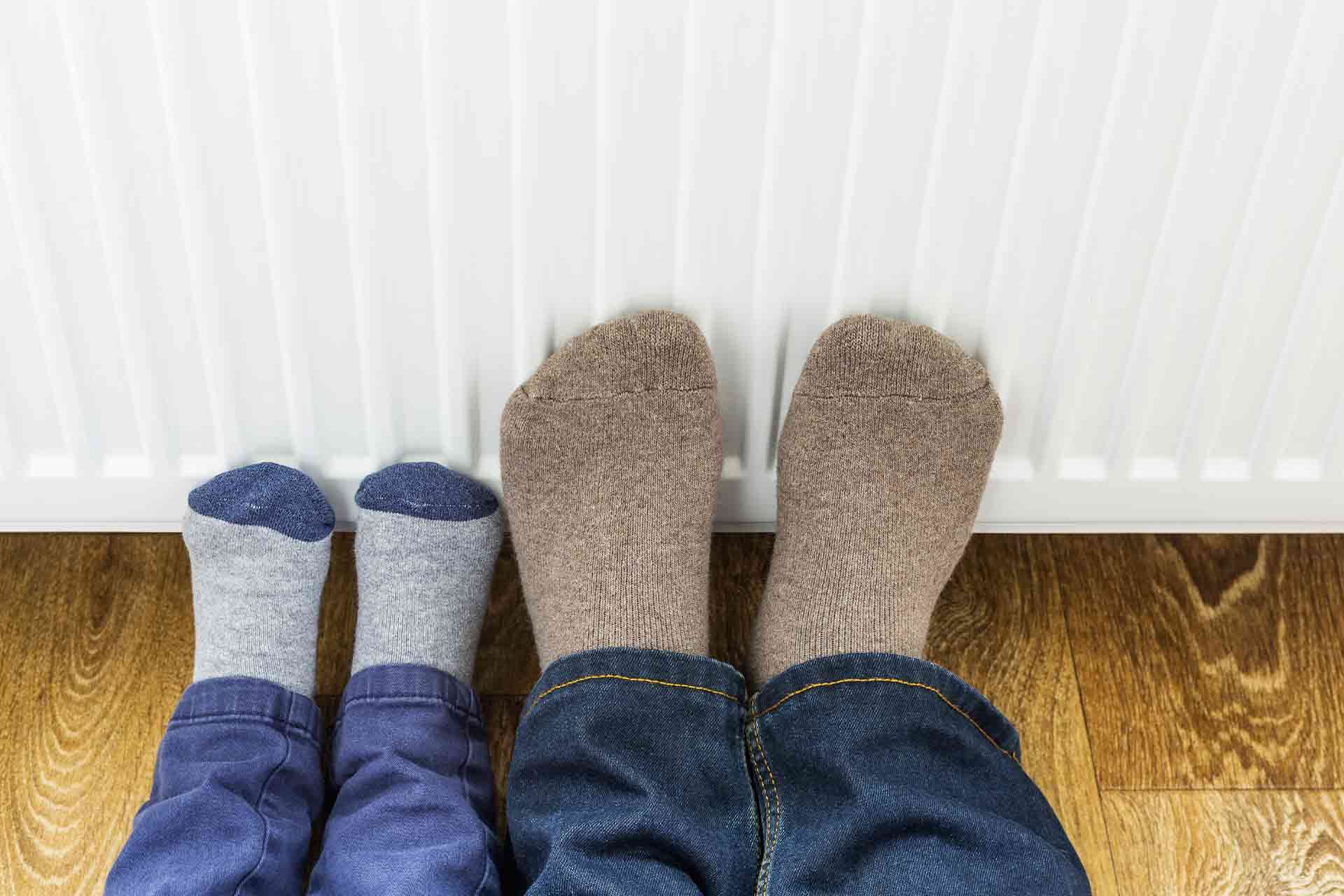 How to heat your house for free
While heating your entire house for free is what we in the biz call a pipedream, there are some ways to reduce your heating costs and keep your home warm without spending too many pennies. Here are some tips for how to heat your house for free.
Embrace the power of the sun
On sunny days, open your curtains and blinds to let in as much natural light as possible. This will warm up your home using the power of a burning sun.
Let your oven fulfil its fireplace aspirations
After you've finished cooking, leave your oven door open to release all the built-up kinetic energy. The residual heat will warm up your kitchen and adjacent rooms.
Draught excluders only accept warm air
Use draught excluders to stop cold air from coming to the party. Place the excluders around your doors and windows to keep out unwanted chills and protect the warmth inside your home.
You can create your own makeshift draught excluders by using rolled-up towels. Alternatively, purchase them from a hardware store for as little as a tenner.
Make your curtains pull their weight
Closing your curtains at night helps to keep the heat inside your home. You can also use thicker curtains or add a thermal lining to your existing curtains to increase their insulating potential.
Give your radiators centre stage
Let heat circulate freely; it needs space to radiate. If your furniture is blocking your radiators, they won't perform at their optimum level. So, move your limelight-hogging items away and enjoy the star quality of a toasty home.
Use a hot water bottle
If you're feeling the evening chill like a Jane Austen heroine, use a hot water bottle to warm yourself up. That way, you get comfortable without having to turn up the heating. Why not also snuggle under a throw for good measure?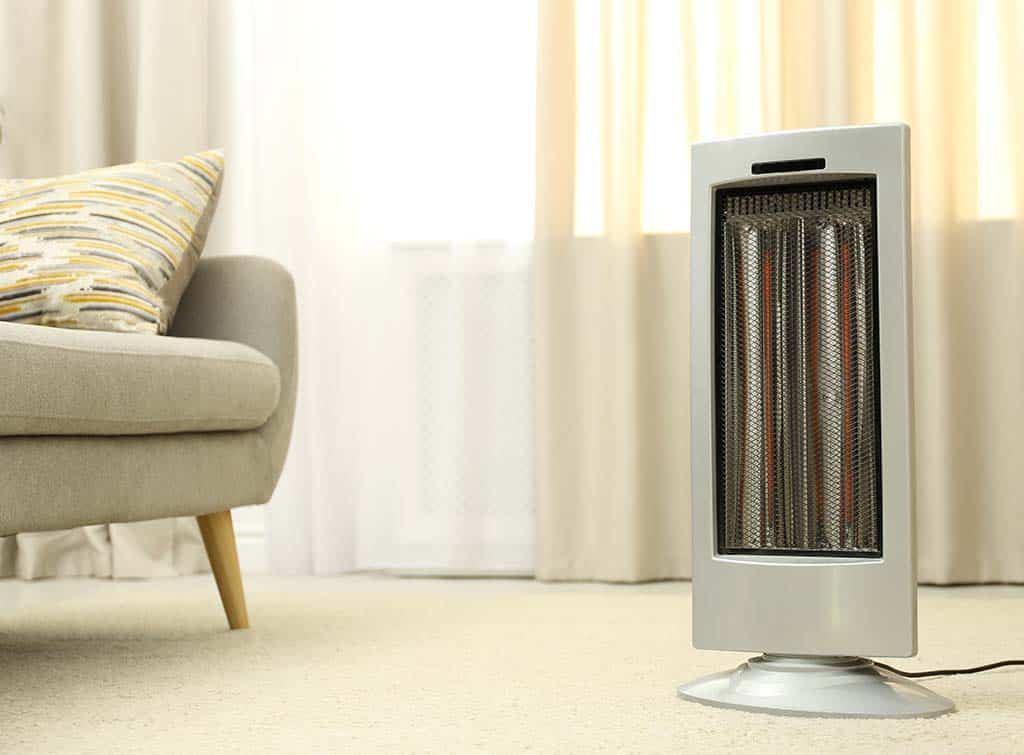 FAQs
Is it cheaper to leave the heating on low all day?
No, sadly this is a myth. Leaving your heating on all day still uses energy, which costs you money. Only put the heating on when you need it.
Does turning off radiators in unused rooms save money?
Yes, this is a good way to help your boiler use energy more efficiently. It will allow you to heat your house more quickly and your boiler will turn off sooner, saving you money.
Does turning your heat on and off cost more?
No, leaving your heating on all day isn't more cost-effective than only turning it on when you need it.
See the tradespeople we've checked and recommend for your job