Looking for some stylish carport ideas? You've come to the right place. We have the latest design trends to help you decide on an aesthetic that suits your house and budget.
Benefits of a carport
Safety from harsh elements such as snow, hail, wind and intense heat
Cheaper than a garage
Space effective
Energy-efficient
Deterrent from theft or vandalism
Easy to use
Extra protection and storage
Now you know the benefits of introducing a carport into your life, let's take a look at some options in our carousel content below.
Wondering how much a carport will set you back? Be sure to check out our carport cost guide for a comprehensive breakdown.
Find your local car port expert
Like what you see? There's more where this came from. Check out Checkatrade's blog for more tips, ideas, how-tos, and inspiration.
Stylish carport ideas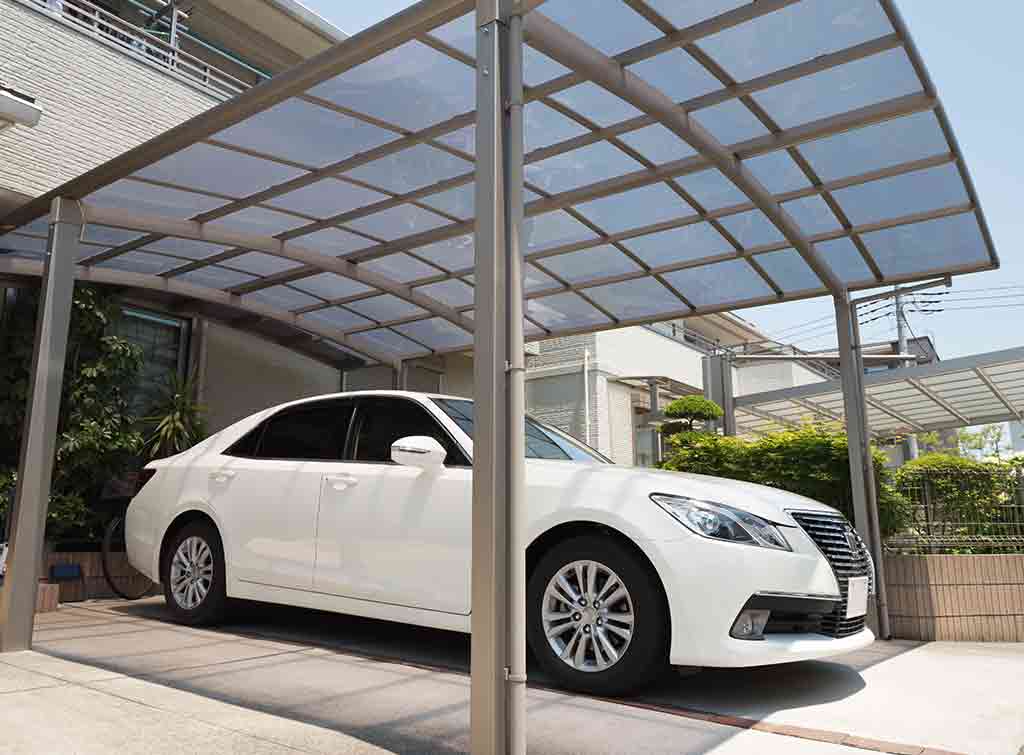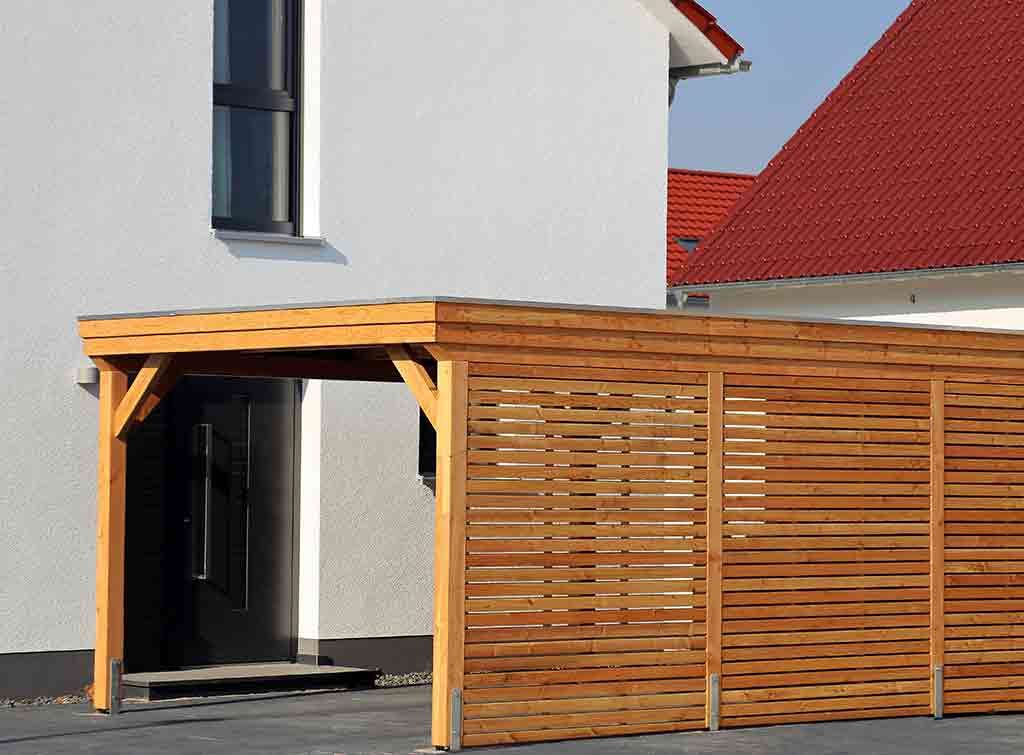 Carport ideas
For a more modern and clean home aesthetic, consider installing a tinted glass design like this one.
We love the curved roof, with the blue-tinted polycarbonate framed between the silver metal latticework both striking and sturdy. This ensures easy rainwater runoff and protection from any extreme heat that might melt your vehicle's interiors.
The metal frame offers extra peace of mind, while the wideset feet leave enough space to easier manoeuvre in and out of this design.
Carport ideas uk
This wooden carport boasts a gable roof with a metal finish. The top of the roof extends further out than its structural support, which keeps it protected from the elements and extends the longevity of the design.
The wood is treated with a red stain that matches the hardy red-bricked driveway, and we love the effective simplicity, which looks striking against the modern homes behind it.
Carport roof ideas
There are various roof options that work well with a carport. The most common options are shed, curved, or gabled.
This roof is a gabled design, with the woodwork fashioned for both structural and aesthetic purposes. The black bitumen roof shingles sit atop the exposed roof battens for a striking design effect, while the flashing and ridges finish off the look.
These homeowners have opted for a wider design that fits two cars and their bins. They've also added two potted plants for extra aesthetic appeal.
Carport ideas attached to house
This sturdy and high-quality carport is secured to its house for a seamless transition from home to vehicle.
This is a particularly good option if you're short on space or don't have the right layout for a garage. The flat roof is finished with durable grey rubber to avoid warping or flooding the structural integrity of the design, while the simple but elegant finish works perfectly with the modern house it's attached to.
Why not hire one of our professionals to help you get the look?
Timber frame carport ideas
Timber framed carports are a popular design trend due to how effortlessly chic they look.
This gorgeous example shows us how easy it is to install a carport in any front garden without limiting the light that enters your home. The hipped roof design uses slate shingles and ridges for a clean finish, while the mosaic tiles tie in the colours and the surrounding landscape nicely.
Shop the look and hire one of our builders to install this design for you today!
Carport storage ideas
You don't just need to store your cars in your carport. In fact, their versatility is one of the reasons they're so popular!
These homeowners have opted to keep their firewood clean and dry in their carport. However, you can store various other items that would otherwise clutter your house, such as:
Car supplies
Gardening equipment
Hazardous materials you don't want in the house
Bikes on a bike rack
Toys or other only-outdoor items
Just be sure to lock away any valuables in a sturdy storage unit.
Carport ideas for front of house
This minimal and stylish carport is a lovely freestanding design that slots neatly between two buildings. Made of aluminium, which is a very durable metal that's both strong and lightweight, it's also 100% recyclable.
The lean-to roof ensures rainwater runoff, which helps to maximise its durability and weatherproofing for up to 25 years, which makes it a very cost-effective construction that's resistant to corrosion in most environments. Overall, it's a low maintenance option that's easy to install.
Shop the look and get a brand new carport for your home today!
Driveway carport ideas
If you're an eco-friendly consumer and you've bought an electric car, then one great way to maximise your green credentials is to install a solar panelled carport roof. This then allows you to charge your electric vehicle while helping the environment.
The good news is, solar panels can be installed in any carport roof or canopy, which means it's a no brainer for those with environmentally friendly cars. That said, we'd always recommend a shed-roof design that faces west where possible. That way, you maximise the sunlight and ensure you generate enough energy to keep your car moving during cloudier days.
Find your local car port expert
Tell us what you think
What others think of this article:
Need More Information?
Related posts