Navy is a timeless classic. Whether it's a nautical-themed cabin, a bold feature wall paired with mustard accessories, or a total colour wash broken up by clean and bright whites, these navy bedroom ideas will give you something to raise your mast for.
Like a well fitted blue suit, the colour pairing is essential for finishing off a navy bedroom. If you think of the skirting boards as the socks, the flooring as the shoes, the furniture as the shirt, and the lampshade as the fedora you never wear, then you'll see this analogy is already on shaky waters.
However, let us sail forth regardless.
Crisp navy pairings
The classic blue and white: Cooler than James Bond on ice. Think navy walls and rugs paired with white bedding and uniformed furniture.
The minimalist: For those who want to make a big splash with a small impact. The navy minimalist is eco friendly and responsibly sourced. Consider repurposed Scandinavian wood with a sprinkle of navy accessories.
The yellow submarine: A perfect colour pairing for the brave adventurer. The trick is not to submerge your room with an equal amount of yellow and blue. Pick a base colour and introduce the other slowly. It should stand out but not overpower.
49 shades of navy bedroom ideas
Okay, so maybe there aren't quite that many. However, navy comes in a spectrum of shades – from the more grey variants to the brighter purple hues. Look out for these names when doing your research.
Indigo
Kensington Blue
Commodore
Newburyport Blue
Hale Navy
Naval
Honorable Blue
Dress Blues
Van Deusen Blue
We spoke to the founder of ufurnish.com, Deirdre McGettrick, who helped inspire our tips and tricks for decorating a navy bedroom. Scroll through our carousel content for some of her expert advice.
Like what you see? There's plenty more where this came from. Discover more ideas, inspiration, tips and how-tos via Checkatrade's blog.
See the tradespeople we've checked and recommend for your job
Navy bedroom ideas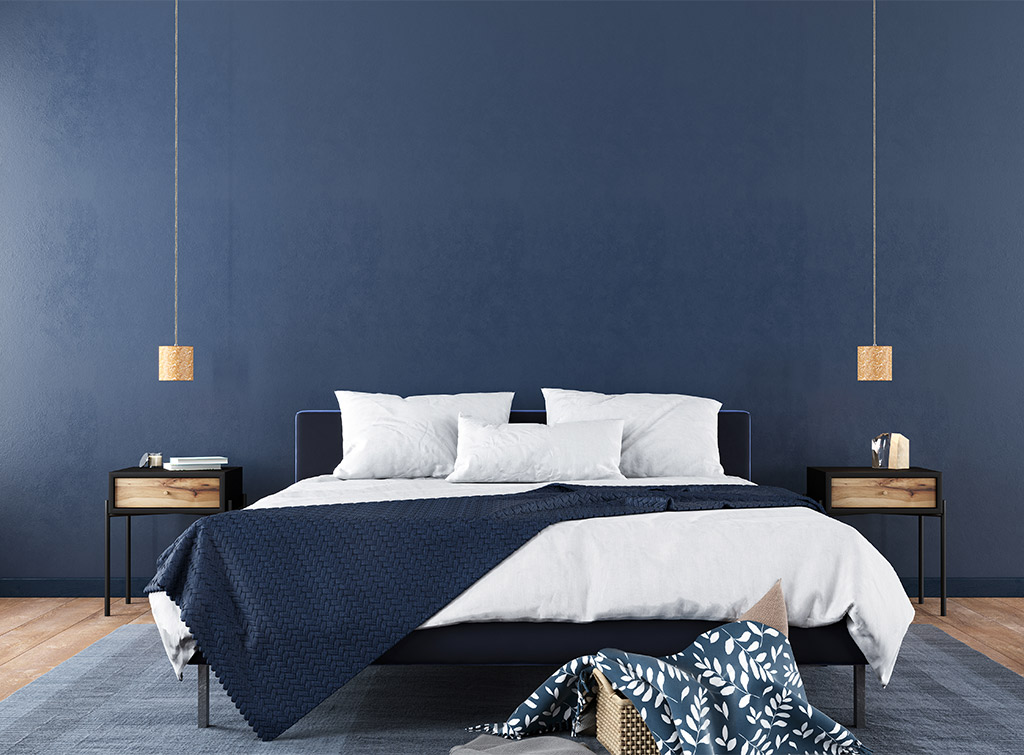 Navy blue bedroom ideas
"With the ability to contrast and complement other shades beautifully, the natural hue of navy blue makes it the perfect shade to create a calming ambience in your bedroom," says Deirdre McGettrick, Founder of furniture search and discovery engine ufurnish.com.
This rustic meets contemporary design is a classic example of how to brighten a dark navy hue with warm wood and white accessories, creating a bedroom that's both cosy and stylish.
Navy blue bedroom decorating ideas
As the Founder of furniture search and discovery engine ufurnish.com, and co-host of The DnA of Home Interiors podcast, Deirdre McGettrick recommends balancing the navy shade so it doesn't overwhelm your room.
"Navy blue is a versatile shade which adapts to compliment many interior schemes and styles. However, there are factors such as the size of the room and natural light sources which should be considered when making the design decision to use this regal colour.
"With a large, light and airy bedroom, maximize the impact of this rich shade by either painting all four walls or creating a feature wall.
"You can make smaller rooms feel bigger with the use of white walls and mirrors; however, decorating a whole room with navy will make this space feel more compact. Instead, I would recommend accessorising a neutral palette with navy for a stylish and sophisticated feel. Whether it be with an upholstered bed, bedside table or three-piece bedroom set, accessorise with some subtle navy shades which can add rich colour to your bedroom, without compromising on style, space or size."
Ariel Velvet bed by Furniture Village.
Navy blue master bedroom ideas
One way to counter the rich shade of navy is to incorporate bright and bold statement pieces. For example, this gorgeous French Renaissance stone washed bed by The French Bedroom Company, with its intricate detailing and classic style, is like something out of a period drama. The matching white bedside tables with quaint flowerpots add to the aesthetic, creating a room that looks warm, welcoming, and fit for royalty.
Shop the look here.
Navy and pink bedroom ideas
Dusty pink hues paired with rich navy shades are a midsummer night's dream come true. For the more bohemian dreamers amongst you, we recommend this Ted Baker arboretum bedding, which is both elegant and whimsical.
Reminiscent of a springtime flower garden at twilight, drift away with these breeze-swept petals and allow the muted tones to lull you into a deep and peaceful slumber.
Navy and mustard bedroom ideas
"For a cosy and contemporary finish, style the navy bedroom with contrasting shades such as mustard yellow bedding, beech furniture or golden accessories – colour duos which are destined to be together." – Deirdre McGettrick.
Fresh and carefree, this springtime bedroom is a soft and dreamy example of how mustard and daisy yellow complements the bold regality of navy blue.
Shop the look here.
Grey and blue bedroom ideas
For a classic and clean look, consider a grey and navy pairing. This slick duo works best in bright rooms with plenty of light. For example, this navy feature wall with white or grey accessories and furniture is both timeless and contemporary. The bed frame even comes with its own USB charger, which just goes to show how our decorating choices can adapt with the modern world.
Navy and yellow colour pairing
Although yellow isn't the only colour that works with navy blue, it's our favourite. As you can see, their pairing brings the vibrancy and playfulness of yellow to life, while the navy keeps it classy and striking without taking any of the spotlight. The trick is to let the navy keep the yellow in check. Too much and it's overwhelming. Too little and your bedroom will start to look boxed in and dull. Keep yellow to smaller pieces of furniture, accessories and accents, and be sure to let it shine where navy threatens to engulf.
See the tradespeople we've checked and recommend for your job
Tell us what you think
What others think of this article:
Need More Information?
Related posts