Rustic bedroom ideas
Create a restful bedroom scheme inspired by calming natural elements
Want to give your bedroom a makeover with a calm, restful feel? Look to the understated elegance of rustic style for inspiration. This pleasing trend is homey and inviting, influenced by the beauty of nature and organic materials that age gracefully.
Soothing earthy colours form the backdrop to this look, so start by choosing a paint colour or panelling to create the perfect rustic vibe. Then, start layering the space with natural textures, soft fibres and organic accessories. The final result will be a tranquil sleep space that will be hard to leave.
Before finalising your scheme, scroll through these excellent rustic bedroom ideas and gather inspiration for your haven of serenity. If your bedroom is spatially challenged, you may want to also check out our small bedroom ideas too.
Like what you see? There's more where this came from. Check out Checkatrade's blog for more tips, ideas, how-tos, and inspiration.
See the tradespeople we've checked and recommend for your job
Transform your bedroom into a restful sleep space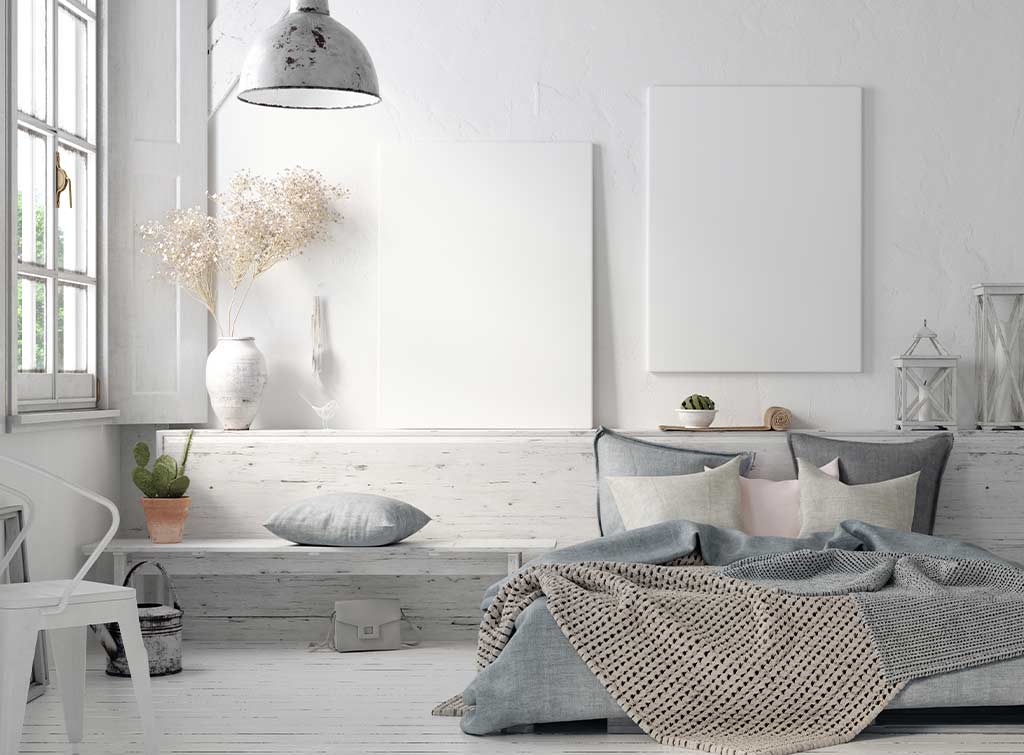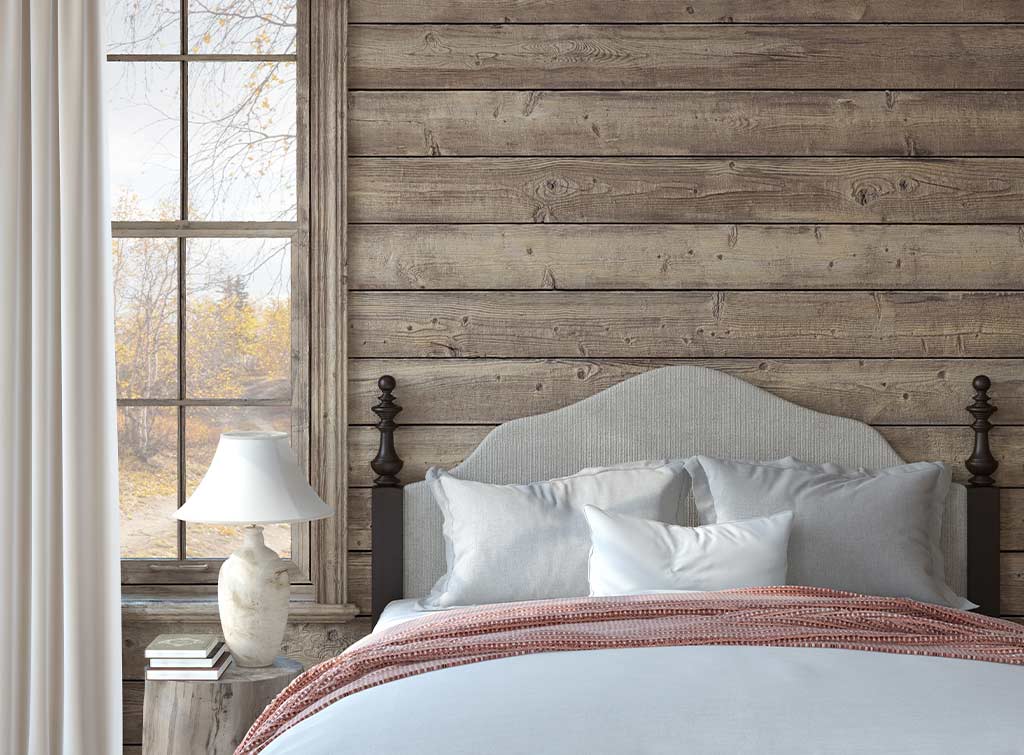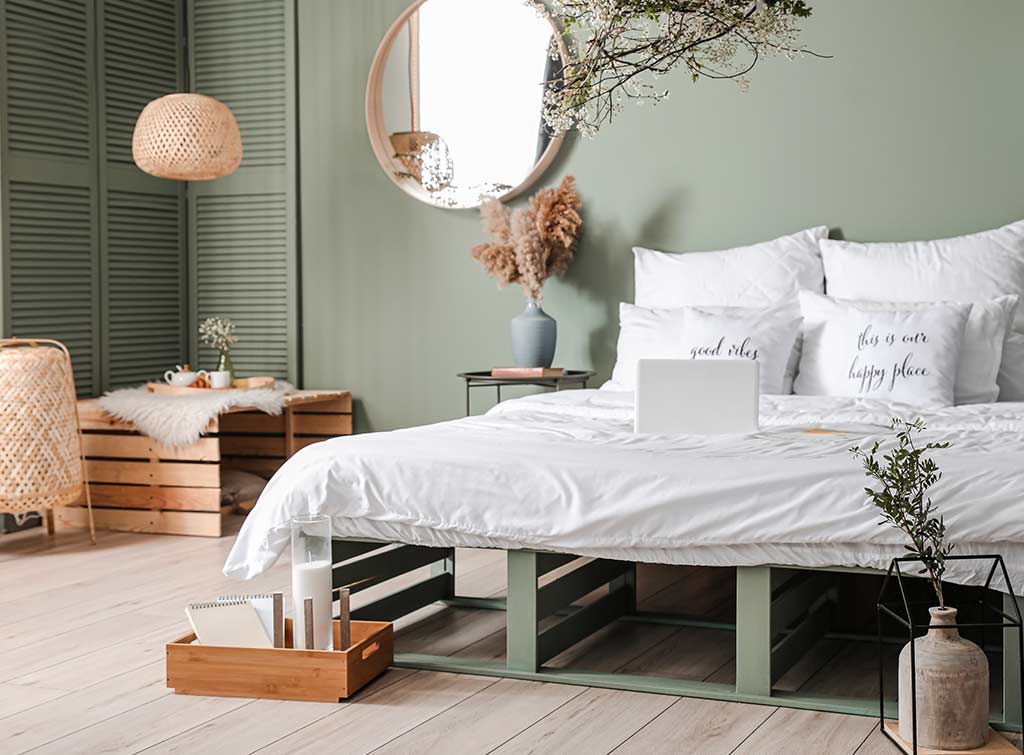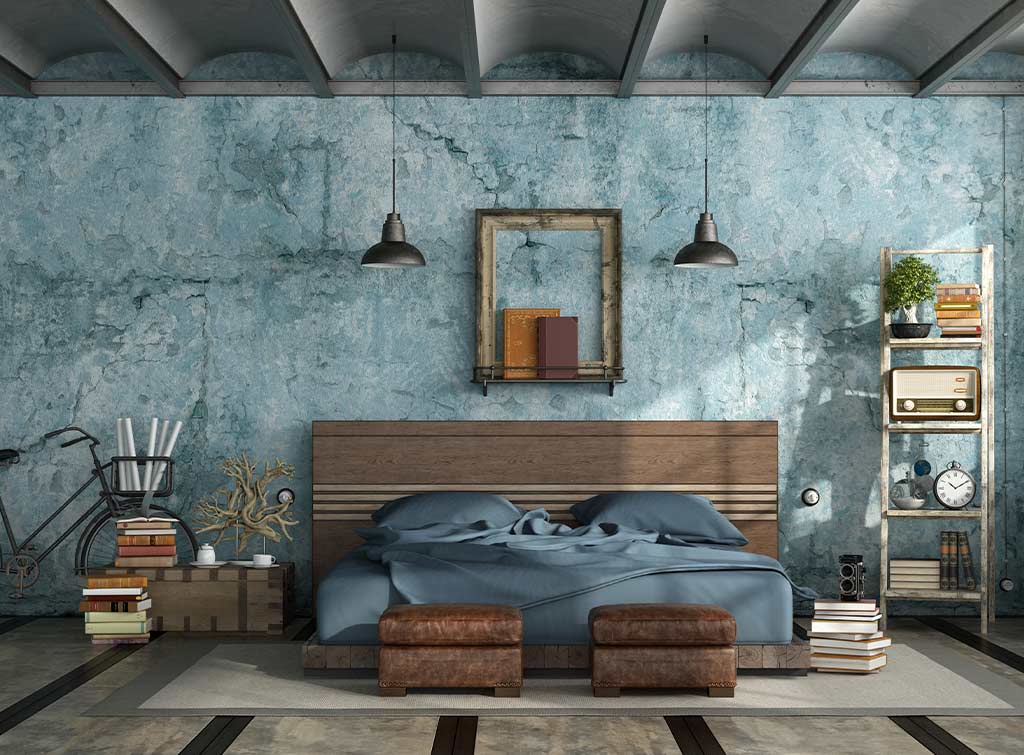 Rustic bedroom decor
There are no hard-and-fast rules with rustic decor. It can include all manor of styles from traditional, to country, to modern, and quite often involves a combination of all these.
Take this bedroom, for example, that combines a modern reclaimed wooden headboard and geometric bookcase with a humble country style print on the wall. The mix is quietly eclectic and totally restful.
Rustic style bedroom
Full of rustic richness, this bedroom is bursting with tactile textures that you just want to touch. From the rattan storage cases to the bamboo ladder, the grass-cloth blanket to the chunky timber stool, the overall vibe is incredibly inviting.
As is the tranquil colour palette that is inspired by soothing sun-baked tones, making you want to kick back and relax, while a fluffy rug brings a layer of softness to the room.
Rustic bedroom decor ideas
The dark hues set against the stark white backdrop set a dramatic tone in this sophisticated rustic bedroom, while the rich wooden elements and rattan pendant offers a harmonious mix of materials.
Over-sized earthenware pots might not be the most obvious choice for a bedroom, but they'll instantly convey a modern rustic feel while also providing quirky storage space for things like rolls of wrapping paper, umbrellas or even laundry.
Modern rustic bedroom ideas
In this modern rustic bedroom, industrial touches, like the distressed metal factory light, are mixed with more rustic pieces, such as the white-washed flooring and weather wood headboard.
Cool linens in a washed-out palette bring a soothing edge to the harder industrial design elements of the room and help add a softness to the overall scheme.
Rustic master bedroom ideas
Does your bedroom lack any focal point or architectural features? Try bringing attention to the wall behind the bed with modern rustic wallpaper or a mural depicting rusty metal. Not only will it create a bold statement, but it will also add buckets of character to the plain boxy room.
If you want the room to feel sophisticated and elegant, use layers of sumptuous textures, like a thick pile carpet, chunky wool throw and an upholstered bedhead.
Rustic bedroom ideas on a budget
Create the ultimate cosy retreat that's good for the soul by painting your walls in a deep, dark tone. You'll instantly feel safe and cocooned in your cave-like sleep space, away from the stresses of the day.
Play on the simplicity of the look by introducing rustic textures, like a primitive wooden stool and macrame wall hanging, and pop in a few wide-reaching palms. The result will be a laidback escape that will soothe and restore.
Rustic bedroom wall decor
Only got a small budget but want to impress with fabulous rustic wall decorations? Head out to your local woods and forage for two large (and attractive) branches, then suspend them from finishing wire for a rustic wall hanging.
They could become the basis of a seasonal display that you change up through the year, such as fairy lights at Christmas, or pretty, colourful leaves hung from them in the autumn. Or you could even hang family photos from them for a playful twist on your 'family tree.'
Rustic country bedroom decorating ideas
Wide-plank weathered wood cladding brings the outside in here, adding a lovely rustic warmth to this otherwise neutral bedroom.
An elegant bed frame reinforces the room's old-fashioned rustic charms, while cool linen curtains and a sophisticated lamp give a nod to its elegant side.
Rustic bedroom ideas for small rooms
Love the rustic trend but think your bedroom is too small to pull it off? Think again. The key is to nail the rustic vibe through the room's main features, such as the bed and bedside tables, and keep the rest of the room simple.
Rich wooden besides are a great way of conveying a modern country feel, while bedlinen in warm calming neutral tones brings a refined rusticity.
Rustic girl bedroom ideas
Green is naturally a soothing tone and will have the perfect calming influence in a girl's bedroom. To keep the mood young and playful, a mattress on reclaimed crates will give the bed a casual, laidback look.
For a touch of romance, collect wispy bunches of wildflowers and dot them about in pretty vases.
Master bedroom rustic ideas
An exposed brick wall gives this otherwise neutral bedroom a touch of rustic ambience, while the painted white furniture offers a nice contrast to the roughness of the wall.
Chic white furniture is a good choice for a modern classic look that won't date, while luxurious linens in verdant tones lend a soothing note.
Rustic french bedroom ideas
Rustic doesn't always have to mean a muted palette or oodles of natural textures. In this French inspired rustic bedroom, a feminine palette of sugary pastels and crisp white evokes a romantic feel, while soft and gentle fibres rule.
Floaty fabrics hang over the bed and give way to bunches of French lavender that hint of rustic Provencal-style for an extra hit of allure.
Rustic baby room ideas
A rustic look is ideal for a baby's room, thanks to its ability to pacify and soothe. If you're lucky enough to have practical wooden floors, make the most of their calming natural quality and give them a honey-coloured varnish for added warmth.
Plenty of cooling, floaty fabrics that will catch the breeze will undoubtedly give the baby something interesting to look at, while soft natural rugs will be a gentle surface when the little one is more mobile.
Mens rustic bedroom ideas
Inspired by precious marble, the intense wall colour in this bedroom evokes a bold masculine feel, which is then elevated by the leather footstools, decadent headboard and antique lights.
Strong, eye-catching and a little bit flashy, this powerful scheme is the ideal rustic bedroom set up for a confident male.
Rustic bedroom inspiration
Be inspired by raw and rustic desert landscapes and decorate with soft sandy tones, bleached woods and cacti motifs for a pared-back look that's refreshing.
Opt for contemporary lighting to keep the scheme feeling modern, and layer tactile textures, like faux fur and cool linens, to ensure the space is inviting.
Rustic glam bedroom ideas
Reminiscent of a grand hotel room, elegant wall panelling sets a sophisticated grown-up scene here, while rustic textures on the bed and floor bring it back down to earth with a laidback feel.
Coral is a wonderfully fresh colour to team with deep dark grey and will lift moody tones with a pinch of spice.
See the tradespeople we've checked and recommend for your job
Tell us what you think
What others think of this article:
Need More Information?
Related posts