Open plan living is perfect for modern-day life, providing versatile and airy spaces that serve more than one purpose. However, if you want to truly maximise space and get the most out of your open plan living room, it requires careful planning and smart design.
The key to open plan living is thinking about what will work for you and your lifestyle. It needs to be tailored if you want it to work for you in day-to-day life. To help you out, we've rounded up some of the key things you need to know about open plan living, as well as some tips, tricks and inspiration.
What is open plan living?
An open plan living space is one that is multi-functional, without the walls and doors that would usually be used to separate rooms within a home. In most homes, walls will be knocked out or an extension added to create an open plan space big enough to incorporate different areas such as a living room, dining room and kitchen.
It's perfect if you want to create a sociable area that encourages family interaction in a way that is spacious, bright and welcoming.
How to create a winning open plan living space
If you want an open plan living space to work around your lifestyle, you need to think about your needs and how you plan to utilise the space. You may have found ideas you love online, but you need to really consider if it will work for your family and life, rather than just copying something because it looks great.
There are many things to take into consideration, such as where walls will be removed or if you need to plan for an extension. You need to think about lighting and window placement, as well as how you will furnish the room. These things are all crucial in the planning process in order to get a finished result you will love.
Broken plan/semi open plan living area option
A broken plan or semi-open plan living area is definitely an option to consider if you want that feeling of space, but you still want to incorporate clearer boundaries and quiet zones.
For example, you may want a living room for children and teenagers to enjoy, combined with a home office or games area. These are things that can all be incorporated into an open plan space, whilst still providing the option to close the space off when required. You could opt for glazed walls and doors or partition walls with an opening between each zone.
Ideas and inspiration for your open plan living spaces
Creating zones in an open plan living space will make your home feel more inviting and comfortable, so it's good to consider how you will separate different areas from each other.
You could differentiate areas by using different types of flooring, a split-level layout or even by using different ceiling heights.
In many open-plan living spaces, people use their furniture to divide the room up. For example, in open plan kitchens, you often find a kitchen island is what divides the space. You could even use an open bookcase or sofa to give that feeling of stepping into another area. Think of it like a studio apartment, where you want to create the illusion of sectioned areas, while still appreciating the spacious nature of open plan living.
Take a look at our gallery below for more open plan living ideas.
Is an open plan living space a good idea?
An open plan living space is perfect for those who like big, airy rooms, entertaining guests and socialising with family. It can serve as many purposes you like, from cooking, dining, relaxing and even working from home. It's all about making a space that is unique to you and your needs.
If you're planning an open plan living space in your home, use the Checkatrade Search to find local and trusted tradespeople in your area. You can find everyone you need, including builders and architects if you're planning to extend or knock down walls, as well as designers, plumbers and electricians to help bring the space to life. Want to explore what it might cost to open up your living space? Then check out our open plan living cost guide.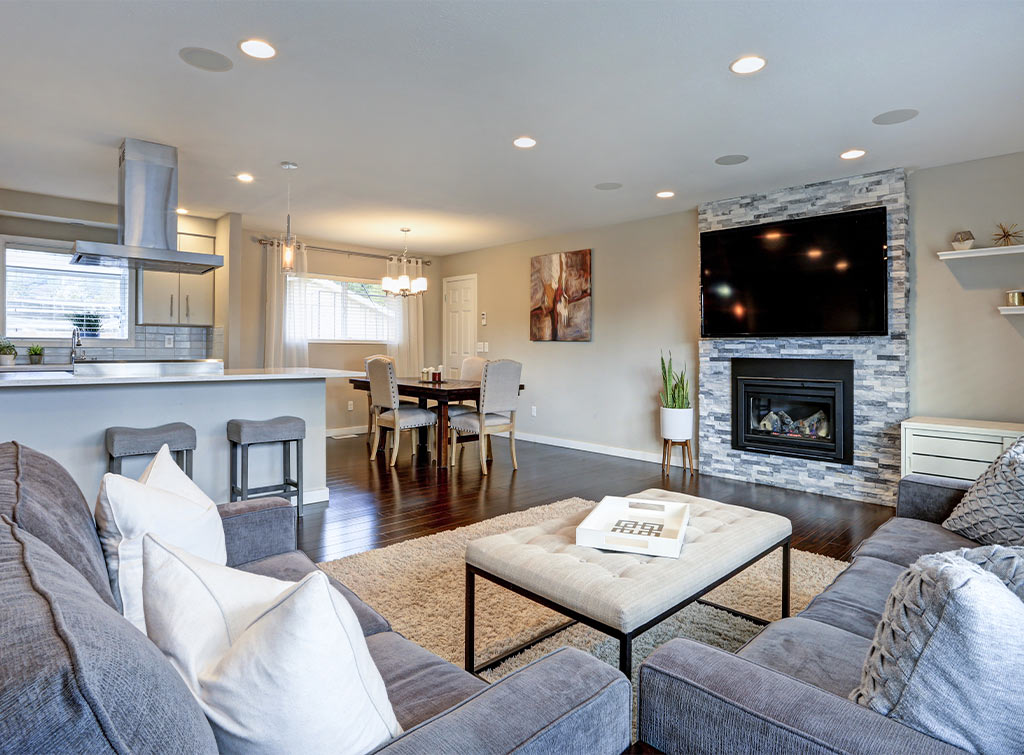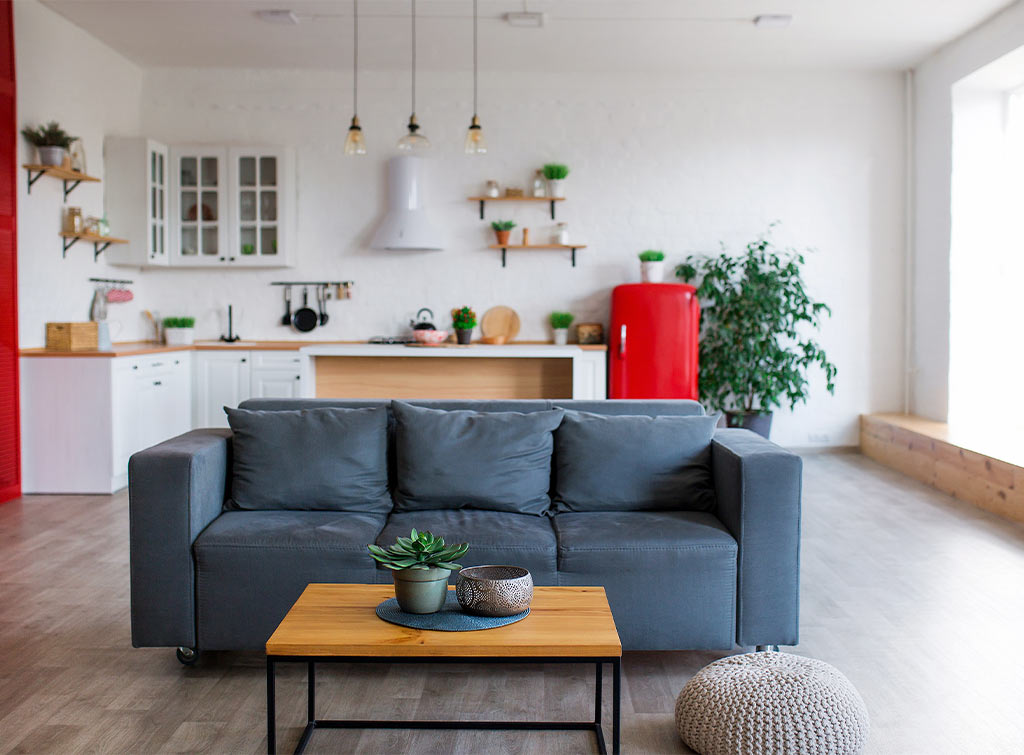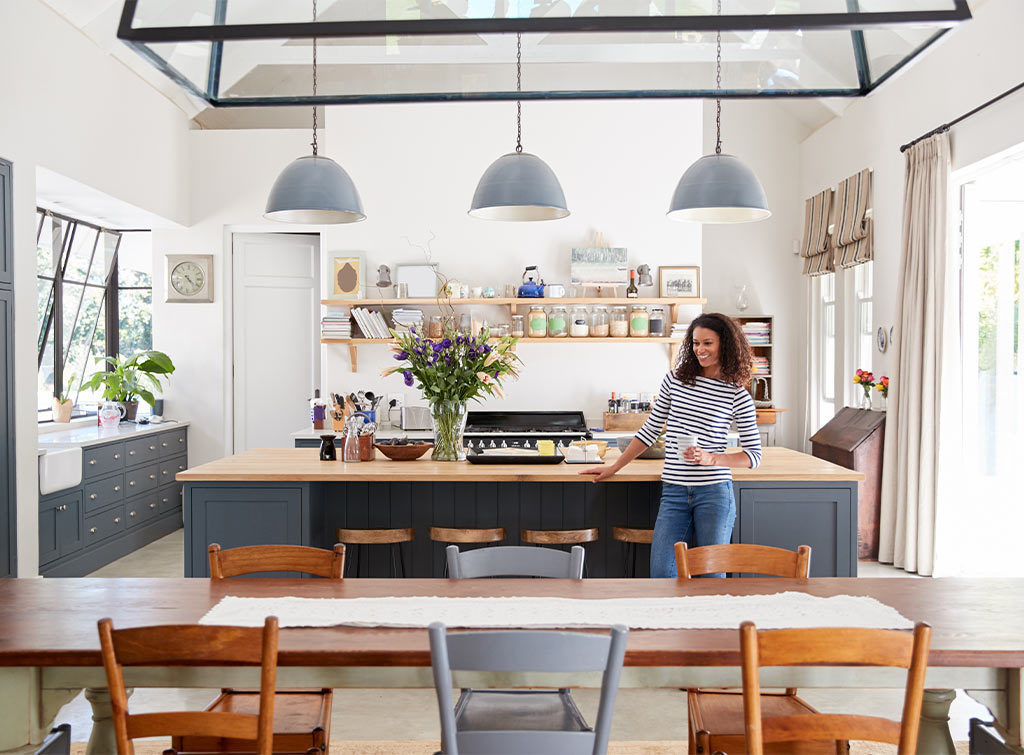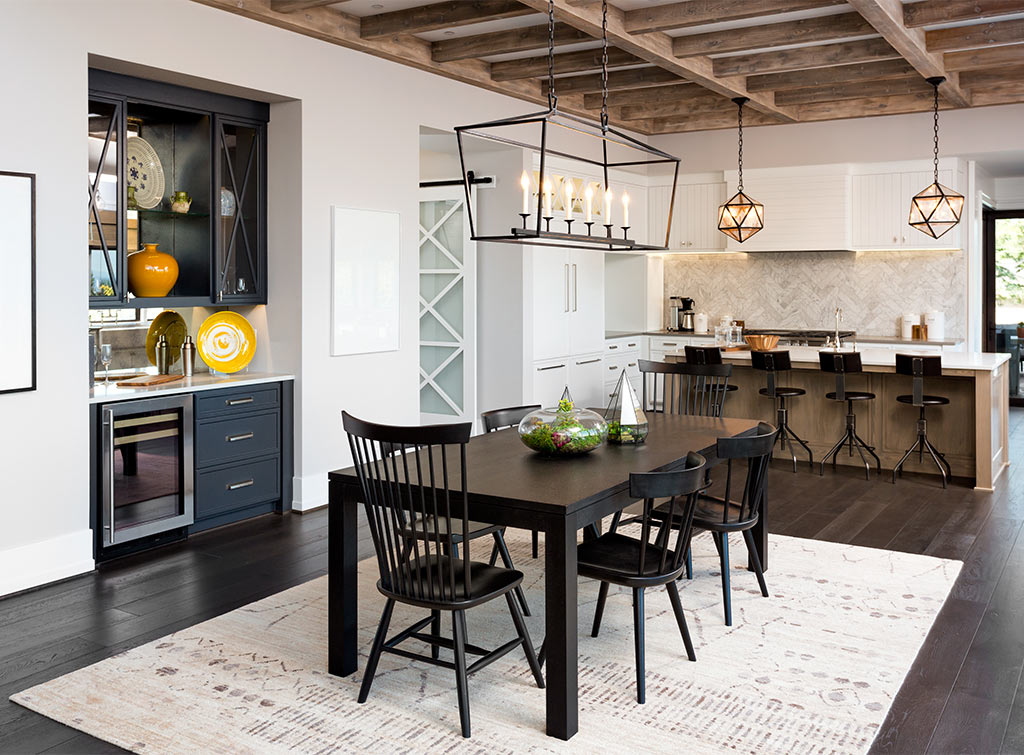 Open plan living rooms
The key to decorating an open plan living room is a practical layout and tailored lighting. You should always layer lighting in an open plan space by using multiple light sources such as lamps, ceiling lights and wall lights. This will allow you to light different areas of the space depending on how you're using the room.
If you have a sofa in your open plan living room, you could add a large rug to differentiate the living area from the kitchen or dining space.
Open plan kitchen living room
When you have a kitchen in an open plan space, you really need to think carefully about placement of appliances. For example, if you have your washing machine in the kitchen, you'll need to think about the interruption it could cause if someone was watching the television in the same room.
It can be tricky to design an open plan kitchen living space that you know will work for you. We'd always recommend working with a designer, architect or builder who can help to refine your ideas and visualise the different options your property offers.
Open plan kitchen ideas
For more open plan kitchen living ideas, take a look at our article here which covers design considerations, floorplans and kitchen flooring.
Open plan dining room ideas
Want to fit everyone around the table comfortably in your open plan dining room? Take a look at our ideas and inspiration for an open plan dining room project to find out how to separate the kitchen and living area from your dining space.
Checkatrade Professionals Showcase
Our vetted and recommended experts are ready to make your open plan dream come true. Check out the outstanding work of our Checkatrade tradespeople below:
[instagram-feed type="hashtag" hashtag="#OpenPlanIdeas"]
Tell us what you think
What others think of this article:
Need More Information?
Related posts