If you're considering revamping your bathroom and you're looking for small shower room ideas, then you've come to the right place. Let us help you choose the right faucet, fittings, decor and accessories to maximise your space and create interest. We have all the latest trends and storage solutions, giving you the illusion of spaciousness while maintaining a calm and compact aesthetic.
Regardless of how small your bathroom is, there's an inspiring solution waiting for you. Utilise intelligent design and reap the rewards of a multi-purpose space that your whole household can enjoy. Not only that, but our clutter-free ideas eradicate stumped toes and bumped heads.
Whatever you're looking for, our shower ideas will inspire your next renovation project.
Small shower room design ideas
Whatever bathroom you're decorating, be it an attic, ensuite, wet room or standard, there are several tricks worth incorporating to make the most of your space.
Firstly, plan your colour scheme before you undertake your renovation project. Consider how you want your bathroom to look and take the time to understand what colour schemes create different vibes. For example, neutral colours are calm and tranquil; darker shades add a touch of luxuriousness; matching wall and floor tiles create depth and width in small spaces, and textures and patterns are on-trend, chic and modern.
See the tradespeople we've checked and recommend for your job
Very small shower room ideas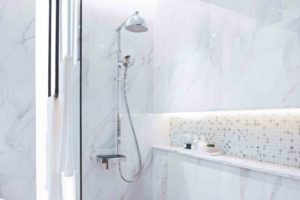 If you have a very small shower room, one easy way to save space is by removing the bath and installing a walk-in shower instead. Stick to see-through materials like glass to give the illusion of spaciousness, and opt for a simple shower tray that fits snugly between two walls or in a corner. Also, another advantage of a walk-in shower room is the 'wet room' look, which is on-trend, stylish and effortlessly chic.
Read our wet room ideas guide for more inspiration. And learn what you can expect a wet room installation to cost.
Small shower room tile ideas
There are various types of bathroom tiles on the market. The overall cost depends on square footage, placement, material and finish. For smaller rooms, choosing bright, light and easy-to-clean tiles will help open up your space and keep things looking fresh. Why not consider a feature wall in your shower-cubby with neutral decor in the rest of your bathroom? Perhaps a natural mosaic design would work better for your chosen aesthetic, or even clashing textures to keep you on-trend?
If you're looking for more colour, add splashes to your small shower room instead. For example, pick one colour that contrasts against the white colour scheme, such as teal, and use it sparingly by keeping it to items like towels, pictures, toothbrush and soap holders, or light fixtures.
See the tradespeople we've checked and recommend for your job
Shower room ideas for small spaces
The difference between good design and great design comes down to a few basic elements: style, interest, and practicality. Working with what you have, regardless of your square footage, is a matter of innovation and inspiration.
Small wet room ideas
The key consideration when it comes to decorating your small wet room is what tiles to use. As they often take up entire walls, if not all of them, choosing the right tile combinations will transform your shower room from lacklustre to blockbuster.
The second consideration is what type of shower to install. As this is another main feature of a wet room, picking a statement shower installation is a surefire way to add some 'wow' factor. For example, a rainfall showerhead is on-trend and timeless, while a concealed shower valve not only saves space, but it offers a clean and contemporary look. Otherwise, digital shower towers incorporate the latest technology for an all-body experience, making them an increasingly popular option.
Other helpful design elements include:
Inset shelves for storing accessories and essentials
All-in-one shower units that include the head, body jets and extra storage
Underfloor heating to save on floor space
Wall-mounted towel racks
Mirrors to help bounce light around and add to the illusion of greater square footage
Smart storage for small shower rooms
Opting for a space-saving shower enclosure is possible. For example, quadrant shower enclosures are curved at the front to fit neatly in corners and maximise space. Other options include bi-folder shower doors or bespoke designs that are made-to-measure.
Clever storage is another space-saving solution that promotes a clutter-free environment. Consider tall-boys, vanity units, inset shelves, sliding-door mirrors, in-shower or corner storage solutions. Other options include wall-hung shelves, hanging plants, floating units, and over-toilet storage units.
Check out our bathroom storage ideas for more inspiration.
For more ideas like this, check out our carousel content below.
Like what you see? There's more where this came from. Check out Checkatrade's blog for more tips, ideas, how-tos, and inspiration.
See the tradespeople we've checked and recommend for your job
Small shower room ideas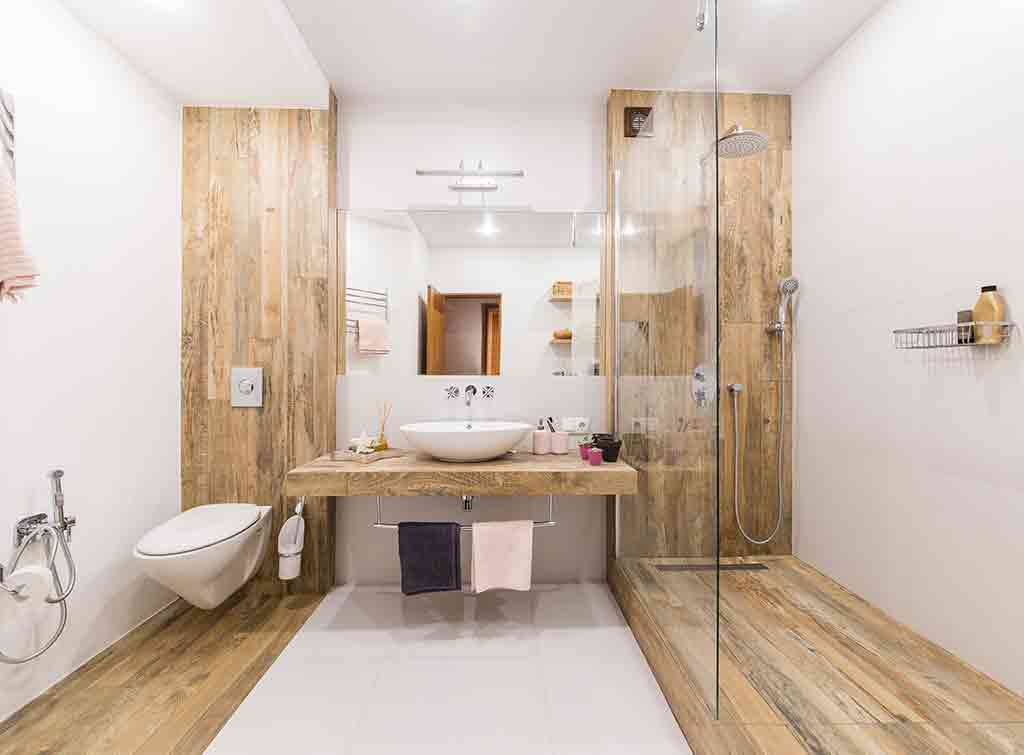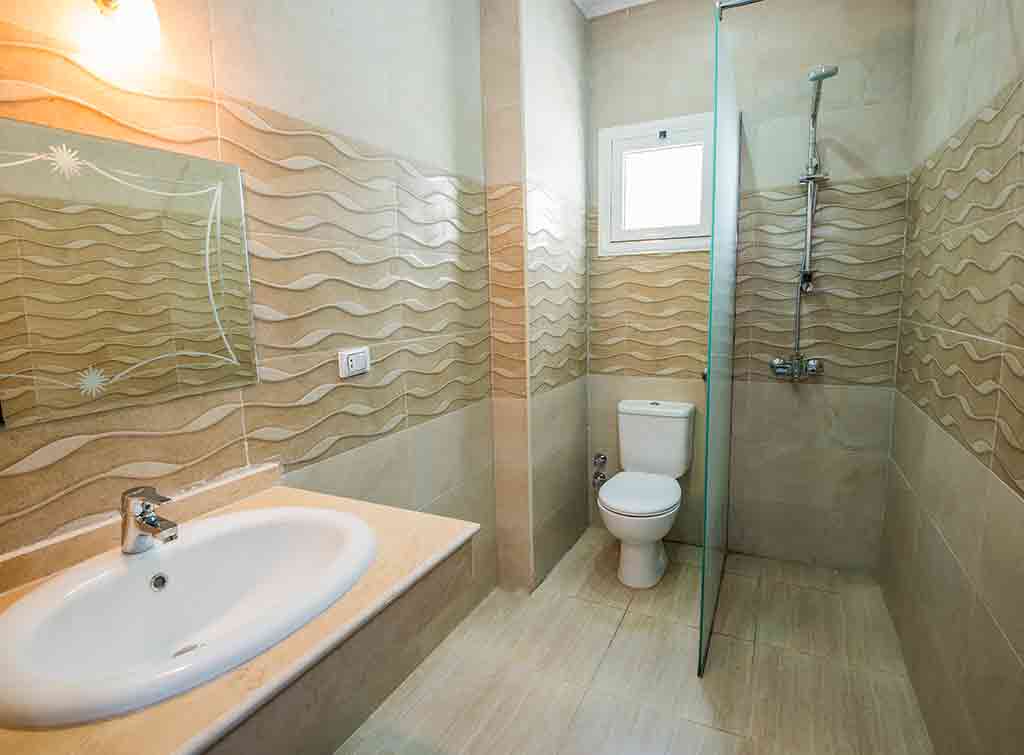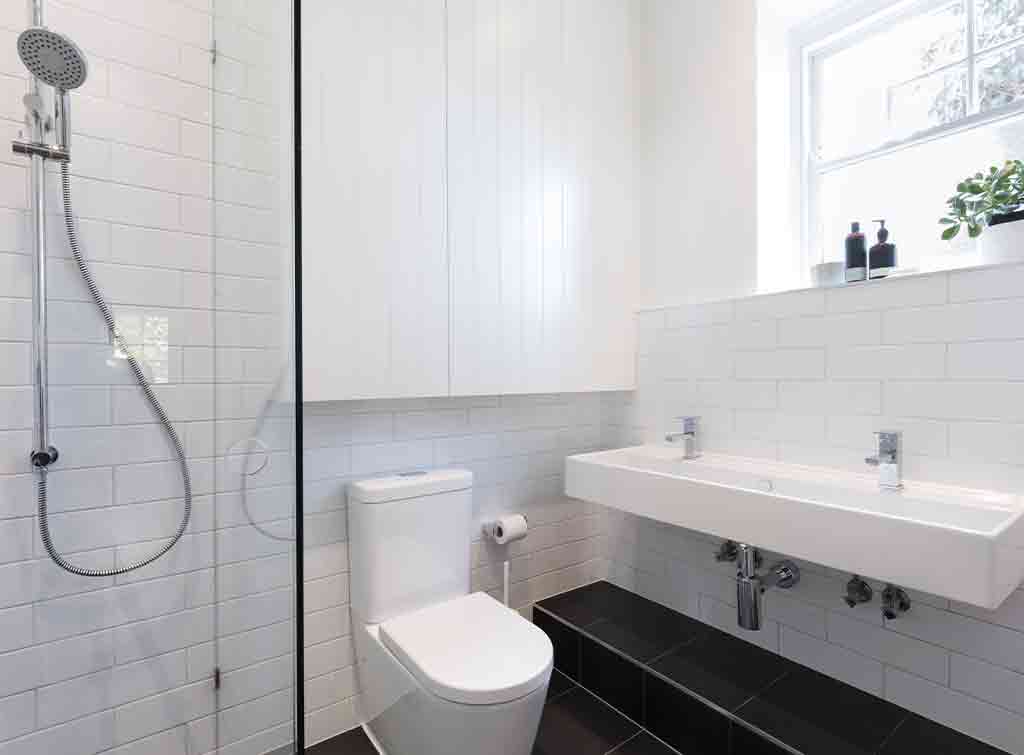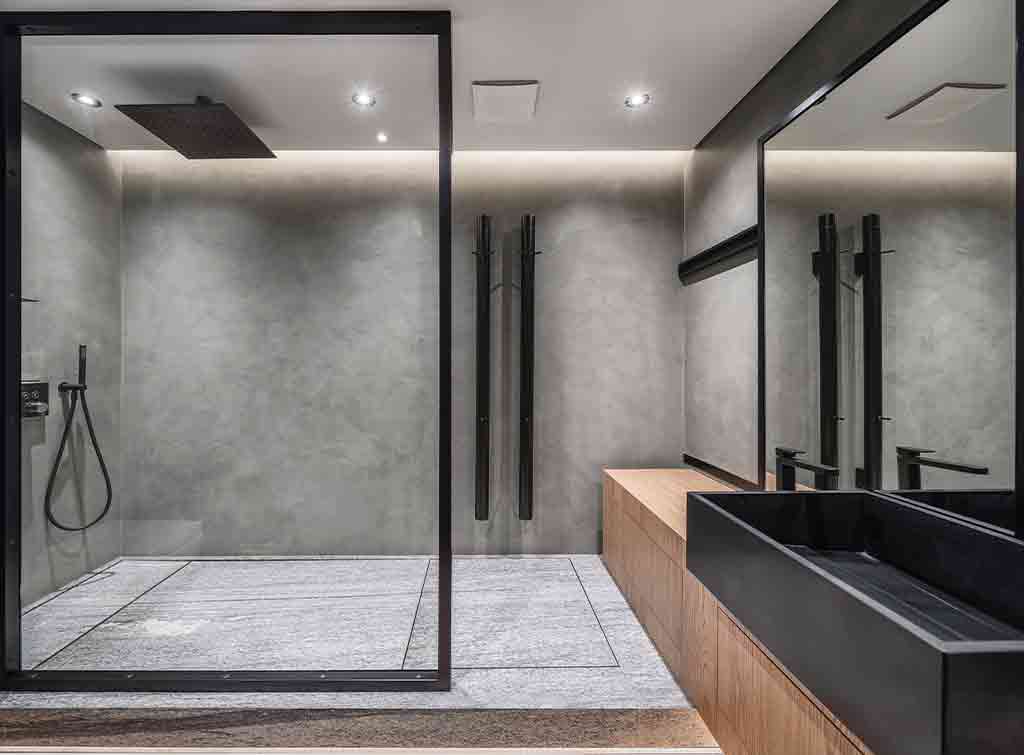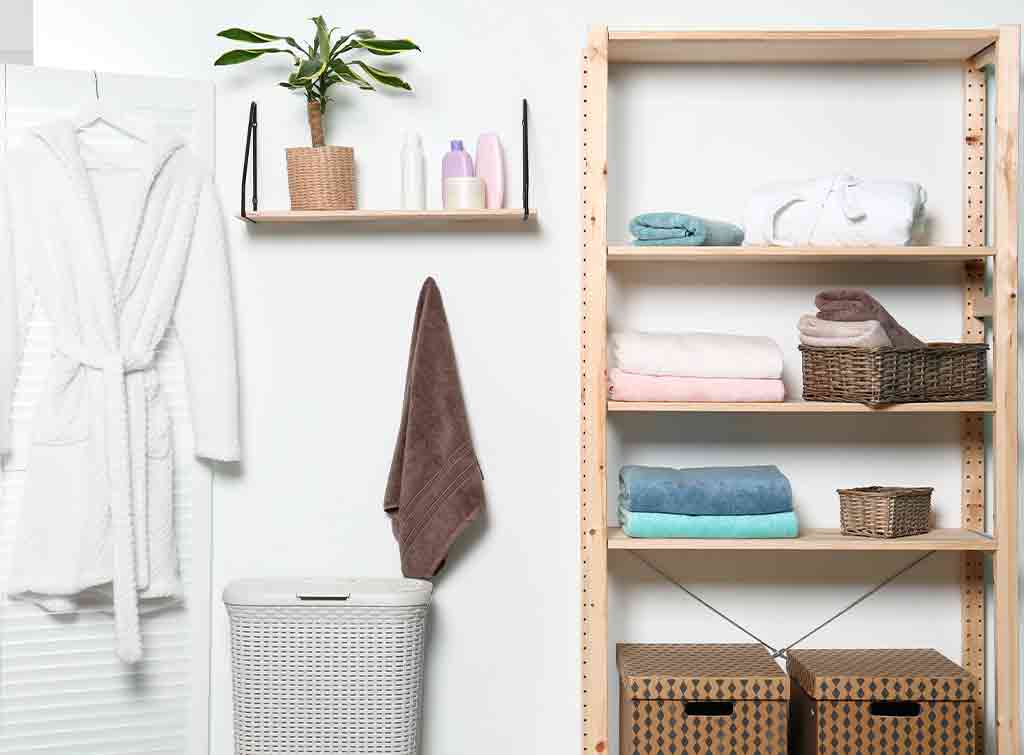 Small shower room design ideas
This rustic and stylish shower room incorporates neutral decor to great effect. The white decor splits the room in half, while the wood-panelled walls and floors add depth and interest for that sought-after 'wow' factor.
Very small shower room ideas
This smoky wet room is luxurious and timeless. We love the grey chevron-patterned tiles that adorn the shower room, lightening the large square floor tiles and adding texture and interest.
The white units and sink further lift the space, while the inset mirror and shelves are both practical and effective.
Small wet room ideas
This neutral wet room design is a simple and elegant example of how patterns create interest. These wave tiles are a nice effect that helps to split the room horizontally and create layers and depth.
Shower room ideas for small spaces
Monochrome colour schemes are great for adding a spacious vibe to any bathroom. The black floor tiles and white wall tiles clash simply yet effectively to make this very small space feel bigger.
Small shower room tile ideas
This modern shower room with grey tiled walls offers a stylish design idea that incorporates clean lines and industrial elements.
The black-framed glass partition, wooden stand, black sink and faucets, large mirror and ceiling lights work perfectly together, creating a distinct and chic look that is both on-trend and luxurious.
Storage options for small shower rooms
Make use of tall shelving units, floating shelves, towel hooks, and storage bins to keep your bathroom accessories neat and tidy.
Utilise your walls to avoid overcrowding your much-needed floor space, and maximise your storage potential by including multi-use furniture. For example, consider adding a mirrored shelving unit that adds the illusion of more space while keeping your toiletries hidden away.
See the tradespeople we've checked and recommend for your job
Tell us what you think
What others think of this article:
Need More Information?
Related posts