Last updated on April 1st, 2022
Great British Spring Clean cost guide
The sun is (nearly) out and spring is here - making it the perfect time for a good old spruce-up. But what does a deep clean involve? In this guide, we'll give you the lowdown on how to get lockdown fresh.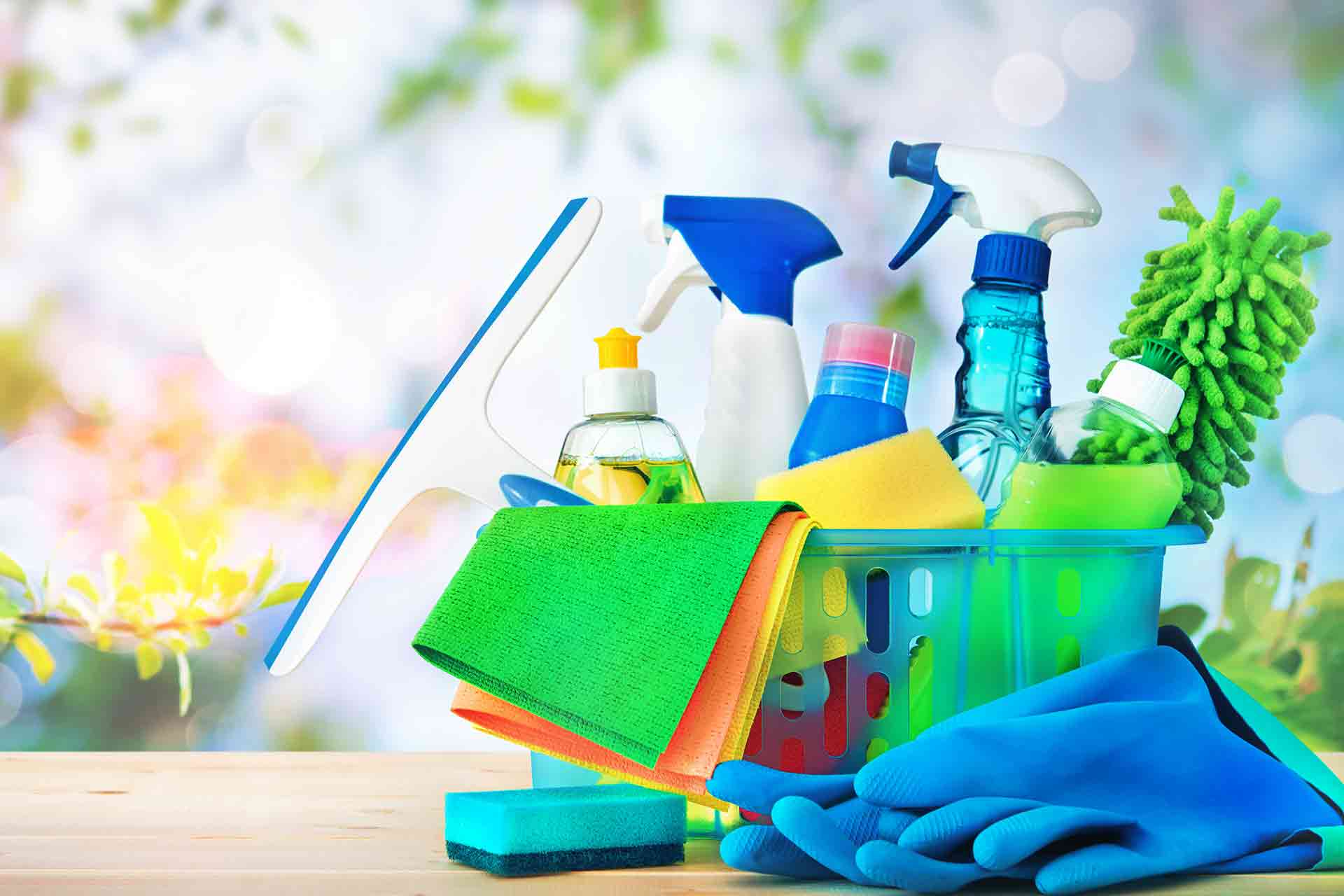 Find out how to deep clean your house and what a deep clean involves. You can tackle much of the spring cleaning yourself, but for some jobs – it's a smart and effort-saving idea to bring in the professionals. So, let's roll up those sleeves and get stuck in.
How to deep clean your house
| Item | Bathroom | Average costs |
| --- | --- | --- |
| Studio Flat | 1 | £115 |
| 1 Bedroom | 1 | £120 |
| 2 Bedroom | 1 | £135 |
| 2 Bedroom | 2 | £155 |
| 3 Bedroom | 2 | £170 |
| 3 Bedroom | 1 | £180 |
| 4 Bedroom | 2 | £205 |
| One off 6 hour clean plus booking fee £30 /£12 ph | | £102 |
To carry out a thorough deep clean without missing anything or collapsing with exhaustion, you need to get organised. Make a full spring cleaning checklist for each room, listing every job that needs doing. You can then work out which tasks you can take on, and which need the expertise of a cleaning professional.
It could be a good idea to start with a declutter. After all, the less stuff you have, the less there is to clean.
Next, it's time to set a budget for any professional cleaning – we'll give you all the costs you need to know below. If you're tackling jobs yourself, you'll need to gather all the equipment you'll need, and perhaps rope in friends or family to help.
How much does a deep clean cost in the UK?
If you're intimidated by the amount of work involved, there's absolutely no shame in bringing in an expert to tackle your deep clean. This is not only easier for you, but it also means a fresher, more professional finish.
The average deep clean house cost varies depending on the size of your home. So, for a studio flat with one bathroom, you could be looking at around £115. For a four-bedroom home, the cost of a deep clean could be around £205.
See the tradespeople we've checked and recommend for your job
How to deep clean a kitchen
Ready to start your kitchen deep clean? The kitchen is a great place to start as it's often the room in need of the most attention. There are lots of jobs that need doing here, from deep cleaning the oven to clearing out the fridge. Start off by reading our tips for deep cleaning the kitchen, then take a look at our spring cleaning checklist for the heart of the home:
Clean and polish cupboard doors and drawer fronts.
Wipe, disinfect and polish all work surfaces.
Clean out the inside of drawers and cupboards.
Wipe and polish the sink and taps – removing limescale, mould and mildew where required.
Deep clean the oven – removing all built-up grease inside and outside. This can be a tough and unpleasant job, and it's not always easy to get a good result. You could save yourself time and elbow grease by using an oven cleaning professional instead.
Vacuum/brush the floor, before mopping and disinfecting.
Clean all wall/floor tiles, grout and sealant.
Deep clean the dishwasher inside and out.
Clean out the drum, detergent drawer and other parts of the washing machine.
Dust skirting boards.
Clean light fittings.
Clear out and clean the fridge.
Defrost/de-ice and clean the freezer.
Clean all bins inside and out. Don't forget the big wheelie bins outside which you may prefer to contact a specialist cleaner to blitz
Pull out and clean behind/underneath all appliances.
See the tradespeople we've checked and recommend for your job
Bedrooms – a spring cleaning checklist
There's less to do in the bedroom, but hygiene here is just as crucial as in the kitchen. After all, your bedroom and the bed is where you spend much of your time. Keeping it clean and fresh is crucial.
On top of your regular cleaning schedule, here's how to deep clean your room:
Mattress vacuumed and cleaned. If any stains are stubborn consider professional mattress cleaning.
All bedding dry cleaned (if can't be washed in an ordinary wash).
Full vacuum and/or mop under the bed.
Dust skirting boards, mirrors and picture frames.
Wipe over and dust all furniture, including bedside tables, dressing tables and chairs.
Clean windows and doors – here's how to get a sparkling finish when spring cleaning your windows.
Clean light fittings.
While you're tackling the bedroom, you'll also need to factor in cleaning jobs in ensuite bathrooms.
Here's how to deep clean a bathroom:
Clean the toilet, sink, bath and shower (including shower screen and tray).
Clean wall/floor tiles, grout and sealant.
Wipe cupboards, fixtures and fittings.
Dust skirting boards.
Clean light fittings.
Clean doors and windows.
Vacuum, mop and disinfect floors.
Polish mirrors and any glass features in the bathroom.
Serious mould problems anywhere? Get the pros in straight away to treat
See the tradespeople we've checked and recommend for your job
Living room spring cleaning tips
Moving onto the living room, here are the key spring cleaning tasks to add to your list:
See the tradespeople we've checked and recommend for your job
Hallway and stairs – deep clean tips
While focusing on deep cleaning the main rooms of your house, don't forget about the hallways and landings. These are typically high-traffic areas, meaning that they're used several times a day by all members of the family (perhaps in muddy shoes).
Here's your checklist of cleaning jobs for the hallway:
Vacuum the stairs and hallway, and mop if applicable
Dust all skirting boards, mirrors and picture frames
Clean light fittings.
Outdoor jobs – a spring cleaning checklist
You're nearly there! The last thing to tackle as part of your Great British Spring Clean 2021 (before you head out and help the neighbours) is the garden. Here's what to tick off your list to spring clean the outdoor areas of your home:
Lastly, call in a professional window cleaner to make your windows sparkle – perfect to let all that lovely spring sunshine into the house.
See the tradespeople we've checked and recommend for your job
FAQs
When does spring cleaning start?
There's no set date for spring cleaning – you can do it whenever you like! Most people feel the urge to declutter and spruce up their homes when the weather starts to warm up. There's nothing like a sunny spring day for cleaning.
As the Great British Spring Clean 2021 is from 28th May to 13th June, this could be a good time to start. But you may want to get your home sorted before this, then you can join in with your neighbours in tidying the local area during the official spring clean week.
What equipment do I need for spring cleaning?
It all depends on the job, as you'll need different cleaning products and tools for different parts of the house. For example, you're likely to need a pair of rubber gloves, a tough sponge and some strong specialist cleaning product to tackle the oven. Other parts of the home may need nothing more than a feather duster.
As a minimum, you'll need cleaning sponges and microfibre cloths, a vacuum cleaner, mop and cleaning products for kitchen, bathroom and general-purpose cleaning.
This is why it's a good idea to make a list before you start your big spring clean. Divide it by room and by task, then you can gather all the equipment you need before you start. There's nothing more annoying than having to down tools and pop to the shops in the middle of a messy cleaning job.
Which spring cleaning jobs shouldn't I tackle myself?
If you have the right equipment and know what you're doing, you can take care of most home spring cleaning jobs yourself.
But there are some jobs where an expert may be able to get a better finish, as well as saving you time and potentially back-breaking work. For example, oven cleaning in the kitchen and power washing the patio or driveway.
For any jobs where working at height is involved, such as cleaning windows, gutters or the roof, always call in a professional.
See the tradespeople we've checked and recommend for your job