Regardless of what the weather is doing, why not inject a little warmth into your sunroom ideas this year and bask in the benefits of vitamin D, tranquillity and effortlessly chic design? Turn your extension into a place you want to read, relax and watch the world go by all year round.
Fresh sunroom ideas
This year, it's all about multi-use furniture, reclaimed wood, and clean aesthetics. Go for maximum impact with minimal effort and reap the rewards of warm decor, bright spaces, and clever storage. For that reason (and many more), check out our fresh ideas in the carrousel content below.
See the tradespeople we've checked and recommend for your job
Like what you see? There's more where this came from. Check out Checkatrade's blog for more tips, ideas, how-tos, and inspiration.
Sunroom ideas to get you inspired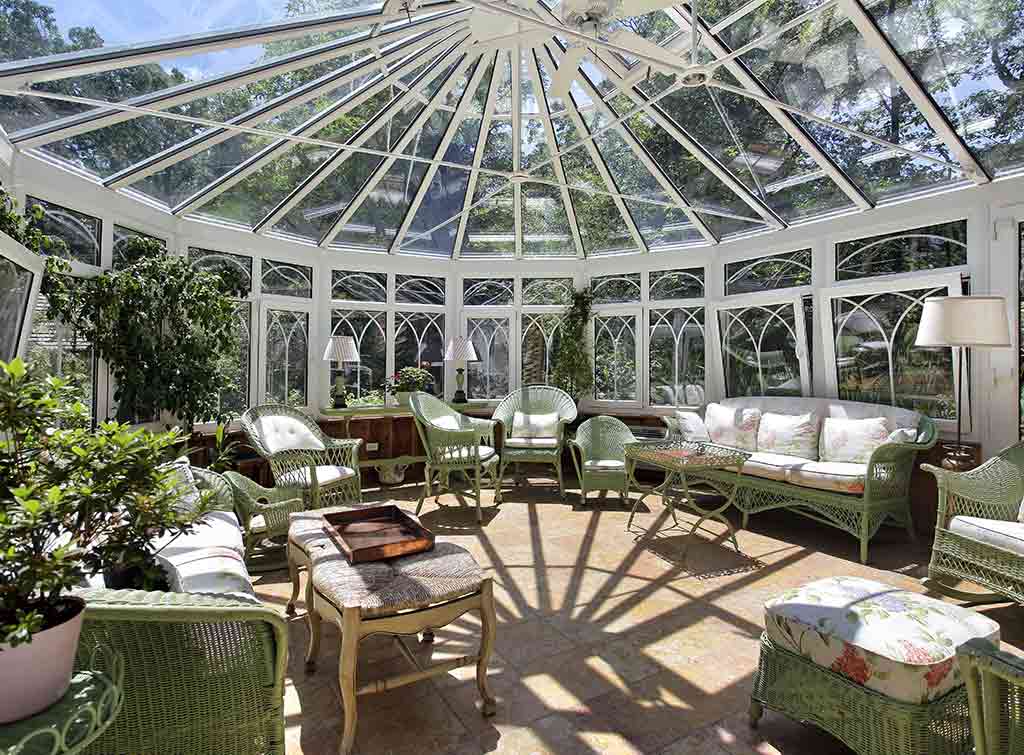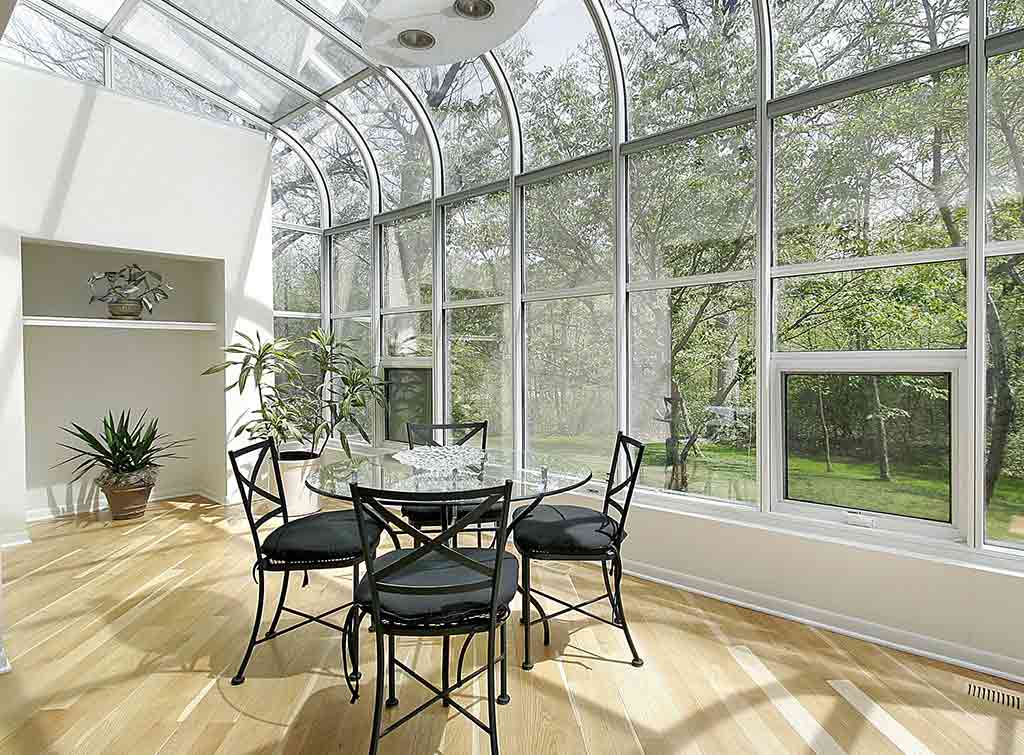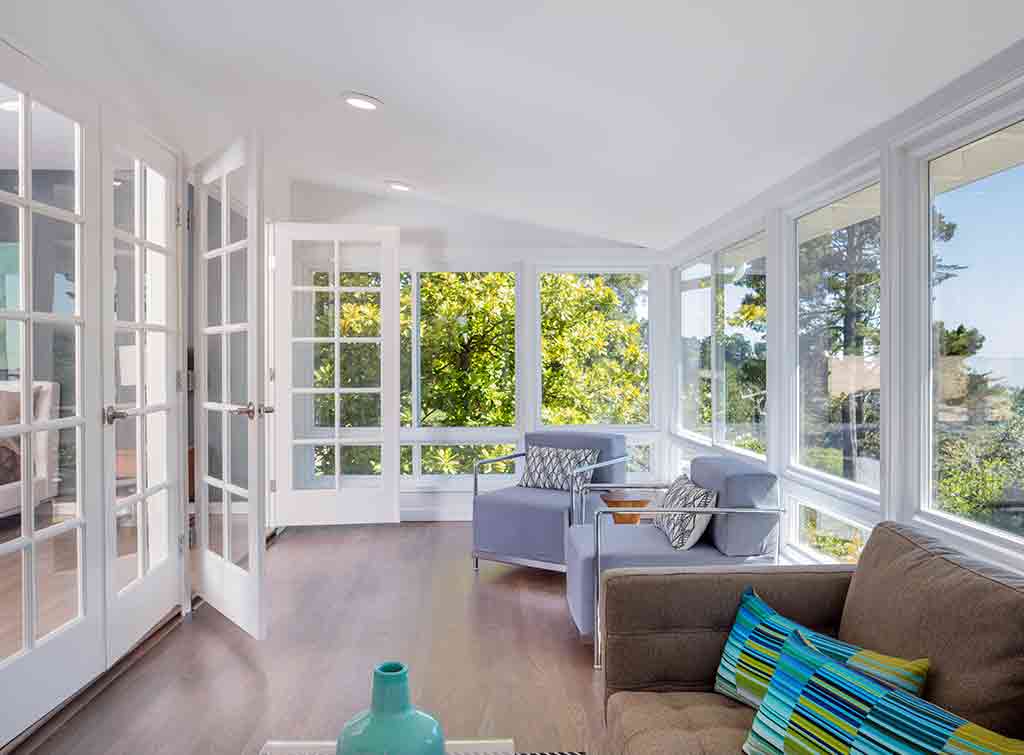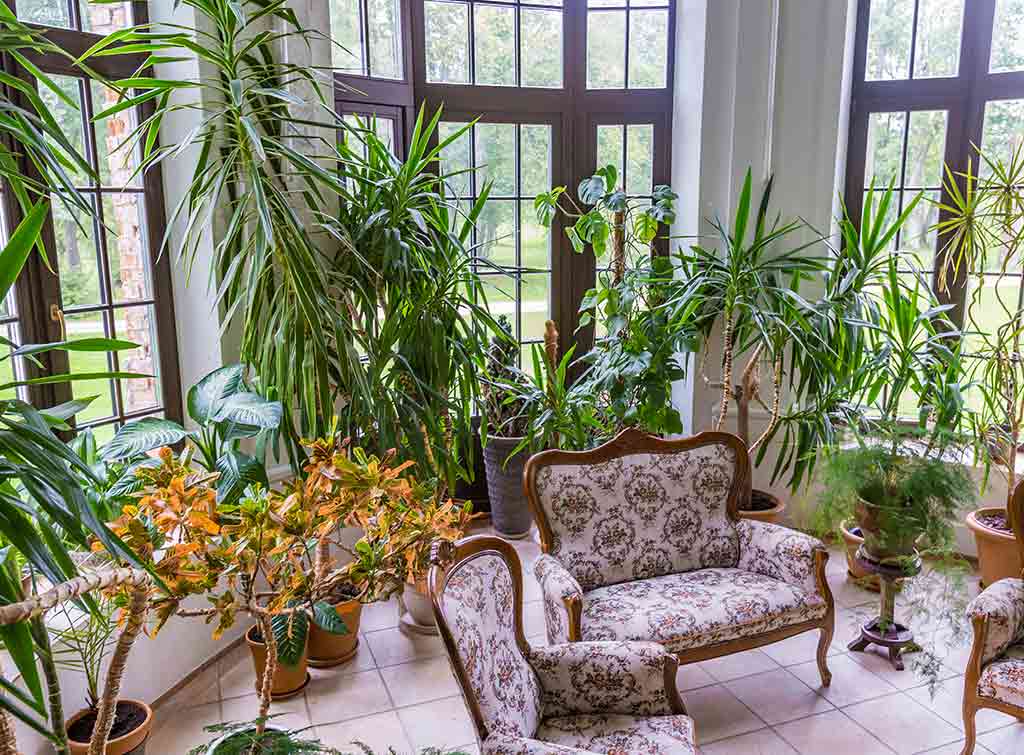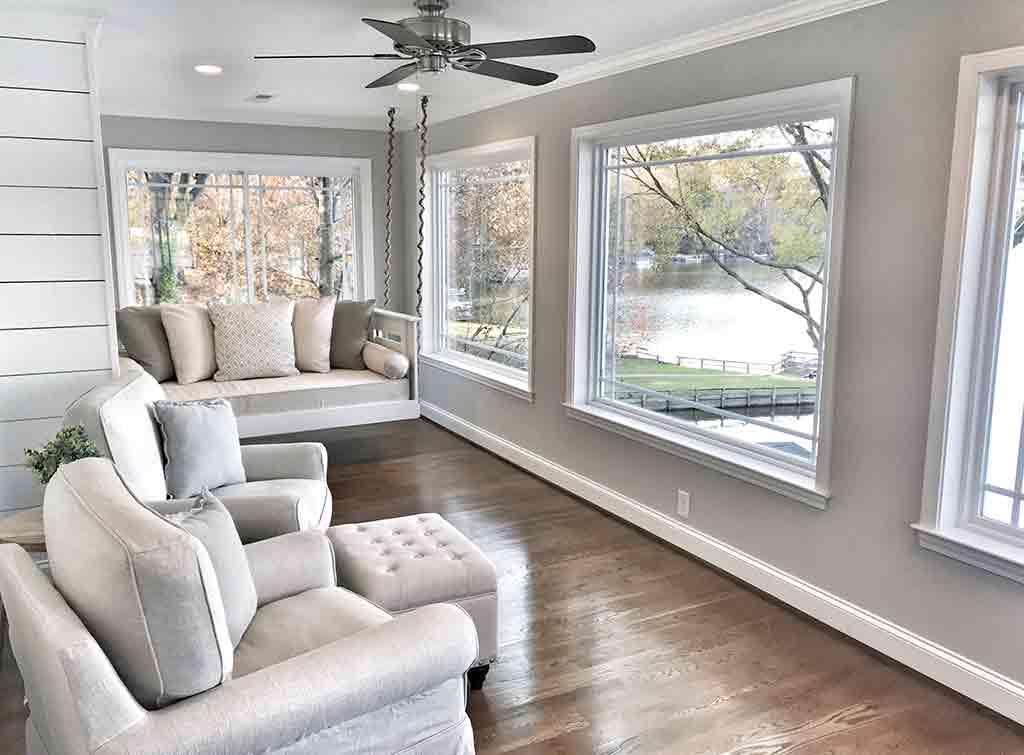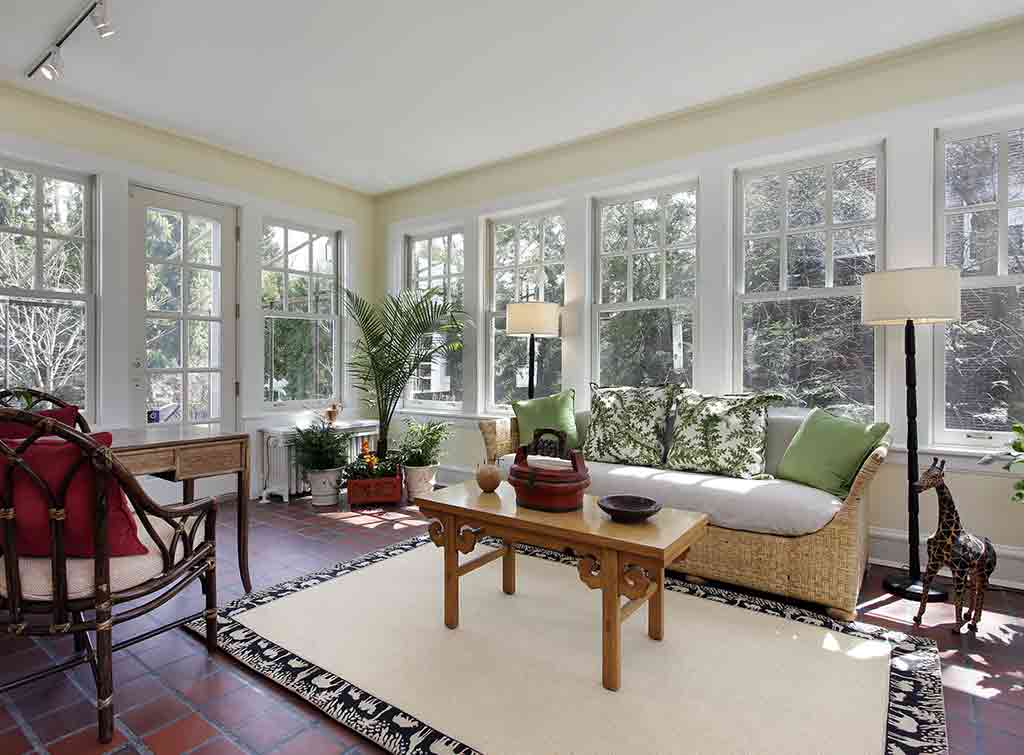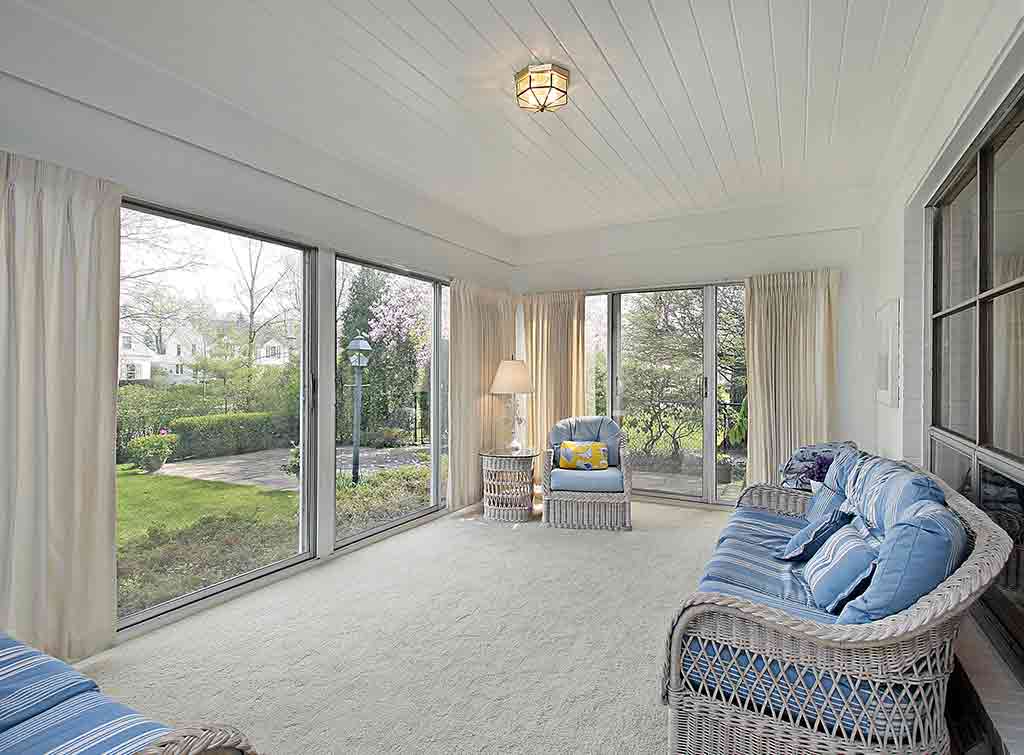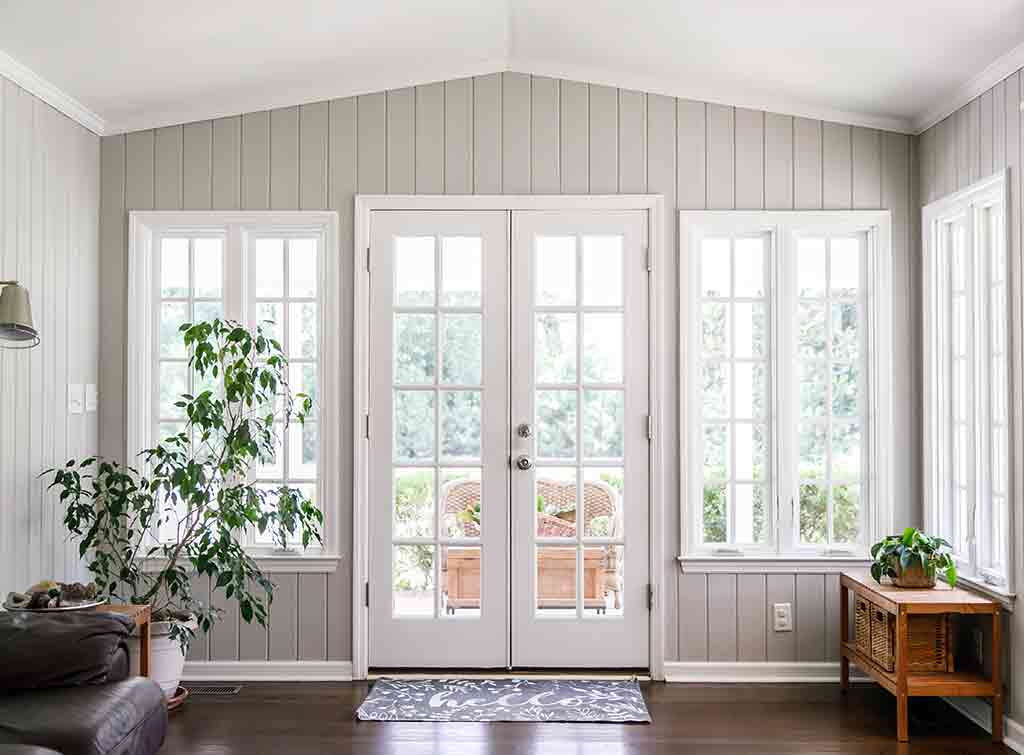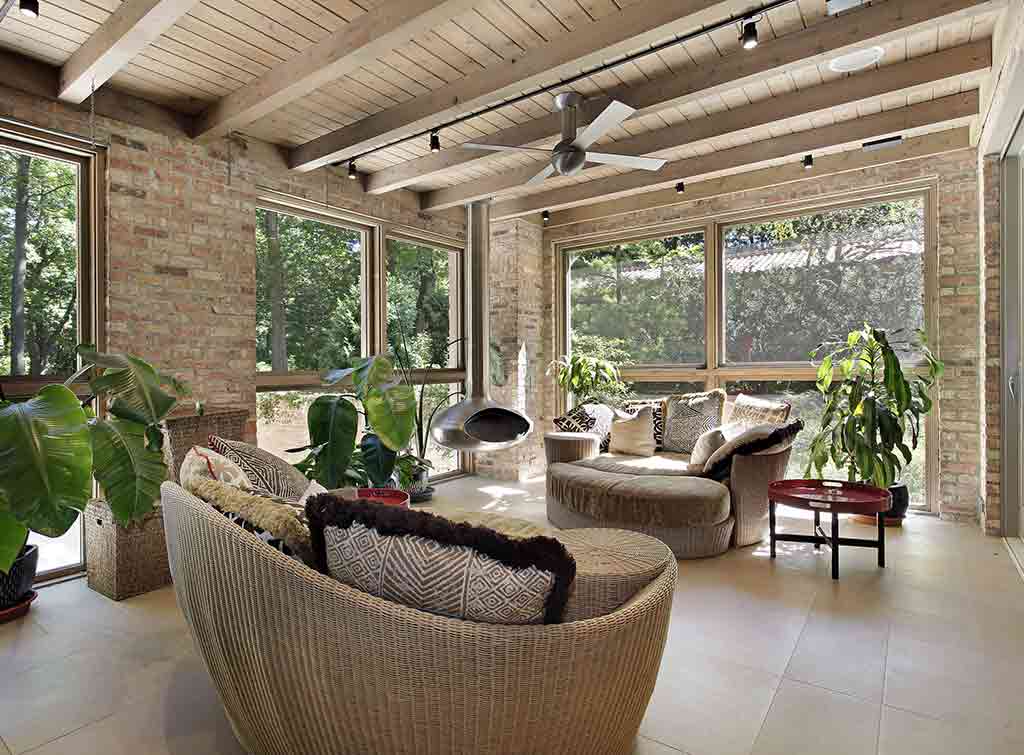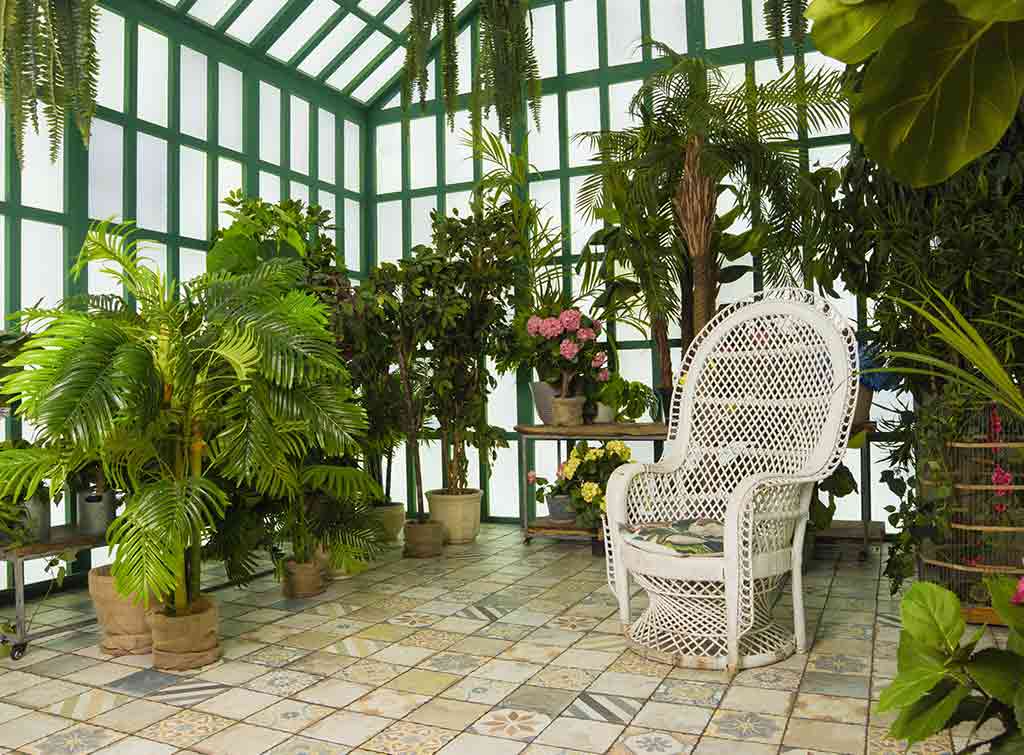 Sunroom extension ideas
This beautiful Victorian-roofed sunroom is a gorgeous example of how to incorporate vintage charm with classic features. The green wicker furniture matches this open plan sunroom perfectly, while the box plants and evergreen trees flesh out the space with natural decor.
The neutral floor tiles, which are mottled and dappled, mimic the earth and further warm this sunroom, making it a wonderful place to enjoy a tea or two while you bask in the rare English sunshine.
Sunroom extension ideas UK
This lean-to sunroom incorporates a curved glass design for extra character and light, and the large panelled windows are a double-glazed UPVC variety for extra security and warmth.
These homeowners have kept things simple and maximised the space with a small glass and black metal dining set and a sprinkle of potted plants.
The diagonal floorboards warm-up the space, while the white streaks match the alcove and window frames to help tie in the various design features.
Sunroom ideas for the UK
Lean-to sunrooms are popular because of how easy they are to install and decorate. These homeowners made the most of their views by installing large framed windows and French doors, which flood the conservatory with light and warmth.
They've let the view do the talking here, with a few clashing chairs and sofas to sit on that match the dark wood floor, making it a wonderful spot to admire the sun as it sets.
Get the look by hiring one of our professional sunroom installers today!
Sunroom decorating ideas
If you're looking for a more classic conservatory design, this small Victorian orangery is bedecked in renaissance style decor for an elegant and stylish finish.
Plants are a fantastic addition to any light-loving room, and these parlour palms are extremely happy in here. We particularly like the dark wood window frames that add a touch of period drama to this small sunroom.
Window ideas for sunroom
Keep things simple and clean with this lean-to sunroom example. These homeowners have opted for a dark wood floor that complements the light grey decor and furniture.
In order to brighten the space, white painted ceilings match the window frames and skirting boards, which help 'lift' the room, while the swinging bench is an immediate draw that invites you to kick back and admire the lakeside views.
Sunroom ideas furniture
Consider a theme for your conservatory like this boldly decorated sunroom. These homeowners have introduced the African plains to their decor, with on-theme floral accessories and savannah figurines. Even the rug is bordered with elephant silhouettes!
We love the red brick flooring, which ties in the rich woods, wicker sofa and carved floor lamps beautifully. The rest of the decor is cream and white, which lets the bold accessories take centre stage.
Sunroom decorating ideas window treatments
This delicate sunroom boasts wall-to-wall floor-to-ceiling windows and sliding doors, which allow the homeowners to admire the garden beyond.
The decor is kept bright and neutral, yet made interesting with textures such as wood-panelled ceilings, a high-pile carpet and luxurious linen curtains.
The unique wicker furniture finishes off the look, with the cushions and covers offering a burst of gentle colour that give off slight beach-front vibes.
Small sunroom decorating ideas
Black metal-framed windows give this sunroom the wow factor, while the bottom glass panes are blurred for privacy.
As this room is small, the decor is carefully selected to create the finished look. In one corner, potted parlour palms are raised on planters at various heights, while the other corner boasts a small table and chair set with a hanging light sitting just above it.
Finally, a pyramid candle and small area rug sit atop a warm wood floor,  while a hammock runs across the entire room diagonally, offering a place to relax during those lazy afternoons that require some RnR.
Sunroom porch ideas
Wall panels are coming back in style as the cottage-chic design aesthetic takes off again. These champagne painted panels are classy and elegant, which work well with the classic swing doors and windows that make up the front of this house.
Beyond the glass panes, the porch boasts a high-backed wicker sofa, with various shrubs and potted plants decorating the area.
Sunroom furniture ideas decorating sunrooms
This open-planned and rustic lean-to sunroom is a perfect example of how clean lines, minimal decor, and clashing textures are perfect design combinations.
First, there are the large square floor tiles, which give off a slight shimmer that glitter when the sun hits them. Second, the warm neutral furniture is homely and inviting, with fluffy textures and large surface areas ready to melt into. Third, the open mosaic bricks add another texture whilst also tieing in the other elements. And last, the wood-panelled ceiling and open beams give this stunning sunroom its rustic finish.
And of course, we can't forget the large, glossy leafed plants that sit in front of each of the large framed windows, injecting some life into this bright and airy sunroom.
Sunroom tile ideas
This classic sunroom is an antique lover's dream. The Verini encaustic tile design is found throughout history. Each tile is painted in a different pattern before being glazed and added to a floor mosaic, which gives it its interesting and visually appealing end result.
The white chair with its patterned seat matches the overall look, while the various plants that adorn the rest of the sunroom are lush and thriving (which is likely due to the greenhouse effect the gable window and roof design offers!)
Sunroom furnishing ideas
When it comes to decorating your sunroom, using hardy furniture that the sun isn't likely to bleach works best. Be sure to note the materials used for any upholstery, and consider metals, weaves or lighter colours to avoid having to replace them every few years.
Here is a handy checklist for you to consider:
Potted plants
Area rugs
Rattan or wicker furniture
Coffee table and chairs
Hammocks
Swing chairs
Solar lighting
Pillows and throws for extra comfort
Why not hire one of our expert designers to help you achieve the perfect look?
See the tradespeople we've checked and recommend for your job
Tell us what you think
What others think of this article:
Need More Information?
Related posts