Before you fall asleep at the mere mention of garage storage ideas, bear with us. We're making it our mission to inspire your next renovation.
For the less space-conscious amongst us, garages tend to become the dumping grounds for the belongings we don't want lying around the house. Items like cars, bikes, boots, tools, cleaning equipment and various odds and sods find themselves thrown into these annexes and left to fester.
What if we told you there was another way?
You don't need to invest in a bolted door and refuse entry to guests in case they see your shame. By making a few key design choices, your garage will benefit in both style and functionality.
Types of garage
Various types of garage will benefit from an upgrade. Whether you have:
Detached vs. attached garage
Portico garage
Garage workshop
Portable garage
Carport garage
There are several garage storage ideas you can implement to lift the space and increase its value and aesthetic. Storage boxes, room dividers, shelving units and cabinets are just some of the furniture choices that transform your garage into a contributing member of your household.
See the tradespeople we've checked and recommend for your job
What to check before you buy garage storage
Before we get started, it's worth taking into consideration the following things:
For a good idea of volume and capacity, work out what you need and want to store in the garage
To save money, consider recycling, upcycling or repurposing old cabinets
Plan your budget before measuring your space
Work out your square footage and the costs per square metre before buying the appropriate cabinet/storage dimensions
Choose a theme for greater aesthetic appeal
Thinking of installing a garage? Use our garage storage cost guide for the typical prices associated with adding these storage havens onto your home.
Like what you see? We have plenty more where this came from. Check out Checkatrade's blog for more home inspiration, how-to's and project ideas.
Garage storage ideas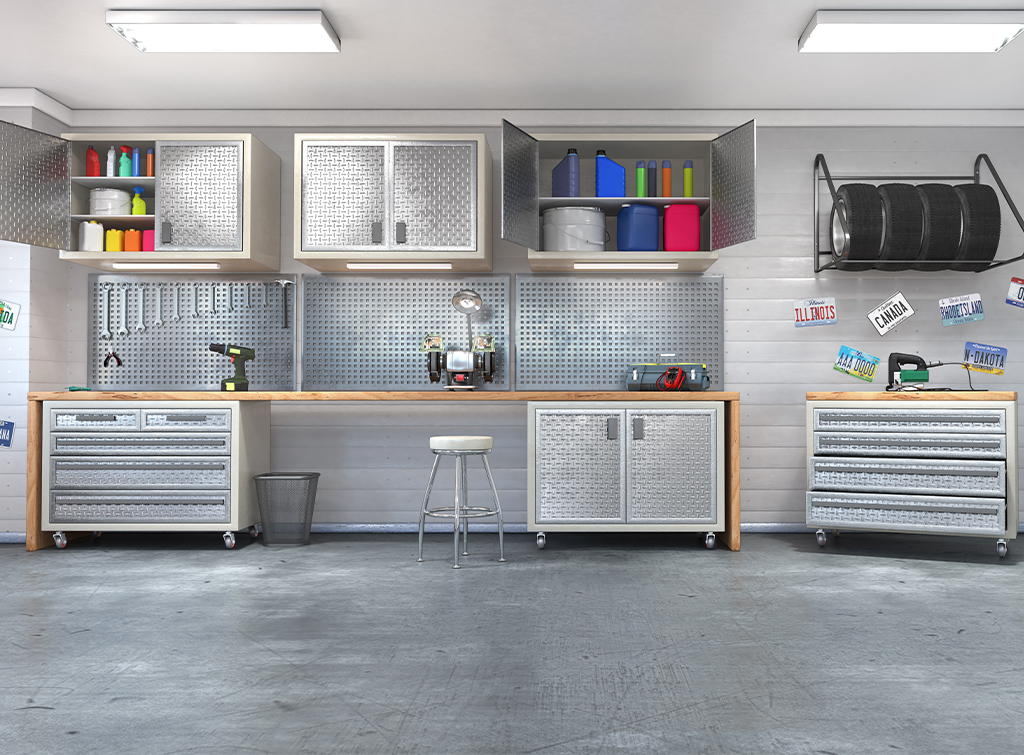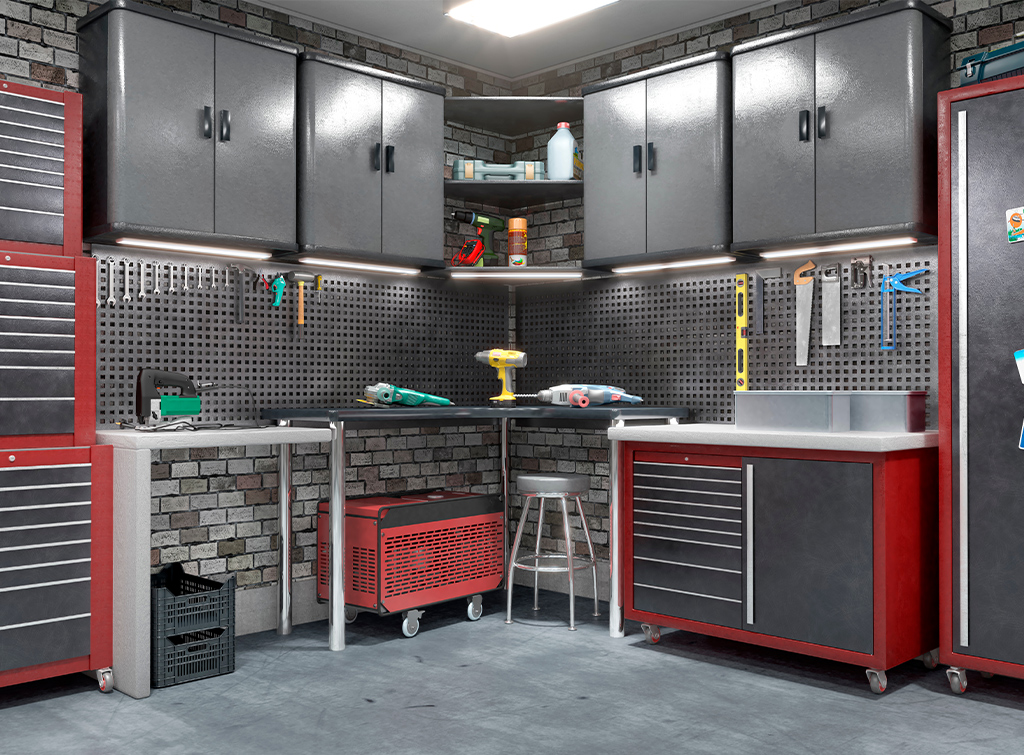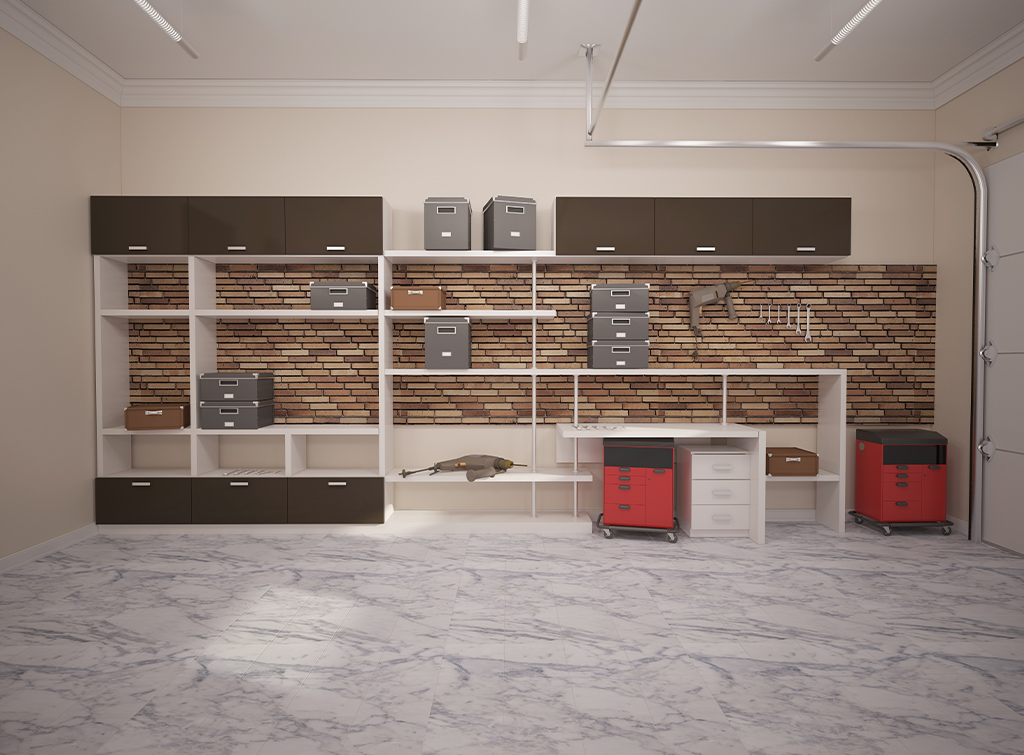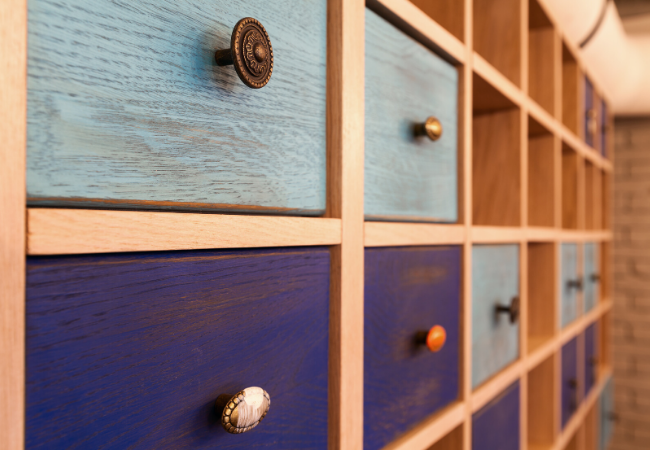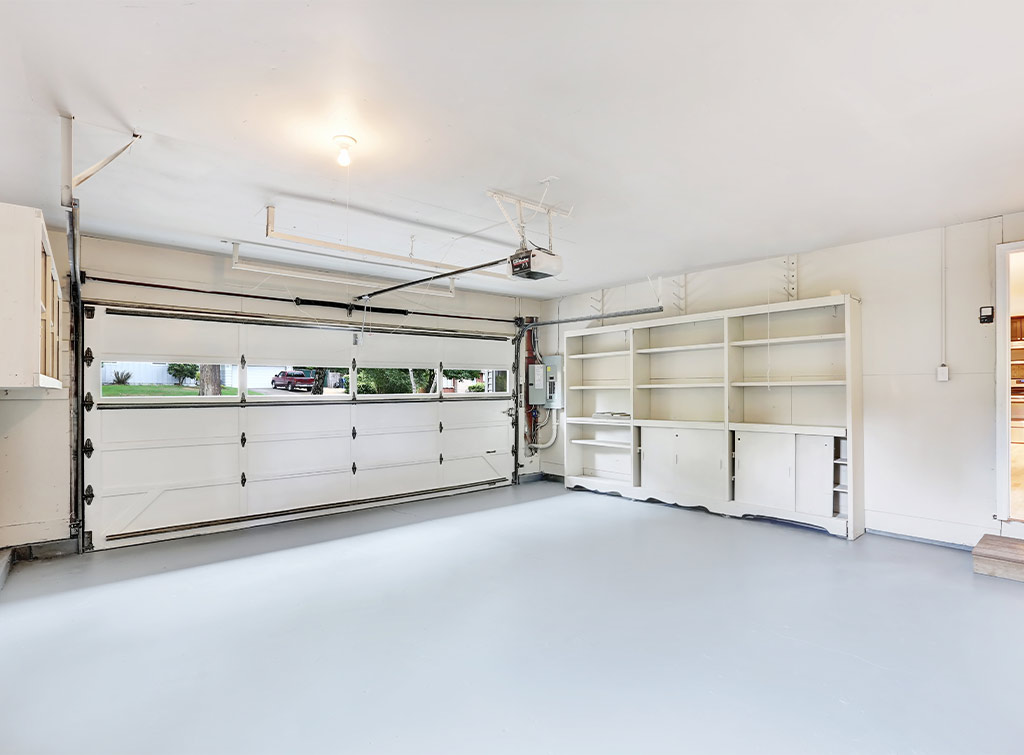 Garage storage cabinet ideas
Easy garage storage ideas
No matter what type of garage you have, some quick and simple ways to maximise space is to build upwards. There are various ways to keep your belongings neat and tidy, such as adding a workstation, cabinets, pin-boards, tool racks, lockers and shelves.
Industrial and practical aesthetics are a current top garage design trend. Think brushed metal cabinets, vehicular wall art, mesh shelving units, white wall tiles and hard-wearing floors such as polished concrete, epoxy, rubber or vinyl. Stick to chromatic and neutral tones to lift the space and keep it looking fresh and clutter-free.
Garage storage design ideas
Utilise wall space
If you're using your garage to store vehicles like cars or bikes, utilising your wall space is a great way to increase your garage's storage capacity. Magnetic shelves are perfect for attaching metal tools, while pegboards are perfect if you want to store a variety of items such as brushes, screwdrivers, paints, pens, and keys. You can even add a pot or two for your non-metal items.
Transforming furniture
Making the right design and decorating decisions will transform your garage into a multi-purpose space. By day, it's a storage bunker. By night, it's an entertainment space with foldaway chairs, a roll-out fridge, wall-mounted TVs, and a pull-down games table.
Slatwalls
Slatwalls are panel systems perfect for hanging baskets, hooks, holders and pots. Incorporate them into your garage design for an effortlessly sleek storage solution. They're also striking. For example, if you half your garage horizontally and install white slats on the upper part of your walls, paint the lower part grey, and finish off the look with polished concrete floors, then congratulations. You've just created the trendiest garage you ever did see.
DIY storage walls
A cheap and eco-friendly solution for garages with less space (such as porticos or carports) is to build your own shelving units. Doing it this way means you end up constructing exactly what you need and have fun in the process. (You do, we promise!)
Think about repurposing old cabinets, wooden boxes, drawers or any other time-worn furniture. Sometimes, MDF from your local hardware store will do the job, along with some imagination, pizazz and patience! Just find some wood desperate for a glow-up and get to work on your very own DIY garage storage ideas.
That said, if you don't have the carpentry skills, then you can always hire a professional to come and put them up for you.
Smart storage design solutions
Floor to ceiling shelving designs
For small garages or particularly space-conscious people, installing floor to ceiling shelves is the perfect way to keep potential clutter to one wall. Adorn your shelves with boxes, cubby bins, organisers, tools, pegboards and freestanding cabinets for total versatility.
To add interest, make the storage wall a feature by adding a stylish backboard. Opt for splashes of bright colours like ochre or rose gold, or keep it open bricked for a rustic edge. Change up the design even more by arranging your shelves in unordered lines, giving you something that looks like an accent, not an accident.
If you're looking for something bespoke, it's worth hiring a professional. Check out our carpenter cost guide for further information on how to price up the work.
Fun garage shelving designs
Modular cabinets come in a range of colours and styles. However, if the industrial vibe isn't for you, then have fun with wood. Let function meet style. Think colourful coordinations, farmhouse interiors, creative constructions, gardening stations, and elaborate equipment displays. Upcycle your cabinets with new knobs and handles and a fresh lick of paint, then fill them with whatever bric-a-brac you have lying around the house. Keys, sewing kits, nails, ribbons, tools, buttons, candles, pens, drill heads… whatever bits need a home, you can give them one.
Small garage storage ideas
Smart storage
Wall-mounted shelves are the way forward for smaller garages, as are pulley systems for push bikes and any other bulky items you want off the floor. Track systems for awkward items or ceiling hooks for hanging shelves are all small garage storage ideas that help save floor space and make the most of your square footage.
Bright and light
Garage's don't always get a lot of light, so think about installing industrial wall lanterns for a trendy edge, ceiling lights for extra visibility, and even ground lights for a moody glow. Lighting is important for garages that double up as workstations or entertainment spaces. Keep the decor neutral and clean and use tough anti-mould, anti-chip, anti-anything paint to avoid having to redecorate every year.
See the tradespeople we've checked and recommend for your job
Tell us what you think
What others think of this article:
Need More Information?
Related posts